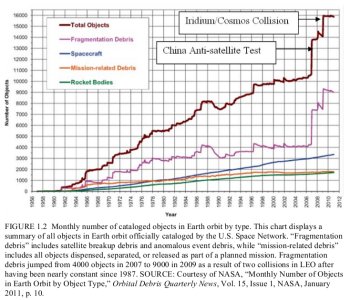 A just released National Research Council report on space junk, Limiting Future Collision Risk to Spacecraft: an assessment of NASA's meteoroid and orbital debris programs, describes in great and worthwhile detail the increasing problem of orbital debris as well as the technical and budgetary problems that exist for removing it. It is especially worth reading for the stories, such as when a Colorado hiker heard a high-pitched sound and then found a still warm thirty-inch diameter sphere in a foot deep crater. The object turned out to be a titanium tank from a Russian upper stage rocket, launched two months earlier.
What I want to focus on here, however, is one issue the report discusses that, as far as I can tell, has generally been missed. Worse, this issue — somewhat ridiculous when you think about a little — will make removing most of the space junk in Earth orbit far more complicated than ever imagined by engineers.
Simply put, under already agreed-to international treaties, no nation can salvage or collect any debris placed in orbit by another nation. To do so will violate international law, and almost certainly cause an international incident. To quote the report:

No state has the legal authority to remove a debris object from space without the express consent of the object's state of registry. In the United States, obtaining that consent would involve formal diplomacy and the U.S. State Department. A bilateral or multilateral agreement to retrieve debris would require a technical exchange of data and information about an object's design that could involve national security, foreign policy, the International Traffic in Arms Regulations (ITAR), contractual rights, intellectual property rights, and other interests. "Space salvage and removal operations in space will cause international friction, if they are undertaken in the absence of international consensus…" Absent formal diplomatic engagement with other nations, the United States would be limited to retrieving only objects on its own registry.
This legal situation is made even worse by the fact that no existing treaty makes a distinction between a whole spacecraft (functioning or not) and the pieces of debris left from a spacecraft's destruction. The space treaties that exist were all written during the Cold War, when the U.S. and the Soviet Union wanted some form of legal protection for their spacecraft. Both countries feared the science fiction possibility that the other would try to capture and kidnap their opponent's military satellites, and wrote the treaties to outlaw such behavior. Thus, the treaty language does not even recognize space junk: all objects in space belong to someone, and no one else has a right to touch them without permission.
This fact becomes an even more crucial when you consider that only about thirty percent of all orbital debris can be attributed to the United States. Thus, even if we developed, funded, and built the most sophisticated method for cleaning up space junk, we'd have to somehow restrict our activities to only our own space junk. Without some sort of international agreement, we would be forbidden to touch the junk produced by other countries, thereby leaving the majority of debris in space.
Even worse, serious liability issues exist should a private American company decide it wants to try to make money removing American space junk. As the report notes,
The risk-sharing liability and cap system that has been part of U.S. national launch law since 1984 could provide a model for retrieval activities. In three different instances of removal of an object from space, that is, an Intelsat, the Palapa, and a Westar satellite, the government required agreements in which it was to be held harmless in the event of an accident. Whether this practice is desirable or sustainable for the long-term will have to be addressed.
All in all, the situation is a mess, both in space and here on Earth. The engineers know what to do and could do it relatively quickly, given the chance. Unfortunately, the problem has been placed under the control of governments, and though I have no doubt that some negotiated agreement will eventually be worked out to allow for the collecting of space debris, I also expect this negotiation to take far longer than it should, considering the normal behavior of modern western governments.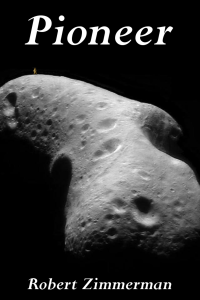 From the press release: From the moment he is handed a possibility of making the first alien contact, Saunders Maxwell decides he will do it, even if doing so takes him through hell and back.
Unfortunately, that is exactly where that journey takes him. The vision that Zimmerman paints of vibrant human colonies on the Moon, Mars, the asteroids, and beyond, indomitably fighting the harsh lifeless environment of space to build new societies, captures perfectly the emerging space race we see today. He also captures in Pioneer the heart of the human spirit, willing to push forward no matter the odds, no matter the cost. It is that spirit that will make the exploration of the heavens possible, forever, into the never-ending future. Available everywhere for $3.99 (before discount) at
amazon
,
Barnes & Noble
, all ebook vendors, or direct from the ebook publisher,
ebookit
. And if you buy it from
ebookit
you don't support the big tech companies and I get a bigger cut much sooner.