A paper published on Saturday in the Journal of Geophysical Research – Planets of the American Geophysical Union, scientists suggest that the polygonal shaped cracks seen in the crater floors on many Martian craters could be evidence of ancient lakes. The evidence also suggests that the lakes were formed by the impact that created the crater. The energy of the impact melted underground ice to form a temporary lake inside the crater, which eventually dries out, leaving behind the polygons. From the abstract:
We propose desiccation to be a dominant mechanism for the formation of Crater Floor Polygons without ruling out thermal contraction as a possible contributor in some cases. This implies that lakes or water-rich sediments occupied the craters in the past. Many such aqueous environments have no apparent external source of water, and thus, hydrothermal processes occurring shortly after the impact event may be viable explanations for the observed evidence.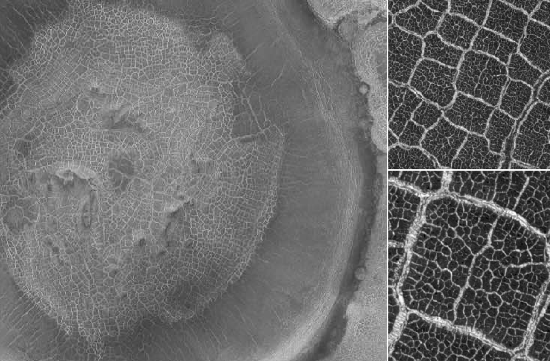 Readers!
I must unfortunately ask you for your financial support because I do not depend on ads and rely entirely on the generosity of readers to keep Behind the Black running. You can either make a one time donation for whatever amount you wish, or you sign up for a monthly subscription ranging from $2 to $15 through Paypal or $3 to $50 through Patreon.
Your support will allow me to continue covering science and culture as I have for the past twenty years, independent and free from any outside influence.
Your support is even more essential to me because I not only keep this site free from advertisements, I do not use the corrupt social media companies like Google, Twitter, and Facebook to promote my work. I depend wholly on the direct support of my readers.
You can provide that support to Behind The Black with a contribution via Patreon or PayPal. To use Patreon, go to my website there and pick one of five monthly subscription amounts, or by making a one-time donation. For PayPal click one of the following buttons:

If Patreon or Paypal don't work for you, you can support Behind The Black directly by sending your donation by check, payable to Robert Zimmerman, to


Behind The Black
c/o Robert Zimmerman
P.O.Box 1262
Cortaro, AZ 85652


Or you can donate by using Zelle through your bank. You will need to give my name and email address (found at the bottom of the "About" page). The best part of this electronic option is that no fees will be deducted! What you donate will be what I receive.