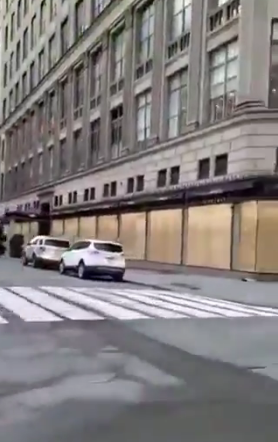 Saks Fifth Avenue in 2020 NYC.
Want to move to one of America's big urban cities? Ever imagine having a penthouse apartment close to or even in downtown so that you could walk to the theater? Well, the options are endless, and the cost is plummeting. It's a buyer's market! Just take a look:
None of these trends are new. American cities have been generally suffering since the end of World War II, though for the past few decades they have seen a partial renewal that did not bring them back to the halcyon days of the past but at least made them look vibrant and alive.
The last few months however have seen a perfect storm of circumstances that have led to a major crash, destroying all the gains made in the recent past.

First there was the decision by the local governors and mayors of these cities, all of whom are Democrats, to shut the cities down in their panicked response to COVID-19. Suddenly all businesses were closed, and even when the lockdowns were eased by these Democrats, they were eased in a very limited manner. Restaurants no longer could make money with the mandated limited capacity. All entertainment venues — theaters, sports events, movies, concerts, museums — were outlawed.
Essentially, many of the very things that attract people to cities no longer existed.
Next came the riots, looting, and protests initially sparked by the death of George Floyd, but now continuing with little rhyme or reason. Instead, the riots seem aimed at destroying the cities themselves. No businesses can be allowed to open, or operate peaceably. Just take a look at this video of Fifth Avenue in mid-town Manhattan, once the mecca of high class shopping. Every single business is boarded up and closed. More important, there are no shoppers. The streets are empty.
And amazingly, this video of New York reflects the result of relatively mild rioting, when compared with what we have seen in Chicago, Seattle, and Portland.
Making these riots, looting, and protests even worse however has been the responses of these same local Democratic mayors and governors. Rather than clamp down on this destruction, they have — at best — turned a blind eye to it. More often these Democratic Party politicians have actually celebrated these violent protests, calling them "mostly peaceful" and justified.
Worse, the ruling Democrats in several of these cities have compounded the problem by simultaneously calling for the elimination or significant reduction in their police forces. Even as the local police have struggled to contain the riots, their political leaders, once again all Democrats, have withdrawn their support.
The result? Businesses and citizens are now fleeing these hellholes in record numbers. As noted in the New York article above:
It's snapshot simple. The wealthy and the companies they work for pay most of the taxes. The poor consume most of the taxes through social programs. COVID is driving the wealthy and their offices out of the city. No one will be left to pay for the poor, who are stuck here, and the city will collapse in the transition. A classic failed state scenario.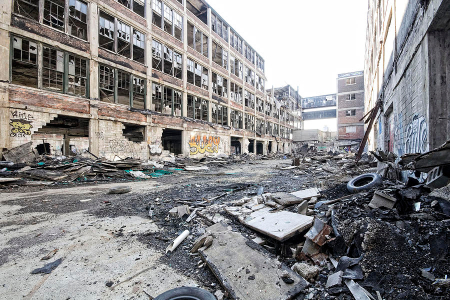 Democratic Party controlled Detroit.
At the heart of this disaster however sit the people in charge. In Chicago Democrats have pretty much ruled unopposed for more than a half century. It is the same in Portland, New York, San Francisco, and Seattle. Nor are these American cities unique. Across the nation urban cities have been failing for decades, and in almost every case those cities have been ruled unopposed by Democratic Party machines for those same decades.
While we must grant that much of the 2020 urban exodus is related to the realization by big businesses — because of the Wuhan panic shutdowns — that they don't need people to come into an office, that working from home in this digital age works and can save a business millions in office rent, we must also recognize that much of it is because people and businesses do not wish to live and work in a pigsty where you can be attacked at will merely because you are successful, and where the Democratic Party politicians in charge won't do anything to fix the situation, and are even taking actions to worsen it.
An election is coming in November. Unfortunately, in many of these cities the politicians will not be up for re-election. Instead, the focus will mostly be on the presidential and congressional elections. The voters will have to decide whether they wish to retain Donald Trump as president while deciding which party they wish to control Congress.
It is very clear now that a vote for the Democrats in any form will be an endorsement by the voters of the failed governmental policies of the Democratic Party, nationwide. However, should the voters choose to go for the Republicans in a landslide, they will be making a clear statement that these failed and sometimes insane policies must end. This is not to say that the Republicans will be our savior, only that the time has come to tell the Democrats that they have been a unmitigated failure, and must be fired.
The video below, created for Kimberly Klacik, the Republican candidate running for the seat of late Elijah Cummings (D-Maryland) in Baltimore, illustrates this point perfectly, and in stark reality.
As she bluntly notes while showing endless blocks of abandoned buildings, "Baltimore has been run by the Democratic Party for 53 years." The result, like in all the other Democratic Party strongholds above, has been "crumbling infrastructure, abandoned buildings, poverty, and crime."
At what point will the voters finally recognize this? At what point will they tell the Democratic Party machine, interested only in power and squelching any opposition to its rule, that Americans will no longer tolerate such behavior.
I pray that point will finally arrive in November 2020. Because if it does not, then we can only expect worse for ourselves, a disaster that we shall richly deserve because we did not act to fight it, when we could.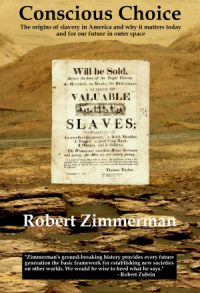 Now available in hardback and paperback as well as ebook!
From the press release: In this ground-breaking new history of early America, historian Robert Zimmerman not only exposes the lie behind The New York Times 1619 Project that falsely claims slavery is central to the history of the United States, he also provides profound lessons about the nature of human societies, lessons important for Americans today as well as for all future settlers on Mars and elsewhere in space.
Conscious Choice: The origins of slavery in America and why it matters today and for our future in outer space
, is a riveting page-turning story that documents how slavery slowly became pervasive in the southern British colonies of North America, colonies founded by a people and culture that not only did not allow slavery but in every way were hostile to the practice.
Conscious Choice
does more however. In telling the tragic history of the Virginia colony and the rise of slavery there, Zimmerman lays out the proper path for creating healthy societies in places like the Moon and Mars.
"Zimmerman's ground-breaking history provides every future generation the basic framework for establishing new societies on other worlds. We would be wise to heed what he says." —Robert Zubrin, founder of founder of the Mars Society.
All editions are available at Amazon, Barnes & Noble, and all book vendors, with the ebook priced at $5.99 before discount. The ebook can also be purchased direct from my ebook publisher, ebookit, in which case you don't support the big tech companies and I get a bigger cut much sooner.
Autographed printed copies are also available at discount directly from me (hardback $24.95; paperback $14.95; Shipping cost for either: $5.00). Just email me at zimmerman @ nasw dot org.