The competition heats up: Yesterday Elon Musk sent out a tweet that simply repeated something his company has been saying now for several months — but with one slight additional detail — and the press went gaga.
What Musk said was that SpaceX hopes to reuse one of its used Falcon 9 first stages by September or October. Previously they had merely said they were aiming to do it before the end of the year. Since SES has offered one of its satellites for the job, and since it has had for months two such satellites scheduled for launch by SpaceX in September and October, this announcement by Musk is not really much of a surprise. Yet, the tweet was enough for all of the following mainstream news sources to gin up news-breaking headlines:
I am not really complaining. What I am really noting is how serious the world now takes what Musk and SpaceX are doing. They say they plan to do something new and revolutionary, and people sit up and take notice. And the reasons are twofold. First, everything they have said they were going to do, they have done. Musk's announcement has to be taken seriously. Second, Musk owns SpaceX, and does not really need anyone's permission to do this. He isn't in a negotiation with numerous other players, as has been the case with NASA and its projects for the past half century. We know that if he wants to try something, the only things that could stop him are lack of capital and lack of good engineering, neither of which are an obstacle in this case.
So, be prepared for the first relaunch of a rocket's first stage sometime this fall. And don't be surprised if that isn't the only new thing SpaceX accomplishes at the time.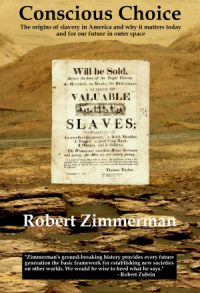 Now available in hardback and paperback as well as ebook!
From the press release: In this ground-breaking new history of early America, historian Robert Zimmerman not only exposes the lie behind The New York Times 1619 Project that falsely claims slavery is central to the history of the United States, he also provides profound lessons about the nature of human societies, lessons important for Americans today as well as for all future settlers on Mars and elsewhere in space.
Conscious Choice: The origins of slavery in America and why it matters today and for our future in outer space
, is a riveting page-turning story that documents how slavery slowly became pervasive in the southern British colonies of North America, colonies founded by a people and culture that not only did not allow slavery but in every way were hostile to the practice.
Conscious Choice
does more however. In telling the tragic history of the Virginia colony and the rise of slavery there, Zimmerman lays out the proper path for creating healthy societies in places like the Moon and Mars.
"Zimmerman's ground-breaking history provides every future generation the basic framework for establishing new societies on other worlds. We would be wise to heed what he says." —Robert Zubrin, founder of founder of the Mars Society.
All editions are available at Amazon, Barnes & Noble, and all book vendors, with the ebook priced at $5.99 before discount. The ebook can also be purchased direct from my ebook publisher, ebookit, in which case you don't support the big tech companies and I get a bigger cut much sooner.
Autographed printed copies are also available at discount directly from me (hardback $24.95; paperback $14.95). Just email me at zimmerman @ nasw dot org.