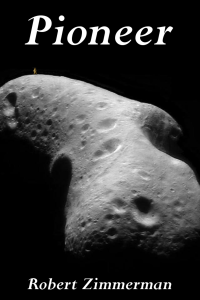 From the press release: From the moment he is handed a possibility of making the first alien contact, Saunders Maxwell decides he will do it, even if doing so takes him through hell and back.
Unfortunately, that is exactly where that journey takes him.
The vision that Zimmerman paints of vibrant human colonies on the Moon, Mars, the asteroids, and beyond, indomitably fighting the harsh lifeless environment of space to build new societies, captures perfectly the emerging space race we see today.
He also captures in Pioneer the heart of the human spirit, willing to push forward no matter the odds, no matter the cost. It is that spirit that will make the exploration of the heavens possible, forever, into the never-ending future.
Available everywhere for $3.99 (before discount) at
amazon
,
Barnes & Noble
, all ebook vendors, or direct from the ebook publisher,
ebookit
.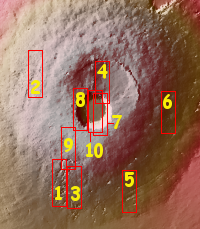 For the past two weeks JPL's image site has been releasing a string of images taken by Mars Odyssey of the smallest of Mars' four giant volcanoes.
Pavonis Mons is one of the three aligned Tharsis Volcanoes. The four Tharsis volcanoes are Ascreaus Mons, Pavonis Mons, Arsia Mons, and Olympus Mars. All four are shield type volcanoes. Shield volcanoes are formed by lava flows originating near or at the summit, building up layers upon layers of lava. The Hawaiian islands on Earth are shield volcanoes. The three aligned volcanoes are located along a topographic rise in the Tharsis region. Along this trend there are increased tectonic features and additional lava flows. Pavonis Mons is the smallest of the four volcanoes, rising 14km above the mean Mars surface level with a width of 375km. It has a complex summit caldera, with the smallest caldera deeper than the larger caldera. Like most shield volcanoes the surface has a low profile. In the case of Pavonis Mons the average slope is only 4 degrees.
The image on the right is the context image, annotated by me to show where all these images were taken. The images can accessed individually below.
Each of these images has some interesting geological features, such as collapses, lava tubes, faults, and flow features. Meanwhile, the central calderas are remarkable smooth, with only a few craters indicating their relatively young age.
The most fascinating geological fact gleaned from these images is that they reveal a larger geological trend that runs through all of the three aligned giant volcanoes to the east of Olympus Mons.
The linear and sinuous features mark the locations of lava tubes and graben that occur on both sides of the volcano along a regional trend that passes thru Pavonis Mons, Ascreaus Mons (to the north), and Arsia Mons (to the south).
This trend probably also indicates the fundamental geology that caused all three volcanoes to align as they have.
Arsia Mons is of particular interest in that water clouds form periodically above its western slope, where there is also evidence of past glaciation. Scientists strongly suspect that there is a lot of water ice trapped underground here, possibly inside the many lava tubes that meander down its slopes. These facts also suggest that this might be one of the first places humans go to live, when they finally go to live on Mars.
Readers!
Every July, to celebrate the anniversary of the start of Behind the Black in 2010, I hold a month-long fund-raising campaign to make it possible for me to continue my work here for another year.

This year's fund-raising drive however is more significant in that it is also the 10th anniversary of this website's founding. It is hard to believe, but I have been doing this for a full decade, during which I have written more than 22,000 posts, of which more than 1,000 were essays and almost 2,600 were evening pauses.

This year's fund drive is also more important because of the growing intolerance of free speech and dissent in American culture. Increasingly people who don't like what they read are blatantly acting to blackball sites like mine. I have tried to insulate myself from this tyrannical effort by not depending on Google advertising or cross-posts Facebook or Twitter. Though this prevents them from having a hold on me, it also acts to limit my exposure.

Therefore, I hope you will please consider donating to Behind the Black, by giving either a one-time contribution or a regular subscription, as outlined in the tip jar below. Your support will allow me to continue covering science and culture as I have for the past twenty years, independent and free from any outside influence.
Regular readers can support Behind The Black with a contribution via paypal:
If Paypal doesn't work for you, you can support Behind The Black directly by sending your donation by check, payable to Robert Zimmerman, to

Behind The Black
c/o Robert Zimmerman
P.O.Box 1262
Cortaro, AZ 85652