Exploring one of Mars' giant volcanoes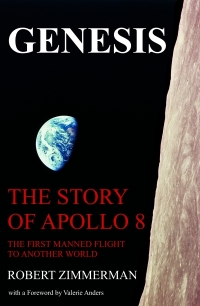 On Christmas Eve 1968 three Americans became the first humans to visit another world. What they did to celebrate was unexpected and profound, and will be remembered throughout all human history. Genesis: the Story of Apollo 8, Robert Zimmerman's classic history of humanity's first journey to another world, tells that story, and it is now available as both an ebook and an audiobook, both with a foreword by Valerie Anders and a new introduction by Robert Zimmerman.
The ebook is available everywhere for $5.99 (before discount) at
amazon
, or direct from my ebook publisher,
ebookit
.
The audiobook is also available at all these vendors, and is also
free with a 30-day trial membership to Audible.
"Not simply about one mission, [Genesis] is also the history of America's quest for the moon... Zimmerman has done a masterful job of tying disparate events together into a solid account of one of America's greatest human triumphs." --San Antonio Express-News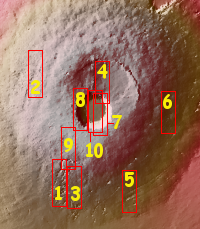 For the past two weeks JPL's image site has been releasing a string of images taken by Mars Odyssey of the smallest of Mars' four giant volcanoes.
Pavonis Mons is one of the three aligned Tharsis Volcanoes. The four Tharsis volcanoes are Ascreaus Mons, Pavonis Mons, Arsia Mons, and Olympus Mars. All four are shield type volcanoes. Shield volcanoes are formed by lava flows originating near or at the summit, building up layers upon layers of lava. The Hawaiian islands on Earth are shield volcanoes. The three aligned volcanoes are located along a topographic rise in the Tharsis region. Along this trend there are increased tectonic features and additional lava flows. Pavonis Mons is the smallest of the four volcanoes, rising 14km above the mean Mars surface level with a width of 375km. It has a complex summit caldera, with the smallest caldera deeper than the larger caldera. Like most shield volcanoes the surface has a low profile. In the case of Pavonis Mons the average slope is only 4 degrees.
The image on the right is the context image, annotated by me to show where all these images were taken. The images can accessed individually below.
Each of these images has some interesting geological features, such as collapses, lava tubes, faults, and flow features. Meanwhile, the central calderas are remarkable smooth, with only a few craters indicating their relatively young age.
The most fascinating geological fact gleaned from these images is that they reveal a larger geological trend that runs through all of the three aligned giant volcanoes to the east of Olympus Mons.
The linear and sinuous features mark the locations of lava tubes and graben that occur on both sides of the volcano along a regional trend that passes thru Pavonis Mons, Ascreaus Mons (to the north), and Arsia Mons (to the south).
This trend probably also indicates the fundamental geology that caused all three volcanoes to align as they have.
Arsia Mons is of particular interest in that water clouds form periodically above its western slope, where there is also evidence of past glaciation. Scientists strongly suspect that there is a lot of water ice trapped underground here, possibly inside the many lava tubes that meander down its slopes. These facts also suggest that this might be one of the first places humans go to live, when they finally go to live on Mars.
Readers!
My July fund-raiser for Behind the Black is now over. The support from my readers was unprecedented, making this July campaign the best ever, twice over. What a marvelous way to celebrate the website's tenth anniversary!

Thank you! The number of donations in July, and continuing now at the beginning of August, is too many for me to thank you all personally. Please forgive me by accepting my thank you here, in public, on the website.

If you did not donate or subscribe in July and still wish to, note that the tip jar remains available year round.
Regular readers can support Behind The Black with a contribution via paypal:
If Paypal doesn't work for you, you can support Behind The Black directly by sending your donation by check, payable to Robert Zimmerman, to

Behind The Black
c/o Robert Zimmerman
P.O.Box 1262
Cortaro, AZ 85652