Week Three: Ninth Anniversary Fund-Raising Drive for Behind the Black
It is now the third week in my annual anniversary fund-raising campaign for Behind the Black.
Please consider donating. I am trying to avoid advertising on this website, but will be forced to add it if I do not get enough support from my readers. You can give a one-time contribution, from $5 to $100, or a regular subscription for as little as $2 per month. Your support will be deeply appreciated, and will allow me to continue to report on science and culture freely.
Regular readers can support Behind The Black with a contribution via paypal:
If Paypal doesn't work for you, you can support Behind The Black directly by sending your donation by check, payable to Robert Zimmerman, to

Behind The Black
c/o Robert Zimmerman
P.O.Box 1262
Cortaro, AZ 85652

As I mentioned previously, last weekend I was in West Virginia exploring and surveying some newly discovered cave passages. These pictures, taken by Nikki Fox, will give you a flavor of what it is like to visit a place never before seen by human eyes.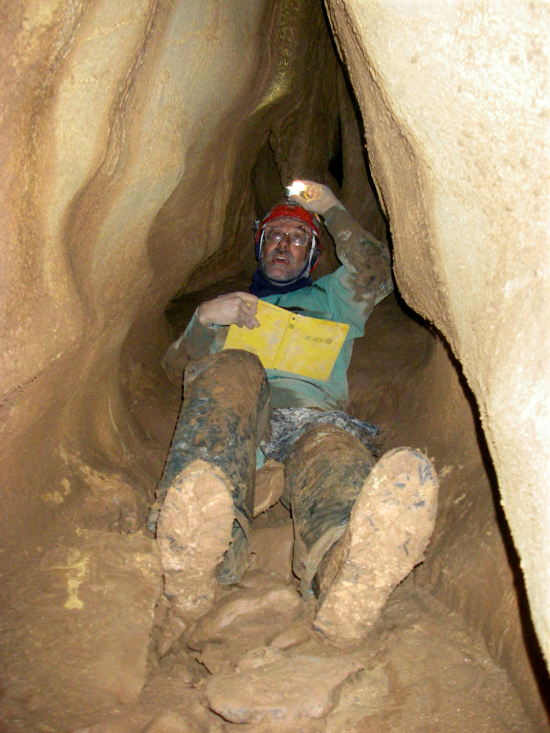 Here I am, trying to sketch the final section of a clean, generally dry flowstone and bedrock passage. Trust me, it isn't easy drawing a place that your body almost fills.
The lead where this virgin passage began had been known for decades, but had never been entered because it was an opening seventy feet up on the wall in the cave's largest room. On June 19, 2010, John Harman, Aaron Moses, and Pete Johnson used drills and climbing equipment to bolt their way to this lead, first climbing 70 feet and then rigging a 20 foot traverse across a very narrow and steeply sloping ledge to reach the passage itself. They then surveyed about three hundred feet of large walking passage, stopping only because they ran out of time.
Our trip on July 17 was to continue the survey and exploration. Here we see John Harman as he crosses the traverse.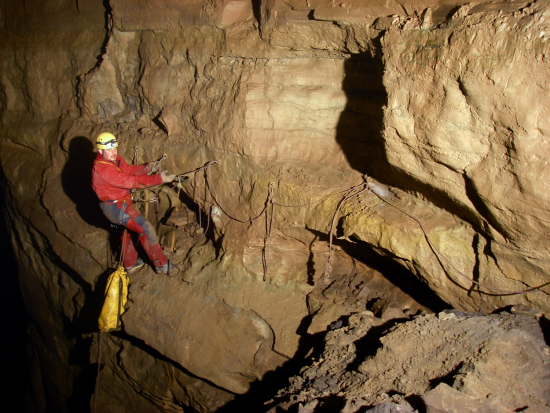 The survey continued in large and impressive passage, though we had to do 15 and 10 foot climbs past two small waterfalls to reach some of the back passages. Here, Pete Johnson stands in one of the larger passages.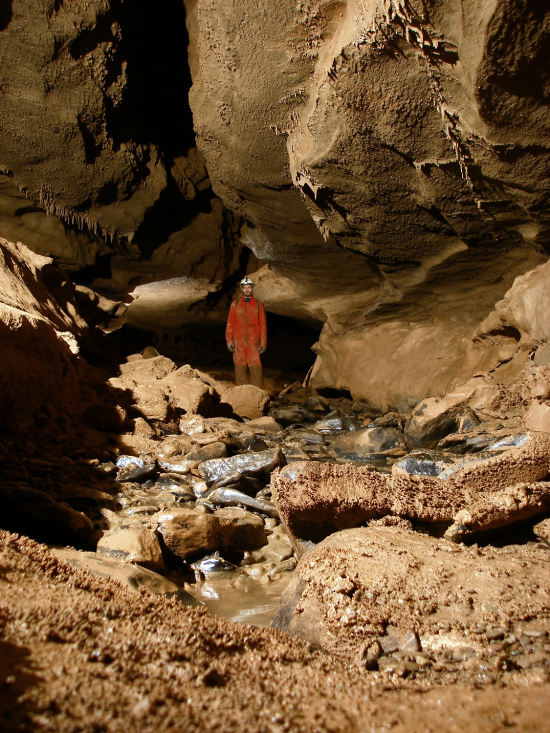 One more picture, of John Harman standing in front of a double helix speleothem.