Today's Falcon 9 rocket launch of a Dragon freighter to ISS ended in failure slightly past 2 minutes after lift-off when the upper stage exploded.
My first thought about this failure is the supply problems it causes at ISS. The Progress failure in April strained the supply lines, making this Dragon flight somewhat critical.
In a presentation to a committee of the NASA Advisory Council here April 9, NASA officials said that food supplies on the ISS would reach a threshold called "reserve level" on July 24, and go to zero by Sept. 5. That assumed that the station received no more supplies beyond a SpaceX Dragon cargo mission launched to the station in April.

The other major limiting consumable is a solid waste container known by the Russian acronym KTO. Without additional cargo missions beyond the Dragon flight, KTO supplies would reach the reserve level July 20 and be exhausted on Sept. 2. Other consumables, including water, would not reach reserve levels until later in the year or early 2016.
In other words, some of the station's toilets are going to begin to overflow without more supplies. It is possible however that this problem will be alleviated by the planned July 3 launch of the next Progress, especially since NASA officials claimed just prior to the launch failure today that ISS had enough supplies to last through October.
As for the launch failure, I expect that SpaceX will quickly pinpoint the problem and schedule another launch. I have embedded video of the launch below the fold. Prior to the explosion of the first stage all looks completely normal. In fact, immediately before the failure the announcer notes this fact, making what happens next especially shocking.
Update: I have corrected the first paragraph, correcting it from "first stage" to "upper stage."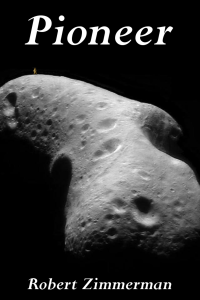 From the press release: From the moment he is handed a possibility of making the first alien contact, Saunders Maxwell decides he will do it, even if doing so takes him through hell and back.
Unfortunately, that is exactly where that journey takes him. The vision that Zimmerman paints of vibrant human colonies on the Moon, Mars, the asteroids, and beyond, indomitably fighting the harsh lifeless environment of space to build new societies, captures perfectly the emerging space race we see today. He also captures in Pioneer the heart of the human spirit, willing to push forward no matter the odds, no matter the cost. It is that spirit that will make the exploration of the heavens possible, forever, into the never-ending future. Available everywhere for $3.99 (before discount) at
amazon
,
Barnes & Noble
, all ebook vendors, or direct from the ebook publisher,
ebookit
. And if you buy it from
ebookit
you don't support the big tech companies and I get a bigger cut much sooner.