Please consider donating to Behind the Black, by giving either a one-time contribution or a regular subscription, as outlined in the tip jar to the right or below. Your support will allow me to continue covering science and culture as I have for the past twenty years, independent and free from any outside influence.
Capitalism in space: SpaceX has just successfully launched its Falcon Heavy into space.
The key to this launch was to get the three first stage boosters to all work in unison, and for the two side boosters to successfully separate. All worked.
As I write this we are waiting for the two side boosters on their way back to land, and the central core heading back to land at sea.
The two side boosters landed like synchronized swimmers. The core stage barge landing remains unconfirmed. Update: SpaceX has confirmed that the core stage failed to land correctly, crashing into the ocean.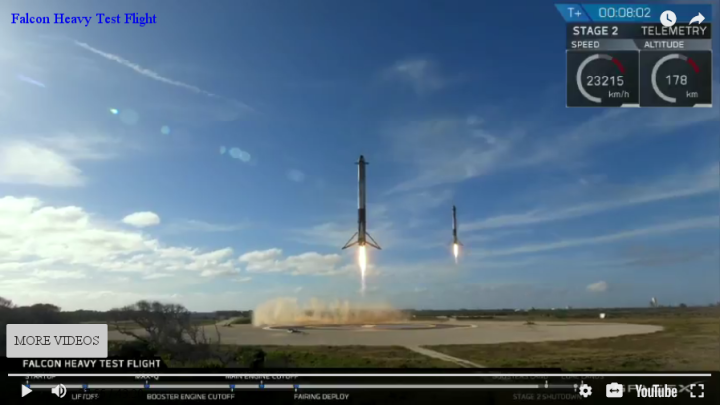 Even so, the upper stage and its payload are in orbit. They will fire its engines in about a half hour, and then again in six hours to put the Tesla into solar orbit. Update: The first firing occurred as scheduled, and Musk has now confirmed that the final burn has placed the Tesla in a solar orbit that reaches out into the asteroid belt.
SpaceX has now started a live stream from the Tesla, showing its mannequin dubbed "Starman" sitting in the driver's seat.
Even if the core stage failed to land successfully, and even if the upper stage fails to send the Tesla towards Mars, this launch is an unqualified success. SpaceX has demonstrated that the Falcon Heavy works. It is now the most powerful rocket in operation, and only matched or beaten in capability by the Saturn 5, Energia, and the Space Shuttle, none of which exist any longer.
The 2018 launch standings:
6 China
3 SpaceX
2 ULA
2 Japan