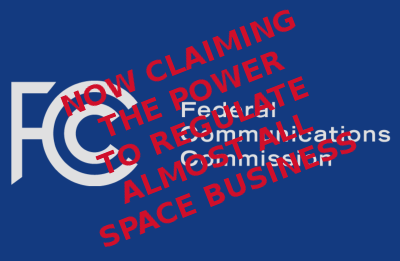 The Federal Communications Commission (FCC) today voted to initiate what it calls a "Notice of Inquiry" to begin a policy review aimed at expanding its involvement and regulation of "space missions like satellite refueling, inspecting and repairing in-orbit spacecraft, capturing and removing debris, and transforming materials through manufacturing while in space."
From the Federal Communications Commission's press release [pdf]:
Today's action continues this modernization effort as in-space servicing, assembly, and manufacturing capabilities – or "ISAM" – has the potential to build entire industries, create new jobs, mitigate climate change, and advance America's economic, scientific, technological, and national security interests. ISAM missions take place on-orbit, in transit, or on the surface of space bodies. The FCC's effort to open up this conversation dovetails with the Office of Science and Technology Policy's recent release of a ISAM National Strategy.

This policy review is part of the FCC's broad effort to update its rules for the new space age. For example, the FCC is taking significant steps to update its satellite rules. The FCC also adopted new rules to lay the groundwork for giving satellite launch companies ready access to spectrum for transmissions from space launch vehicles during pre-launch testing and space launch operations.
ISAM (In-space Servicing, Assembly and Manufacturing) refers to the final policy statement [pdf] of a working group in the National Science & Technology Council, created as part of the Office of Science and Technology Policy in the Biden administration. That policy statement outlined six strategies that the federal government needs to focus on to encourage American success in space. From its conclusion:

The six national strategic goals outlined in this strategy:

the advancement of R&D capabilities
prioritizing scalable infrastructure
accelerating commercial innovation
promoting international cooperation and collaboration
fostering environmental sustainability
and inspiring the future space workforce

[These] will produce greater space capabilities through appropriate policies, procedures, and operational infrastructure. ISAM capabilities can create the foundation for sustainable operations and serve as a strategic enabler to spur U.S. scientific and technological innovation, ensure the freedom to operate, and preserve the use of space for future generations.
Note how none of these goals has anything to do with the electromagnetic spectrum, the regulation of which is the sole and only real responsibility of the Federal Communications Commission.
Yet, the Federal Communications Commission now seems to think it has a place on the table in regulating future manufacturing in space, satellite refueling, satellite repair, and the removal of space junk. How the hell did assigning and licensing frequency spectrum for communications suddenly morph into the right to regulate almost all aspects of business in space?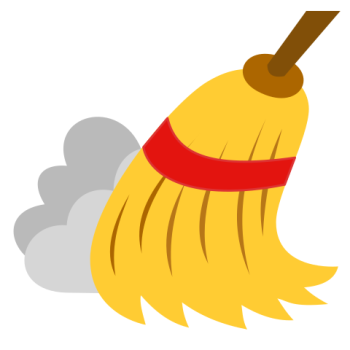 What we are seeing here is called "mission creep." The Federal Communications Commission is doing what all bureaucracies in the federal government have been doing for decades, expanding its power and its scope of control. It is trying to set precedents whereby American citizens accept its right to tell them what to do, when to do, how to do it, and not to do it, if these control freaks in Washington decide it shouldn't be done.
If voters do not begin electing politicians willing to stand up to this bureaucracy and fire it wholesale, we will lose this country very soon — if we haven't lost it already.
We need a complete house-cleaning. The broom must sweep everything clean, including the wholesale and quite merciless firing of tens of thousands of DC bureaucrats. They need to find real work, instead of squelching the real work of others.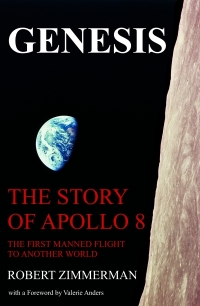 On Christmas Eve 1968 three Americans became the first humans to visit another world. What they did to celebrate was unexpected and profound, and will be remembered throughout all human history. Genesis: the Story of Apollo 8, Robert Zimmerman's classic history of humanity's first journey to another world, tells that story, and it is now available as both an ebook and an audiobook, both with a foreword by Valerie Anders and a new introduction by Robert Zimmerman.
The ebook is available everywhere for $5.99 (before discount) at
amazon
, or direct from my ebook publisher,
ebookit
. If you buy it from
ebookit
you don't support the big tech companies and the author gets a bigger cut much sooner.
The audiobook is also available at all these vendors, and is also
free with a 30-day trial membership to Audible.
"Not simply about one mission, [Genesis] is also the history of America's quest for the moon... Zimmerman has done a masterful job of tying disparate events together into a solid account of one of America's greatest human triumphs."--San Antonio Express-News