Readers!
My annual February birthday month fund-raising campaign for Behind the Black is now over. It was the best February campaign ever, and the second best of all of my month-long fund-raising campaigns.
There were too many people who contributed to thank you all personally. If I did so I would not have time for the next day or so to actually do any further posts, and I suspect my supporters would prefer me posting on space and culture over getting individual thank you notes.
Let this public thank suffice. I say this often, but I must tell you all that you cannot imagine how much your support means to me. I've spent my life fighting a culture hostile to my perspective, a hostility that has often served to squelch my success. Your donations have now allowed me to bypass that hostility to reach a large audience.
Even though the February campaign is over, if you still wish to donate or subscribe you still can do so, by either clicking on the tip jar at the top of the column to the right (on desktops) or near the bottom of the page (on mobile phones), or mailing a check to the address shown in that tip jar.
This thank you post will remain at the top of the page for the next few days.
Yours sincerely,
Robert Zimmerman
Scroll down for new updates.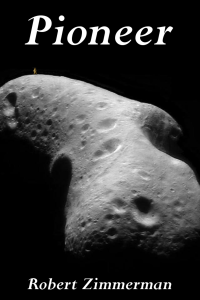 From the press release: From the moment he is handed a possibility of making the first alien contact, Saunders Maxwell decides he will do it, even if doing so takes him through hell and back.
Unfortunately, that is exactly where that journey takes him.
The vision that Zimmerman paints of vibrant human colonies on the Moon, Mars, the asteroids, and beyond, indomitably fighting the harsh lifeless environment of space to build new societies, captures perfectly the emerging space race we see today.
He also captures in Pioneer the heart of the human spirit, willing to push forward no matter the odds, no matter the cost. It is that spirit that will make the exploration of the heavens possible, forever, into the never-ending future.
Available everywhere for $3.99 (before discount) at
amazon
,
Barnes & Noble
, all ebook vendors, or direct from the ebook publisher,
ebookit
. And if you buy it from
ebookit
you don't support the big tech companies and I get a bigger cut much sooner.