Readers!
My annual February birthday month fund-raising campaign for Behind the Black is now over. It was the best February campaign ever, and the second best of all of my month-long fund-raising campaigns.
There were too many people who contributed to thank you all personally. If I did so I would not have time for the next day or so to actually do any further posts, and I suspect my supporters would prefer me posting on space and culture over getting individual thank you notes.
Let this public thank suffice. I say this often, but I must tell you all that you cannot imagine how much your support means to me. I've spent my life fighting a culture hostile to my perspective, a hostility that has often served to squelch my success. Your donations have now allowed me to bypass that hostility to reach a large audience.
Even though the February campaign is over, if you still wish to donate or subscribe you still can do so, by either clicking on the tip jar at the top of the column to the right (on desktops) or near the bottom of the page (on mobile phones), or mailing a check to the address shown in that tip jar.
This thank you post will remain at the top of the page for the next few days.
Yours sincerely,
Robert Zimmerman
Scroll down for new updates.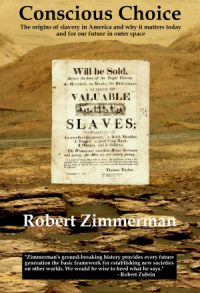 Now available in hardback and paperback as well as ebook!
From the press release: In this ground-breaking new history of early America, historian Robert Zimmerman not only exposes the lie behind The New York Times 1619 Project that falsely claims slavery is central to the history of the United States, he also provides profound lessons about the nature of human societies, lessons important for Americans today as well as for all future settlers on Mars and elsewhere in space.
Conscious Choice: The origins of slavery in America and why it matters today and for our future in outer space
, is a riveting page-turning story that documents how slavery slowly became pervasive in the southern British colonies of North America, colonies founded by a people and culture that not only did not allow slavery but in every way were hostile to the practice.
Conscious Choice
does more however. In telling the tragic history of the Virginia colony and the rise of slavery there, Zimmerman lays out the proper path for creating healthy societies in places like the Moon and Mars.
"Zimmerman's ground-breaking history provides every future generation the basic framework for establishing new societies on other worlds. We would be wise to heed what he says." —Robert Zubrin, founder of founder of the Mars Society.
All editions are available at Amazon, Barnes & Noble, and all book vendors, with the ebook priced at $5.99 before discount. The ebook can also be purchased direct from my ebook publisher, ebookit, in which case you don't support the big tech companies and I get a bigger cut much sooner.
Autographed printed copies are also available at discount directly from me (hardback $24.95; paperback $14.95; Shipping cost for either: $5.00). Just email me at zimmerman @ nasw dot org.