Up until tonight I had not watched any of the Republican Presidential debates. To me, the game show formats of each debate were such that I had no expectation of seeing any substance. Quick one-liners and gotcha attacks — the only thing that generally comes from these formats — can't tell me anything about the deeper philosophical underpinnings of each candidate. And without that knowledge I can have no idea whether or not the candidates will follow through with what they say they'll do.
Tonight however I did watch the Herman Cain-Newt Gingrich debate, which CSPAN has made available to watch in its entirety. The format was basically Cain and Gingrich for an hour and a half, answering a variety of questions about the three big entitlement programs, Medicare, Social Security, and Medicaid. Each man could essentially take as much time as he desired to say what he wanted.

Because Cain and Gingrich are both conservative, they actually didn't debate very much. If anything, this event was a mutual admiration society. However, because of the lengthy format, they each had the time to speak their minds in great detail and depth. The result was a substantive discussion about the financial problems of all three of these entitlement programs, and how each man would attack the problem.
Both Cain and Gingrich talked at length about how the medical programs fail because they separate the buyer of the services from the provider, thereby encouraging fraud and out-of-control costs. Both also talked about how social security is bankrupt because the money taken from people for the program is controlled by the government, not they themselves. Moreover, Gingrich especially talked about the outright fraud of the federal government in grabbing that money for general expenses, when it was supposed to be held in a separate trust fund.
I found myself more impressed with Gingrich's articulate approach to the issues. Cain didn't seem to show as much depth, at least in how he discussed these issues. However, he very clearly demonstrated that he recognizes the problem today is the government, and that we won't solve our problems if we keep asking the government for the solution.
Based on what I saw tonight, Gingrich appears to be the stronger of the two candidates. However, I would have no fear voting for either man. They might not do things right every time once in office, but both honestly recognize the seriousness of our problem, and seem unafraid to address it head on.
My biggest hope is that this format catches on, and we begin to see more such debates. Regardless, I strongly recommend that you take the time to watch this debate yourself. It is at times revealing, often entertaining, and sometimes quite humorous. Stay especially to the end, when each candidate gets a last chance to ask the other a question. Cain's question to Gingrich brings the house down.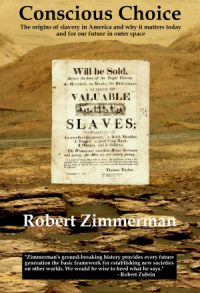 Now available in hardback and paperback as well as ebook!
From the press release: In this ground-breaking new history of early America, historian Robert Zimmerman not only exposes the lie behind The New York Times 1619 Project that falsely claims slavery is central to the history of the United States, he also provides profound lessons about the nature of human societies, lessons important for Americans today as well as for all future settlers on Mars and elsewhere in space.
Conscious Choice: The origins of slavery in America and why it matters today and for our future in outer space
, is a riveting page-turning story that documents how slavery slowly became pervasive in the southern British colonies of North America, colonies founded by a people and culture that not only did not allow slavery but in every way were hostile to the practice.
Conscious Choice
does more however. In telling the tragic history of the Virginia colony and the rise of slavery there, Zimmerman lays out the proper path for creating healthy societies in places like the Moon and Mars.
"Zimmerman's ground-breaking history provides every future generation the basic framework for establishing new societies on other worlds. We would be wise to heed what he says." —Robert Zubrin, founder of founder of the Mars Society.
All editions are available at Amazon, Barnes & Noble, and all book vendors, with the ebook priced at $5.99 before discount. The ebook can also be purchased direct from my ebook publisher, ebookit, in which case you don't support the big tech companies and I get a bigger cut much sooner.
Autographed printed copies are also available at discount directly from me (hardback $24.95; paperback $14.95; Shipping cost for either: $5.00). Just email me at zimmerman @ nasw dot org.