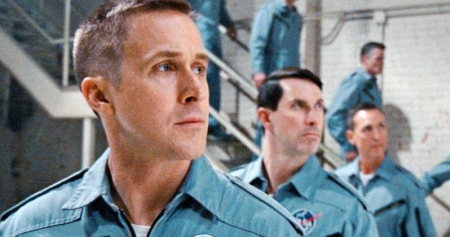 This past weekend movie-goers finally got to see the world premiere of First Man, a movie based on the biography with the same title telling the life story of Neil Armstrong, the first man to step onto the surface of another world.
Prior to the movie's release there was some controversy when Ryan Gosling, the actor playing Armstrong, said that they had left out the scene on the Moon when the astronauts planted the American Flag because their goal was to highlight Armstrong's personal story as well as the global nature of the achievement.
Star Ryan Gosling, who plays Armstrong, defended director Damien Chazelle's decision to omit the star-spangled moment when asked about it in Venice. "I think this was widely regarded in the end as a human achievement [and] that's how we chose to view it, " Gosling said per the Telegraph. "I also think Neil was extremely humble, as were many of these astronauts, and time and time again he deferred the focus from himself to the 400,000 people who made the mission possible."

The Canadian actor added that based on his own interviews with Armstrong's family and friends, he doesn't believe the pioneering astronaut considered himself an American hero. "I don't think that Neil viewed himself as an American hero," Gosling said. From my interviews with his family and people that knew him, it was quite the opposite. And we wanted the film to reflect Neil." [emphasis mine]
Many on the right including myself, strongly criticized this statement. The movies director, Damien Chazelle, immediately responded, saying he was not trying to devalue the importance of the American achievement but to focus instead on telling Neil Armstrong's personal story. "My goal with this movie was to share with audiences the unseen, unknown aspects of America's mission to the moon — particularly Neil Armstrong's personal saga and what he may have been thinking and feeling during those famous few hours."
I decided I had been unfair to criticize the film without seeing it, and decided I would make a rare trip to a movie theater as soon as it was released to see it and then review it.

First, while I could note a variety of minor historical errors, the worst of which is the mispronunciation of Gemini (it was not pronounced "jim-i-NEE," as everyone in this film does, but "gem-a-NI"), none of these errors are important. First Man tries very hard to get its facts right, and for this we should congratulate the filmmakers.
The film's most obvious problem, which I think is what is turning off audiences, is how dislikeable it makes all the characters. The astronauts are almost all portrayed as morose, humorless drudges, with no exurberance at all. Armstrong in particular is seen as a glum, sulky, inarticulate, and introverted. He is also often portrayed as a jerk who repeatedly treats his wife and kids as after thoughts. As my wife Diane said, "I wanted to smack him upside the head."
Without question many of the best 1960s astronauts often behaved as jerks to their families. The pressure of their work made it difficult for many to behave any other way. To get where they were forced them to focus every fiber of their being on their careers, often so much so that their families only rarely saw them. At the same time, many recognized this and tried to make up for it in other ways.
Moreover, while it is not unlikely that Armstrong himself did treat his family as carelessly as was portrayed in this movie, Armstrong was also the man who landed the first spacecraft on the Moon, and took the first human steps on another planet. If you are going to tell his story, you are guaranteed to turn people off if you focus mostly on his flaws and not on the greatness of his achievements.
Nor was Armstrong the only astronaut that the film portrayed badly. Buzz Aldrin was shown as a shallow, rude and undiplomatic person, someone whom everyone disliked intensely. As he was presented I can't imagine anyone putting him on the first spacecraft to land on the moon.
Moreover, the movie focuses so much on Armstrong's personal story that it misses the greater tale of America's triumph, which by the way was also part of Armstrong's personal story. Armstrong might have had personal reasons to get to the Moon, but he also knew how much he was a part of greater historical events. When he announced to the world, "Tranquility Base here. The Eagle has landed!" he did it with enthusiasm and a clear sense of joy. He knew that he had just accomplished something grand for his country, and he wanted to celebrate it to the entire world.
Ryan Gosling, the actor playing Armstrong, speaks the words "the eagle has landed" almost as an afterthought, as if this Canadian actor was uncomfortable playing an unabashed American.
Armstrong did not simply fly to the Moon for his own personal reasons. He did it for his country, and for the world. The film however refuses to consider the mission's greater meaning, and so the achievement of the lunar landing essentially becomes trivialized.
In this sense First Man confirmed the suspicions aired several weeks ago by many on the right, including myself, that the moviemakers wanted to make believe the Apollo landings were not an American achievement, but a global one. While they did not exclude the presence of the American flag on the Moon, and also made it clear that this NASA effort was an American effort, the patriotic aspects of the Apollo missions are completely lost. So was its clear context within the battleground in the Cold War. We did not go to the Moon to simply prove Americans can accomplish hard things. We went, as Kennedy said, to prove that a free people can do it better than the communist/socialist system advocated by the Soviets. As Kennedy so boldly declared, "We go into space because whatever mankind must undertake, free men must fully share."
It is for this reason more than any other that I suspect the film is doing poorly. While First Man is supposed to be about an inspiring story, it tries very hard to inspire no one. It instead leaves one flat. It makes the entire effort to reach the Moon seem almost pointless, and heartless at the same time.
The punchline at the end of John Ford's classic movie, The Man Who Shot Liberty Valance, probably said it best: "This is the west. When the fact becomes legend, print the legend." First Man went for facts so much that it forgot there was a legend here. Audiences remember, however, and for this reason the word of mouth for the film has apparently been sour.
A note on the experience of going to the theater.
I, like many people, almost never go to the movies nowadays. It is much easier and cheaper to either put in a DVD or stream something from the comfort of my home. Moreover, the last few times Diane and I attended a movie, we found the experience unpleasant. The theater was generally dirty, and in one case there were technical problems (failure of the air conditioning) that forced us to leave and return the next day.
My experience yesterday seeing First Man once again reinforced these impressions.
First and foremost, the sound was too loud. Repeatedly both Diane and I had to cover our ears so the experience would not be painful.
The experience was also like entering a liberal bubble. The movie trailers all described films pushing liberal agenda items; feminist rights (Mary Queen of Scots), gay rights (Queen, Glass), spreading the wealth (Robin Hood). Furthermore, putting aside their underlying liberal agenda, all the films being touted were boringly predictable. Big special effects! Heroes fighting evil villains! Fight scenes over catwalks!
The sound for all the trailers was also too loud.
The commercials (ugh, who wants to pay someone to be subjected to commercials?) also seemed be part of that liberal bubble, all from big corporations that are increasingly lining up for the Democratic Party and its socialist political agenda.
And did I mention the sound was too loud?
During the movie I took a look around, and counted only about 25 people seated in a theater that could probably hold about over 600, probably more. I saw no one under 50 years old, most of whom were like me, children of the 1960s who wanted to see a recreation of the grand adventure that was Apollo. They did not get it, and were furthermore assaulted by a generally unpleasant experience. I would not be surprised if most came away resolving, as I did, to not come again, for a very long time.
Readers!
In order to remain completely independent and honest in my writing, I accept no sponsorships from big space companies or any political organizations. Nor do I depend on ads.
Instead, I rely entirely on the generosity of readers to keep Behind the Black running. You can either make a one time donation for whatever amount you wish, or you sign up for a monthly subscription ranging from $2 to $15 through Paypal, or $3 to $50 through Patreon, or any amount through Zelle.
The best method to donate or subscribe is by using Zelle through your internet bank account, since it charges no fees to you or I. You will need to give my name and email address (found at the bottom of the "About" page). What you donate is what I get.
To use Patreon, go to my website there and pick one of five monthly subscription amounts, or by making a one-time donation.

For PayPal click one of the following buttons:

If these electronic payment methods don't work for you, you can support Behind The Black directly by sending your donation by check, payable to Robert Zimmerman, to


Behind The Black
c/o Robert Zimmerman
P.O.Box 1262
Cortaro, AZ 85652