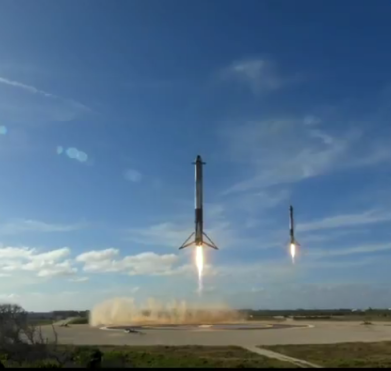 Both side boosters landing during
the 1st Falcon Heavy launch
Capitalism in space: For the first time in since September 2020, SpaceX has delivered a new Falcon 9 1st stage to its Florida launch site in preparation for launch.
This new stage will be used on the June 3rd launch of a cargo Dragon freighter to ISS.
What is remarkable about this story is that it is news that SpaceX is using a new first stage. Not only have all of their fifteen launches in 2021 lifted off with used boosters, since November 2020 they have completed nineteen launches using only used boosters.
That's 19 launches in only six months, all with previously flown boosters!
During that time the company's Falcon rocket division has apparently dedicated its time in upgrading and building new Falcon Heavy 1st stage boosters, in preparation for the first Falcon Heavy launches since June 2019, set for July and October later this year. I suspect the focus has been an effort to upgrade the core booster so that it will be successfully recovered this time, something that did not occur on two of the first three Falcon Heavy launches in 2018 and 2019..

Meanwhile, SpaceX has spent all of 2021 making the reuse of Falcon 9 boosters standard operating procedure and remarkably routine. For this rocket company, it is now rare and unusual for it to fly a new booster. Instead, it saves a fortune each launch by reliably reusing old boosters, an achievement that for fifty years rocket engineers and managers at companies like Boeing, Lockheed Martin, and ULA insisted was completely impractical and certainly impossible.
Well, to paraphrase Arthur C. Clarke, "When a distinguished but elderly engineer or manager at a long-established rocket company states that something is possible, he is almost certainly right. When he states that something is impossible, he is very probably wrong."
Based on SpaceX's pace in '21, the company is likely to complete more than 30 launches, exceeding its own record for commercial launches in a single year by a company by about one third. And it will do it almost entirely with old previously flown boosters!
Keep this story in mind the next time someone in any space company or at NASA states categorically that something shouldn't or can't be done. All it will take to prove that person wrong will likely be some competitor who pays no attention, figures it out, and makes it happen.
In fact, freedom and competition do this naturally. Give people the freedom to compete and be creative, and they will always astonish you.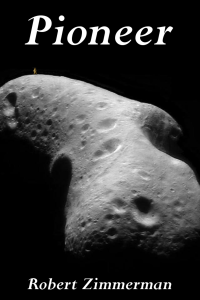 From the press release: From the moment he is handed a possibility of making the first alien contact, Saunders Maxwell decides he will do it, even if doing so takes him through hell and back.
Unfortunately, that is exactly where that journey takes him.
The vision that Zimmerman paints of vibrant human colonies on the Moon, Mars, the asteroids, and beyond, indomitably fighting the harsh lifeless environment of space to build new societies, captures perfectly the emerging space race we see today.
He also captures in Pioneer the heart of the human spirit, willing to push forward no matter the odds, no matter the cost. It is that spirit that will make the exploration of the heavens possible, forever, into the never-ending future.
Available everywhere for $3.99 (before discount) at
amazon
,
Barnes & Noble
, all ebook vendors, or direct from the ebook publisher,
ebookit
. And if you buy it from
ebookit
you don't support the big tech companies and I get a bigger cut much sooner.