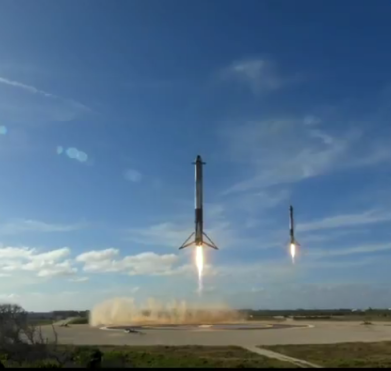 Both side boosters landing during
the 1st Falcon Heavy launch
Capitalism in space: For the first time in since September 2020, SpaceX has delivered a new Falcon 9 1st stage to its Florida launch site in preparation for launch.
This new stage will be used on the June 3rd launch of a cargo Dragon freighter to ISS.
What is remarkable about this story is that it is news that SpaceX is using a new first stage. Not only have all of their fifteen launches in 2021 lifted off with used boosters, since November 2020 they have completed nineteen launches using only used boosters.
That's 19 launches in only six months, all with previously flown boosters!
During that time the company's Falcon rocket division has apparently dedicated its time in upgrading and building new Falcon Heavy 1st stage boosters, in preparation for the first Falcon Heavy launches since June 2019, set for July and October later this year. I suspect the focus has been an effort to upgrade the core booster so that it will be successfully recovered this time, something that did not occur on two of the first three Falcon Heavy launches in 2018 and 2019..

Meanwhile, SpaceX has spent all of 2021 making the reuse of Falcon 9 boosters standard operating procedure and remarkably routine. For this rocket company, it is now rare and unusual for it to fly a new booster. Instead, it saves a fortune each launch by reliably reusing old boosters, an achievement that for fifty years rocket engineers and managers at companies like Boeing, Lockheed Martin, and ULA insisted was completely impractical and certainly impossible.
Well, to paraphrase Arthur C. Clarke, "When a distinguished but elderly engineer or manager at a long-established rocket company states that something is possible, he is almost certainly right. When he states that something is impossible, he is very probably wrong."
Based on SpaceX's pace in '21, the company is likely to complete more than 30 launches, exceeding its own record for commercial launches in a single year by a company by about one third. And it will do it almost entirely with old previously flown boosters!
Keep this story in mind the next time someone in any space company or at NASA states categorically that something shouldn't or can't be done. All it will take to prove that person wrong will likely be some competitor who pays no attention, figures it out, and makes it happen.
In fact, freedom and competition do this naturally. Give people the freedom to compete and be creative, and they will always astonish you.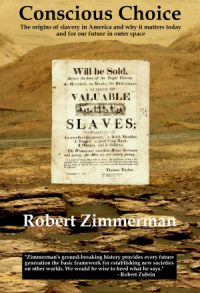 Now available in hardback and paperback as well as ebook!
From the press release: In this ground-breaking new history of early America, historian Robert Zimmerman not only exposes the lie behind The New York Times 1619 Project that falsely claims slavery is central to the history of the United States, he also provides profound lessons about the nature of human societies, lessons important for Americans today as well as for all future settlers on Mars and elsewhere in space.
Conscious Choice: The origins of slavery in America and why it matters today and for our future in outer space
, is a riveting page-turning story that documents how slavery slowly became pervasive in the southern British colonies of North America, colonies founded by a people and culture that not only did not allow slavery but in every way were hostile to the practice.
Conscious Choice
does more however. In telling the tragic history of the Virginia colony and the rise of slavery there, Zimmerman lays out the proper path for creating healthy societies in places like the Moon and Mars.
"Zimmerman's ground-breaking history provides every future generation the basic framework for establishing new societies on other worlds. We would be wise to heed what he says." —Robert Zubrin, founder of founder of the Mars Society.
All editions are available at Amazon, Barnes & Noble, and all book vendors, with the ebook priced at $5.99 before discount. The ebook can also be purchased direct from my ebook publisher, ebookit, in which case you don't support the big tech companies and I get a bigger cut much sooner.
Autographed printed copies are also available at discount directly from me (hardback $24.95; paperback $14.95; Shipping cost for either: $5.00). Just email me at zimmerman @ nasw dot org.