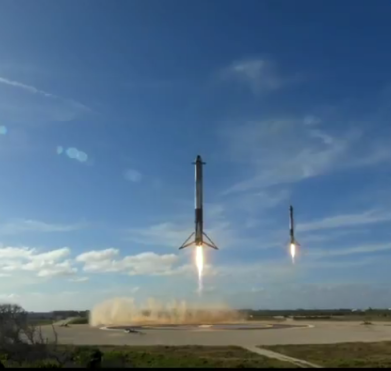 Both side boosters landing during
the 1st Falcon Heavy launch
Capitalism in space: For the first time in since September 2020, SpaceX has delivered a new Falcon 9 1st stage to its Florida launch site in preparation for launch.
This new stage will be used on the June 3rd launch of a cargo Dragon freighter to ISS.
What is remarkable about this story is that it is news that SpaceX is using a new first stage. Not only have all of their fifteen launches in 2021 lifted off with used boosters, since November 2020 they have completed nineteen launches using only used boosters.
That's 19 launches in only six months, all with previously flown boosters!
During that time the company's Falcon rocket division has apparently dedicated its time in upgrading and building new Falcon Heavy 1st stage boosters, in preparation for the first Falcon Heavy launches since June 2019, set for July and October later this year. I suspect the focus has been an effort to upgrade the core booster so that it will be successfully recovered this time, something that did not occur on two of the first three Falcon Heavy launches in 2018 and 2019..

Meanwhile, SpaceX has spent all of 2021 making the reuse of Falcon 9 boosters standard operating procedure and remarkably routine. For this rocket company, it is now rare and unusual for it to fly a new booster. Instead, it saves a fortune each launch by reliably reusing old boosters, an achievement that for fifty years rocket engineers and managers at companies like Boeing, Lockheed Martin, and ULA insisted was completely impractical and certainly impossible.
Well, to paraphrase Arthur C. Clarke, "When a distinguished but elderly engineer or manager at a long-established rocket company states that something is possible, he is almost certainly right. When he states that something is impossible, he is very probably wrong."
Based on SpaceX's pace in '21, the company is likely to complete more than 30 launches, exceeding its own record for commercial launches in a single year by a company by about one third. And it will do it almost entirely with old previously flown boosters!
Keep this story in mind the next time someone in any space company or at NASA states categorically that something shouldn't or can't be done. All it will take to prove that person wrong will likely be some competitor who pays no attention, figures it out, and makes it happen.
In fact, freedom and competition do this naturally. Give people the freedom to compete and be creative, and they will always astonish you.
Readers!
In order to remain completely independent and honest in my writing, I accept no sponsorships from big space companies or any political organizations. Nor do I depend on ads.
Instead, I rely entirely on the generosity of readers to keep Behind the Black running. You can either make a one time donation for whatever amount you wish, or you sign up for a monthly subscription ranging from $2 to $15 through Paypal, or $3 to $50 through Patreon, or any amount through Zelle.
The best method to donate or subscribe is by using Zelle through your internet bank account, since it charges no fees to you or I. You will need to give my name and email address (found at the bottom of the "About" page). What you donate is what I get.
To use Patreon, go to my website there and pick one of five monthly subscription amounts, or by making a one-time donation.

For PayPal click one of the following buttons:

If these electronic payment methods don't work for you, you can support Behind The Black directly by sending your donation by check, payable to Robert Zimmerman, to


Behind The Black
c/o Robert Zimmerman
P.O.Box 1262
Cortaro, AZ 85652