This article, about the back room maneuvers by both political parties leading up to last week's election, has been making the rounds on all the political websites. Called a "must-read, vivid piece", it reveals all the strategies, mistakes, and childish in-fighting that took place during the campaign, the kind of stuff that makes many people consider politicians such a lower form of life.
I am normally not interested in these smoke-filled backroom stories as I care a lot more about what politicians do when they are in office. This is why I didn't read the article until today, two days after it was published and after I had seen it quoted in maybe a dozen other political articles about the election.
Having read it I have to agree it is worthwhile reading, but my main take-away is that its focus on the campaign strategies and maneuvers by politicians of both parties epitomizes all that is wrong with modern political journalism as well as the interests too many of its readers. Only once did the article hint at the actual issues crucial to the election, when it summed up the Republican strategy near the beginning of the article:
From the outset of the campaign, Republicans had a simple plan: Don't make mistakes, and make it all about Obama, Obama, Obama. Every new White House crisis would bring a new Republican ad. And every Democratic incumbent would be attacked relentlessly for voting with the president 97 or 98 or 99 percent of the time.
That's it. That's the only hint at real substance in this whole very long and detailed article.
For you see, the election was about Obama and his fumbling incompetence. It was about the policies he and his Democratic supporters in Congress had foisted on the nation. And it was about how those policies have been a disaster for ordinary people all across the nation.
All the games that these politicians play against each other during campaigns really isn't that important. It might tell you something about their character, but what really matters is what these guys do, when they are in office. Keep that in mind when the next election rolls around, because I guarantee that the politicians and the journalists who write about them are not going to be interested in talking about that. It would be far too embarrassing.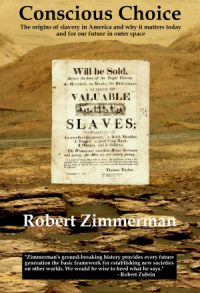 Now available in hardback and paperback as well as ebook!
From the press release: In this ground-breaking new history of early America, historian Robert Zimmerman not only exposes the lie behind The New York Times 1619 Project that falsely claims slavery is central to the history of the United States, he also provides profound lessons about the nature of human societies, lessons important for Americans today as well as for all future settlers on Mars and elsewhere in space.
Conscious Choice: The origins of slavery in America and why it matters today and for our future in outer space
, is a riveting page-turning story that documents how slavery slowly became pervasive in the southern British colonies of North America, colonies founded by a people and culture that not only did not allow slavery but in every way were hostile to the practice.
Conscious Choice
does more however. In telling the tragic history of the Virginia colony and the rise of slavery there, Zimmerman lays out the proper path for creating healthy societies in places like the Moon and Mars.
"Zimmerman's ground-breaking history provides every future generation the basic framework for establishing new societies on other worlds. We would be wise to heed what he says." —Robert Zubrin, founder of founder of the Mars Society.
All editions are available at Amazon, Barnes & Noble, and all book vendors, with the ebook priced at $5.99 before discount. The ebook can also be purchased direct from my ebook publisher, ebookit, in which case you don't support the big tech companies and I get a bigger cut much sooner.
Autographed printed copies are also available at discount directly from me (hardback $24.95; paperback $14.95; Shipping cost for either: $5.00). Just email me at zimmerman @ nasw dot org.