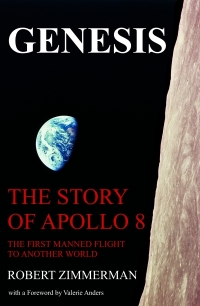 On Christmas Eve 1968 three Americans became the first humans to visit another world. What they did to celebrate was unexpected and profound, and will be remembered throughout all human history. Genesis: the Story of Apollo 8, Robert Zimmerman's classic history of humanity's first journey to another world, tells that story, and it is now available as both an ebook and an audiobook, both with a foreword by Valerie Anders and a new introduction by Robert Zimmerman.
The ebook is available everywhere for $5.99 (before discount) at
amazon
, or direct from my ebook publisher,
ebookit
.
The audiobook is also available at all these vendors, and is also
free with a 30-day trial membership to Audible.
"Not simply about one mission, [Genesis] is also the history of America's quest for the moon... Zimmerman has done a masterful job of tying disparate events together into a solid account of one of America's greatest human triumphs." --San Antonio Express-News
NOAA today announced its prediction for the upcoming Atlantic Ocean hurricane season, calling for between 9 and 15 tropical storms in 2012, with 4 to 8 becoming full blown hurricanes. The NOAA release can be seen here.
To me, the range of the prediction is so wide it really doesn't mean anything. Moreover, I wonder about the reliability of these predictions.

For the last few years NOAA has consistently expected more hurricanes than have actually shown up. For example, last year NOAA predicted between 6 to 10 storms, well above the 1944-2005 average. The final number was 6, exactly what the average has been.
More worrisome to me is that, though they overestimated the number of actual hurricanes, last year they somehow got the number of named storms right. Named storms are tropical storms that become strong enough to merit a name. Some strengthen into hurricanes. NOAA had predicted there would be 12 to 18 named storms. In the end, they named 18, right at the top end of their prediction.
I wonder if their naming process was fudged to get them the numbers they wanted. While it might be possible to do that with the naming process of tropical storms, it is far more difficult to fudge the number of actual hurricanes.
My skeptical nature and the recent willingness in the climate field to fiddle with data probably makes me more suspicious than I should be. We shall see what transpires. Stay tuned. We shall return to this sometime early in 2013, after the hurricane season has ended.
Readers!
My July fund-raiser for Behind the Black is now over. The support from my readers was unprecedented, making this July campaign the best ever, twice over. What a marvelous way to celebrate the website's tenth anniversary!

Thank you! The number of donations in July, and continuing now at the beginning of August, is too many for me to thank you all personally. Please forgive me by accepting my thank you here, in public, on the website.

If you did not donate or subscribe in July and still wish to, note that the tip jar remains available year round.
Regular readers can support Behind The Black with a contribution via paypal:
If Paypal doesn't work for you, you can support Behind The Black directly by sending your donation by check, payable to Robert Zimmerman, to

Behind The Black
c/o Robert Zimmerman
P.O.Box 1262
Cortaro, AZ 85652