Readers!
For many reasons,
mostly political but partly ethical
, I do not use Google, Facebook, Twitter. They practice corrupt business policies, while targeting conservative websites for censoring, facts repeatedly
confirmed
by news stories and by my sense that Facebook has taken action to prevent my readers from recommending Behind the Black to their friends.
Thus, I must have your direct support to keep this webpage alive. Not only does the money pay the bills, it gives me the freedom to speak honestly about science and culture,
instead of being forced to write it as others demand.
Please consider donating by giving either a one-time contribution or a regular subscription, as outlined in the tip jar below.
Regular readers can support Behind The Black with a contribution via paypal:
If Paypal doesn't work for you, you can support Behind The Black directly by sending your donation by check, payable to Robert Zimmerman, to

Behind The Black
c/o Robert Zimmerman
P.O.Box 1262
Cortaro, AZ 85652

You can also support me by buying one of my books, as noted in the boxes interspersed throughout the webpage. And if you buy the books through the ebookit links, I get a larger cut and I get it sooner.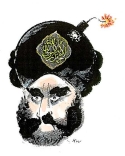 Link here. As she bluntly notes right at the start of the interview:
We incited no one. We didn't call for violence, justify violence, or approve of violence. The people who were inciting were the ones saying that we should be killed for exhibiting Muhammad cartoons. There is no automatic or unavoidable response to being insulted. No one is forced to kill for being insulted. Those who choose to do so are responsible for their actions. No one else is.
When asked about the criticism that pundits and reporters on both the left and the right have been leveling at her for provoking the attacks, she was equally blunt, though she saved her harshest criticism for the quislings on the right.
This is the problem with the conservatives. This is why we can never nominate qualified, brave, true conservative candidates. The conservative movement has trimmed to accommodate the leftist media so much that they've trimmed themselves out of principle. They attack me because they're desperately afraid that the leftist media will smear them by association with me. It is an act of sheer cowardice.
It has been disgusting these last few days watching the so-called intellectuals of our society, including many reporters who should know better, rush over themselves to blame Pamela Geller and the victims in this Islamic terrorist attack, merely because they exercised their first amendment rights.
The Islamic State has not only claimed credit for the attack, it says it plans to do more, targeting people in as many as 15 states, with Geller as one of those named to its kill list.
And we should blame Geller for the violence? How divorced from reality has our society's intellectual class become?