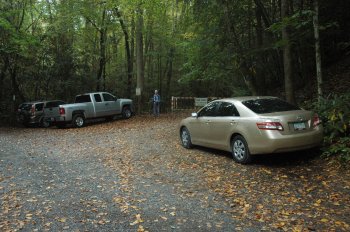 The Maddron Bald trailhead on October 3, 2013, during
the government shutdown.
Today we did our last hike in Great Smoky Mountains National Park. As I described yesterday, we decided to go to a place where we could park on private land and easily hike to a trail in the park. That way, we would reduce the level of power any fascist-minded ranger from the National Park Service might have over us should they confront us for being in our park.
As it turns out, there was no evidence at all of a shutdown at the trailhead we choose. We went to the Maddron Bald trailhead, just off state route 321. The parking area here is small, capable of holding no more than 5 or 6 cars. When we arrived there were three cars there, so we had no problem finding room, as you can see from the image to the left.
There were also no signs indicating the park was closed. Nor were there any barricades or cones. As far as we could tell, it was a normal day in the national park, which to me proved that the restrictions the park service is imposing on New Found Gap Road (as well as elsewhere across the nation) has absolutely nothing to do with their lack of funds. This particular trailhead is not as well known or visited, and is off the beaten track. Moreover, it would be hard to monitor. Thus, the park service chose to make believe it wasn't there. Smart tourists could come here and enjoy the park, as intended, despite the shutdown.
If the shutdown really required the closure of the park, the park service would have sent a ranger here as well. They did not, proving that their obnoxious efforts are really aimed at causing problems for as many Americans as possible, not securing the park as they dishonestly might tell us.

The hike we did was called the Old Settlers Trail. This path takes you past the ruins and last remaining buildings left by the original pioneers who had settled this land and then were kicked off it so the federal government could have its own private park that they sometimes let the little people visit. Unlike many other national parks, where the National Park Service either destroys or lets decay the ruins of the white man, here the park service has tried to protect and honor those ruins. We passed by a small cemetery, the Baxter cabin and the McCarter barn, and innumerable old stone walls piled high by the farmers in their effort to clear the hillsides of stones so they could grow crops.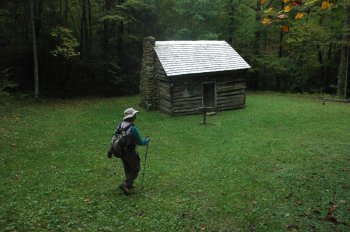 The Baxter cabin, built 1889. The Baxters raised four
children in this windowless 16'x18′ cabin.
As I looked at these ruins, I thought about those early settlers. In this area, most had come from Ireland or Scotland, where they had mostly been poor tenant farmers. When they came here they ended up doing pretty much the same thing they had done in the old country, but with two fundamental differences. First, in America they had to start over, clearing land that was untamed. In Europe the land had been settled for centuries, so much of the hardest work had already been done. Building those early farms in the Smoky Mountains was painful, exhausting, and difficult work, far more difficult than anything they had faced in Europe.
Second, and most important, in Europe they had not owned the land. Worse, the owner was their landlord, with emphasis on the word lord. They not only had to obey his orders concerning use of the land, he had great power over them in other matters, far more than the typical owner-tenant relationship we now have in the U.S. In coming to the young United States in the early 1800s, however, these farmers became the land owners, their own lord, free to do as they wished with their land and their lives.
It was this freedom that brought them here. That freedom was so valuable to them that they were willing to suffer and scrape in an untamed wilderness, rather than remain in the settled farmlands of the British Isles.
So, it doesn't take much thought to figure out what these settlers would have thought of the attempted closure of this national park by the Obama administration. They would have had an unlimited contempt for it, a rage and hatred that cannot be measured. And they would not have tolerated it. Worse, they would consider this closure the ultimate betrayal of their sacrifice, both in coming and building the nation and then giving up their land so a national park could be established for all Americans to enjoy.
It behooves us to honor their memory and effort and regain this park. The barricades have got to come down, here and elsewhere, whether or not the Republicans and Democrats reach an agreement on the federal shutdown.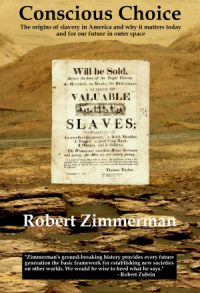 From the press release: In this ground-breaking new history of early America, historian Robert Zimmerman not only exposes the lie behind The New York Times 1619 Project that falsely claims slavery is central to the history of the United States, he also provides profound lessons about the nature of human societies, lessons important for Americans today as well as for all future settlers on Mars and elsewhere in space.
Conscious Choice: The origins of slavery in America and why it matters today and for our future in outer space
, is a riveting page-turning story that documents how slavery slowly became pervasive in the southern British colonies of North America, colonies founded by a people and culture that not only did not allow slavery but in every way were hostile to the practice.
Conscious Choice
does more however. In telling the tragic history of the Virginia colony and the rise of slavery there, Zimmerman lays out the proper path for creating healthy societies in places like the Moon and Mars.
"Zimmerman's ground-breaking history provides every future generation the basic framework for establishing new societies on other worlds. We would be wise to heed what he says." —Robert Zubrin, founder of founder of the Mars Society.
Available everywhere for $3.99 (before discount) at Amazon, Barnes & Noble, and all ebook vendors, or direct from the ebook publisher, ebookit. And if you buy it from ebookit you don't support the big tech companies and I get a bigger cut much sooner.