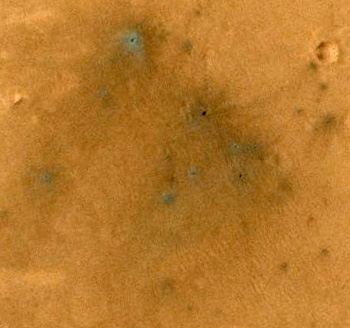 The image on the right is a cropped close-up of a Mars Reconnaissance Orbiter image taken in early September that shows a fresh cluster of impacts, all smaller than six feet across. Nearby but not visible in this image are four larger craters about 12 to 15 feet in diameter. The impact cluster is located just northwest of Gale Crater and was not present in images taken before Curiosity's arrival on Mars. The cluster is also in line with other impact craters produced by other debris dropped by Curiosity as it descended onto the Martian surface.
Scientists are at the moment unsure what spacecraft debris caused these impacts.
Assigning each of the impacts to specific pieces of hardware is a challenging puzzle, but it is thought that the four large craters were produced by two large tungsten weights that broke in half to make these four craters, or by pieces of the cruise stage, which was designed to break up in the atmosphere for planetary protection purposes, to kill any Earthly microbes.

The cluster imaged here adds to the mystery, and may have been produced by a piece of the cruise stage that traveled farther through the Martian atmosphere and was therefore more thoroughly fragmented by the time it crashed onto the surface.
Identifying the source of the debris is a challenging engineering problem that also has scientific interest. Knowing what caused the impacts and then studying how the surface was changed by them will tell geologists a great deal about the make up of that surface.
Readers!
Please consider donating to Behind the Black, by giving either a one-time contribution or a regular subscription, as outlined in the tip jar below. Your support will allow me to continue covering science and culture as I have for the past twenty years, independent and free from any outside influence.
Your support is even more essential to me because I keep this site free from advertisements and do not participate in corrupt social media companies like Google, Twitter, and Facebook. I depend wholly on the direct support of my readers.
You can provide that support to Behind The Black with a contribution via Patreon or PayPal. To use Patreon, go to my website there and pick one of five monthly subscription amounts, or by making a one-time donation. For PayPal click one of the following buttons:

If Patreon or Paypal don't work for you, you can support Behind The Black directly by sending your donation by check, payable to Robert Zimmerman, to


Behind The Black
c/o Robert Zimmerman
P.O.Box 1262
Cortaro, AZ 85652