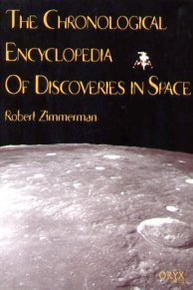 After being in print for twenty years, the Chronological Encyclopedia of Discoveries in Space, covering everything that was learned on every single space mission in the 20th century, has finally gone out of print.
I presently have my last four hardback copies available for sale. The book sold new for about $90. To get your own autographed copy of this now rare collector's item, please send a $120 check (which includes shipping) payable to Robert Zimmerman to
Behind The Black, c/o Robert Zimmerman
P.O.Box 1262
Cortaro, AZ 85652

"Useful to space buffs and generalists, comprehensive but readable, Bob Zimmerman's Encyclopedia belongs front and center on everyone's bookshelf." -- Mike Collins, Apollo 11 astronaut
"The Chronological Encylopedia of Discoveries in Space is no passionless compendium of information. Robert Zimmerman's fact-filled reports, which cover virtually every spacecraft or probe to have ventured into the heavens, relate the scientific and technical adventure of space exploration enthusiastically and with authority." -- American Scientist
At a press conference today the science team at Kepler announced a swath of new discoveries from the space telescope, all of which point to the impending discovery of multiple Earth-like planets capable of harboring life.

The confirmation of a rocky planet 2.4 times the mass of the Earth in the habitable zone of a star, with an orbit 290 days long. Though the planet, Kepler-22B, is slightly closer to its star than the Earth, the star, a G star like our sun and six hundred light years away, is also slightly dimmer. The scientists estimate that the planet's average surface temperature would be approximately 72 degrees Fahrenheit!
The telescope now has more than 2326 planet candidates, with 207 approximately Earth-size, 680 super Earth-size, 1,181 Neptune-size, 203 Jupiter-size, and 55 larger than Jupiter.
Of these, 48 candidate planets are considered to be in the habitable zone, 10 of which are approximately Earth-sized. Five of these are considered "very robust candidates," according to Natalie Batalha of the Kepler team. "Many of these planets could harbor life," added project scientist Bill Borucki.
Because of the significance of this new Kepler data, the SETI Institute has been using the Allen Telescope Array to focus its search to these planets in particular, looking for any evidence of intelligent radio signals.