At a press conference today the science team at Kepler announced a swath of new discoveries from the space telescope, all of which point to the impending discovery of multiple Earth-like planets capable of harboring life.

The confirmation of a rocky planet 2.4 times the mass of the Earth in the habitable zone of a star, with an orbit 290 days long. Though the planet, Kepler-22B, is slightly closer to its star than the Earth, the star, a G star like our sun and six hundred light years away, is also slightly dimmer. The scientists estimate that the planet's average surface temperature would be approximately 72 degrees Fahrenheit!
The telescope now has more than 2326 planet candidates, with 207 approximately Earth-size, 680 super Earth-size, 1,181 Neptune-size, 203 Jupiter-size, and 55 larger than Jupiter.
Of these, 48 candidate planets are considered to be in the habitable zone, 10 of which are approximately Earth-sized. Five of these are considered "very robust candidates," according to Natalie Batalha of the Kepler team. "Many of these planets could harbor life," added project scientist Bill Borucki.
Because of the significance of this new Kepler data, the SETI Institute has been using the Allen Telescope Array to focus its search to these planets in particular, looking for any evidence of intelligent radio signals.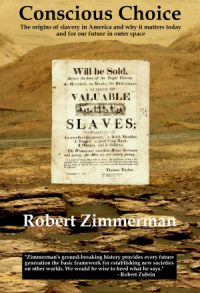 Now available in hardback and paperback as well as ebook!
From the press release: In this ground-breaking new history of early America, historian Robert Zimmerman not only exposes the lie behind The New York Times 1619 Project that falsely claims slavery is central to the history of the United States, he also provides profound lessons about the nature of human societies, lessons important for Americans today as well as for all future settlers on Mars and elsewhere in space.
Conscious Choice: The origins of slavery in America and why it matters today and for our future in outer space
, is a riveting page-turning story that documents how slavery slowly became pervasive in the southern British colonies of North America, colonies founded by a people and culture that not only did not allow slavery but in every way were hostile to the practice.
Conscious Choice
does more however. In telling the tragic history of the Virginia colony and the rise of slavery there, Zimmerman lays out the proper path for creating healthy societies in places like the Moon and Mars.
"Zimmerman's ground-breaking history provides every future generation the basic framework for establishing new societies on other worlds. We would be wise to heed what he says." —Robert Zubrin, founder of founder of the Mars Society.
All editions available at Amazon, Barnes & Noble, and all book vendors. The ebook can be purchased direct from my ebook publisher, ebookit, in which case you don't support the big tech companies and I get a bigger cut much sooner. Note that the price for the ebook, $3.99, goes up to $5.99 on September 1, 2022.
Autographed printed copies are also available at discount directly from me (hardback $24.95; paperback $14.95). Just email me at zimmerman @ nasw dot org.