Speaking of press release journalism, they just ended a press conference at the American Geophysical Union (AGU) fall meeting led by James Hansen, head of the NASA's Goddard Institute of Space Studies in New York. Hansen is a devoted global warming scientist, most well known to the public from his testimony to Congress in 1988 outlining the serious threat the world faces from global warming and carbon dioxide increases in the atmosphere.
I had very much wanted to ask Hansen (as well as the rest of the panel) this somewhat challenging question:

Can you comment on the paleoclimate data that shows that changes in global climate temperature consistently take place before any changes in atmospheric CO2. If the temperature changes first, how can CO2 be the cause? The data appears to suggest that there are other causes for paleo climate change, and that the change in global temperature then forces a change in atmospheric CO2.
Interestingly, my question, posted digitally by using their chat line, somehow got pushed to the back of the line so that time ran out before it could be asked, even though another softball question, posted at exactly the same time, was given an earlier placement in the queue so it could be asked.
In fact, all the questions that did get asked were softball questions, indicating that these reporters were on Hansen's side and totally agreed with him. A sampling:
When will we pass the point of no return before CO2 will produce an ice free world?
Your results suggest that the climate is extremely sensitive to CO2 changes. This appears to refute recent other studies, doesn't it?
At what point will there be so much CO2 in the atmosphere it will be too late to prevent disaster?
I doubt that the press people at AGU purposely pushed my question back, but I also can't discount that possibility. Worse however is the level of skepticism shown by the reporters that did get to ask questions. Hansen's results might very well be true, but a reporter shouldn't just accept this fact. Instead, it is the reporter's job to make sure what a scientist like Hansen is describing is reasonably acceptable, and can stand up to questioning. If his work can't, it shouldn't get very much news coverage.
Unfortunately, that didn't happen today at the AGU.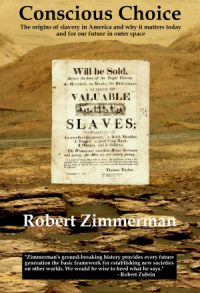 Now available in hardback and paperback as well as ebook!
From the press release: In this ground-breaking new history of early America, historian Robert Zimmerman not only exposes the lie behind The New York Times 1619 Project that falsely claims slavery is central to the history of the United States, he also provides profound lessons about the nature of human societies, lessons important for Americans today as well as for all future settlers on Mars and elsewhere in space.
Conscious Choice: The origins of slavery in America and why it matters today and for our future in outer space
, is a riveting page-turning story that documents how slavery slowly became pervasive in the southern British colonies of North America, colonies founded by a people and culture that not only did not allow slavery but in every way were hostile to the practice.
Conscious Choice
does more however. In telling the tragic history of the Virginia colony and the rise of slavery there, Zimmerman lays out the proper path for creating healthy societies in places like the Moon and Mars.
"Zimmerman's ground-breaking history provides every future generation the basic framework for establishing new societies on other worlds. We would be wise to heed what he says." —Robert Zubrin, founder of founder of the Mars Society.
All editions are available at Amazon, Barnes & Noble, and all book vendors, with the ebook priced at $5.99 before discount. The ebook can also be purchased direct from my ebook publisher, ebookit, in which case you don't support the big tech companies and I get a bigger cut much sooner.
Autographed printed copies are also available at discount directly from me (hardback $24.95; paperback $14.95; Shipping cost for either: $5.00). Just email me at zimmerman @ nasw dot org.