O joy! It's time to favor gender over achievement at NASA. The Obama administration is considering using governmental authority at NASA and other agencies to guarantee that the same number of women receive science, technology, engineering, and math degrees as men. The actual White House statement emphasizes the need "to ensure equity in science, technology, engineering, and math (STEM) education programs." [emphasis mine].
If you want to be really annoyed, download NASA's Office of Diversity and Equal Opportunity documentation [pdf] and read how institutions are expected to do "periodic reviews of data broken down by gender. . . to ensure program policies and practices are not having a negative impact on program participation." [page 5]
In other words, NASA should decide whether to provide education funds to universities, based not on the ability of those universities produce qualified engineers and scientists of any sex but on the number of women in their programs.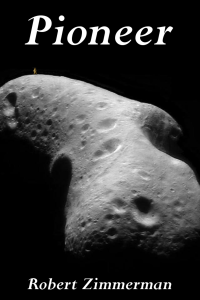 From the press release: From the moment he is handed a possibility of making the first alien contact, Saunders Maxwell decides he will do it, even if doing so takes him through hell and back.
Unfortunately, that is exactly where that journey takes him. The vision that Zimmerman paints of vibrant human colonies on the Moon, Mars, the asteroids, and beyond, indomitably fighting the harsh lifeless environment of space to build new societies, captures perfectly the emerging space race we see today. He also captures in Pioneer the heart of the human spirit, willing to push forward no matter the odds, no matter the cost. It is that spirit that will make the exploration of the heavens possible, forever, into the never-ending future. Available everywhere for $3.99 (before discount) at
amazon
,
Barnes & Noble
, all ebook vendors, or direct from the ebook publisher,
ebookit
. And if you buy it from
ebookit
you don't support the big tech companies and I get a bigger cut much sooner.