Obtaining and installing a Linux Distribution
by James Stephens
Almost any Linux distribution runs great on today's hardware. But I'm writing this with aging computers in mind. With older computers it's a good idea to know how much RAM (often referred to as physical memory) you have in order to select a distribution that will work well with your machine.
With Windows this can be shown by opening "System" in "Control Panel." RAM or physical memory will be expressed in Mb or Gb. Once you know this, you are armed with the knowledge to select a distribution.
For machines with 512 Mb RAM and up I recommend a distribution from LinuxMint. For machines with under 512 Mb RAM I recommend Bodhi Linux 32 bit legacy.
Operating systems come in 32 bit and 64 bit versions. With the exception of replacing Windows 8.1 and 10, a 32 bit distribution will work on any computer. (More about Microsoft and UEFI later.) At one time a 64 bit opening system allowed the use of more memory then it's 32 bit kin. But with modern 32 bit distributions this is no longer an issue. So if you want to play it safe choose a 32 bit distribution.
LinuxMint offers a choice of desktops and the website does a good job explaining the advantages of each. I would recommend LinuxMint 17.3 MATE 32 bit edition as most likely to work on any computer. But take a look at each of them and see which one you like. As long as you follow the minimum RAM requirements guidelines as listed in the description you will be okay.

Once you have made your choice you may download a copy of the distribution as an .iso file, about 2 Gb in size, and burn it to DVD. If you download from LinuxMint choose your country from the list then a download mirror, USA and James Madison University for example. This insures the fastest download and the correct region. Or you may purchase a disk of Bodhi Linux or LinuxMint from OSDisc.com. Most cost about five dollars. I highly recommend this option starting out because of the size of the download and some computers may not have the tools to burn the download operating system to disk. It's the safest and easiest way to get a copy. It's a high quality disk and the developers get about 30%. I'm recommending using a disk as opposed to a USB stick because many older computers can not boot from USB.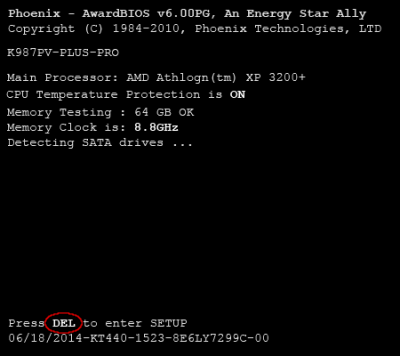 #1. An example of the post screen which you see
for a second or two when the computer first starts.
When this screen is displayed you may depress the
key as indicated in red to enter BIOS setup.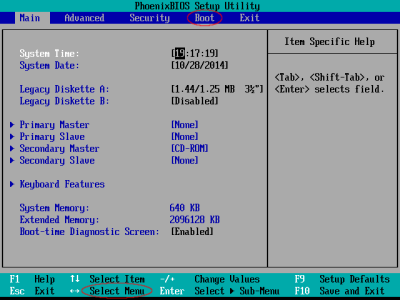 #2. An example of the BIOS set up screen which
will appear. Select the boot order menu. Use the
left/right arrows to go to "Select Menu" as
indicated in red. Select "Boot" as indicated at the
top. Then hit "Enter."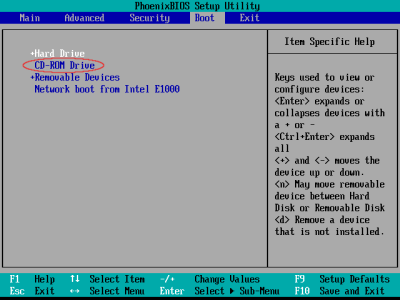 #3. An example of the boot order menu. Use the
up/down arrows to select the CD/DVD drive as
the boot device. Hit F10 to save and exit.
Once you have the disk in hand you will need to set up the computer to boot off of it. Some Windows machines may already set up to boot from a CD/DVD if a system disk is in the CD/DVD drive. Otherwise, there are a number of BIOS configurations out there so I can only give general instructions here. But what you want to do is select the CD/DVD as the first boot device. Usually holding down the F12 key during start gets you right to the boot order menu, but sometimes you have to hold down the F2 or DEL key during start to enter the BIOS (See #1 on the right). Then go to the boot order menu (See #2 and #3). I wish I could be more specific here. For more information you can go to the following link:
The process may be a little confusing at first so don't be discouraged if you wind up booting windows instead of Linux. Try again.
Once you have set up the computer to boot from a CD/DVD drop the disk into the drive and restart the computer.
You may see a blinking cursor, some writing, and then the words "Loading operating system" or "Loading Linux operating system." Then you may see white or gray box or a logo. Booting from a disk can take a few minutes. But soon you should see some activity on the screen, then the desktop. You are in "live" mode and you can look around a little. Remember the computer is working off a DVD so it's going to be a little slow. But you will notice a full complement of software. You can browse the internet and even read and write to files on your hard drive. Now somewhere on the desktop you will see an icon marked "install," usually the upper left corner. Click it to begin the install process. Or if you choose to not install just then go to shutdown or log out in the menu and hit "Enter" after the disk is ejected. Your computer will go back to the way it was before.
Just repeat this process if you want to look at it again or install.
But before installing be sure you have backed up any files you want to save. The hard drive will be wiped clean during the install process.
Make sure the computer is connected to the internet. Then after the computer has booted into "live" mode just click the install icon. The rest is automatic. On install it will ask what language you want to use, if English just hit OK. Then, if the default keyboard layout is OK, again just hit OK. Then it will ask your time zone. At this point it will ask you if you want yo use the whole disk or a partition. I do not recommend manual partitions or dual boots for anyone other then an experienced user. So, select "Guided – Use entire disk" You will see a warning saying this will destroy all the data on the hard drive. Don't panic, you've already made that decision, so click OK or "proceed." The installation has begun. Then it will ask you for your name and a password and if you want to log in automatically. You can leave encryption and Logical Volume Management (LVM) unchecked if you want, and these features won't be enabled. That's it, sit back and enjoy the slide show. When it's done it will ask if you want to continue testing or leave. Click Leave. It should eject the disk and shut down. Sometimes, depending on the hardware, the computer might not shutdown completely after installation. Just push and hold the power button on the computer to finish.
Next time you boot the computer it will be running Linux. It will ask you to do updates just click OK and enter your password into the prompt and the rest is automatic. I've never had an Linux update break anything.
I regret if I made this sound more complicated then it actually is. Once you've done it a few times it's actually pretty simple. I can install update and configure a Linux system in about a half hour. Cloned systems in five minutes. Once you have Linux, you have all the tools you need.
Next post: UEFI and booting Linux onto Windows 8.1 and 10 machines.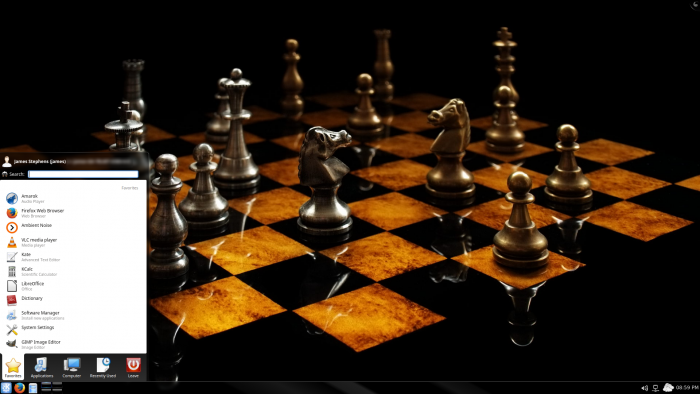 James Stephen's Linux KDE desktop, showing his start menu.
Readers!
Please consider donating to Behind the Black, by giving either a one-time contribution or a regular subscription, as outlined in the tip jar below. Your support will allow me to continue covering science and culture as I have for the past twenty years, independent and free from any outside influence.
Your support is even more essential to me because I keep this site free from advertisements and do not participate in corrupt social media companies like Google, Twitter, and Facebook. I depend wholly on the direct support of my readers.
You can provide that support to Behind The Black with a contribution via Patreon or PayPal. To use Patreon, go to my website there and pick one of five monthly subscription amounts, or by making a one-time donation. For PayPal click one of the following buttons:

If Patreon or Paypal don't work for you, you can support Behind The Black directly by sending your donation by check, payable to Robert Zimmerman, to


Behind The Black
c/o Robert Zimmerman
P.O.Box 1262
Cortaro, AZ 85652