Running Windows programs on Linux:
An overview of WINE and Virtual Machine
by James Stephens
In addition to all the software available for Linux, Linux also possesses the ability to run Windows software using either WINE or in a virtual machine. This can be valuable in many ways, from running legacy software to running Windows and Linux on the same machine at the same time.
WINE is the open source implementation of CrossOver, which Apple users may already be familiar. It is essentially a translator: WINE sits between a Windows application and the Linux system, presenting what appears to be a Windows system to an application and generating Linux instructions for processing. It's not a perfect solution, but it's pretty good. It's fast and efficient, requiring little more resources then the application itself, making it suitable for older machines. When properly configured, Windows applications install as if in Windows and run on Linux like any other application. The backward compatibility of WINE is actually better then that of Windows itself. So if you have beloved but outdated software you can run it again with WINE. In my case that is a Windows 3.1 controlled audio mixing console. A lot of people like to play the old Windows 95 games. For more information including a list of compatible Windows software and performance assessments go to www.winehq.org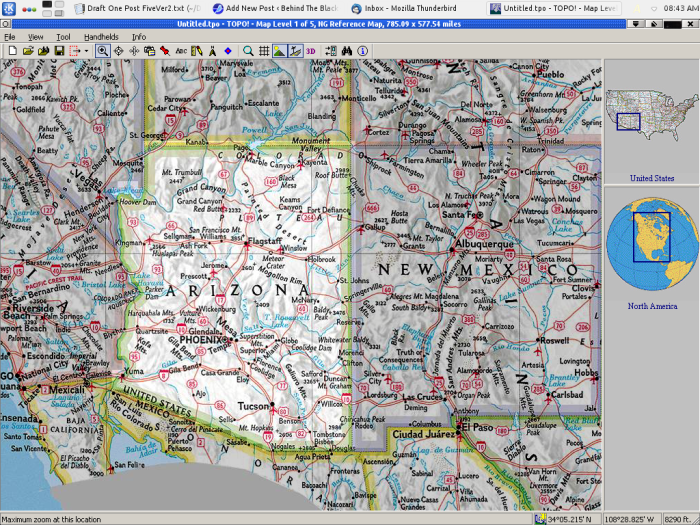 National Geographics Topo!, a Windows program, running seamlessly on Linux using WINE.
Virtual machine is another means of running Windows software on a Linux system. Using VirtualBox a virtual machine is created which runs within the existing operating system on which a guest operating system or systems may be installed, just as if it were a real world machine. The virtual machine borrows hardware resources for its guest from its host operating system: processor, memory, and so forth. Unlike WINE, the guest operating system runs directly on the computer hardware along with its host. This borrowing increases hardware requirements somewhat, though limits may be set. In my experience you need 4Gb of RAM to comfortably run Windows in a virtual machine on desktop Linux. I would recommend using the non-free version of VirtualBox together with guest additions available for download or through your distribution's software manager. Note that the term non-free refers to licensing restrictions and not cost.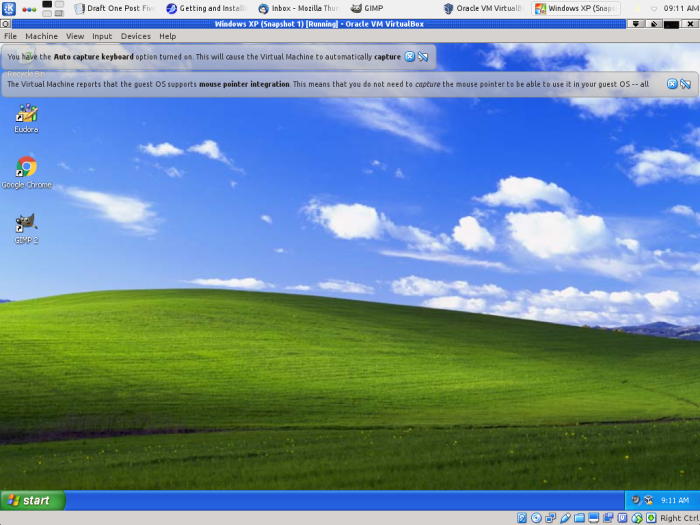 VirtualBox, running on Bob Zimmerman's Linux KDE system.
Keeping the hardware limitations in mind all kinds of things are possible. You may run multiple Linux distributions on the same hardware without fear of conflicts or bloat. I often audition new Linux distributions this way. You may run Windows and its software on Linux together, sharing the desktop and clipboard to take advantage of the best of both. And that's just cool! This just to name but a few possibilities. For more information including tested operating systems go to www.virtualbox.org.
Next: Working with Virtual Machine
The previous posts in this series, Getting and Installing Linux::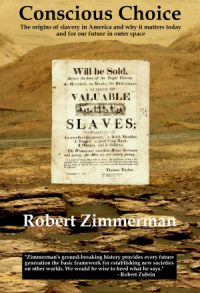 Now available in hardback and paperback as well as ebook!
From the press release: In this ground-breaking new history of early America, historian Robert Zimmerman not only exposes the lie behind The New York Times 1619 Project that falsely claims slavery is central to the history of the United States, he also provides profound lessons about the nature of human societies, lessons important for Americans today as well as for all future settlers on Mars and elsewhere in space.
Conscious Choice: The origins of slavery in America and why it matters today and for our future in outer space
, is a riveting page-turning story that documents how slavery slowly became pervasive in the southern British colonies of North America, colonies founded by a people and culture that not only did not allow slavery but in every way were hostile to the practice.
Conscious Choice
does more however. In telling the tragic history of the Virginia colony and the rise of slavery there, Zimmerman lays out the proper path for creating healthy societies in places like the Moon and Mars.
"Zimmerman's ground-breaking history provides every future generation the basic framework for establishing new societies on other worlds. We would be wise to heed what he says." —Robert Zubrin, founder of founder of the Mars Society.
All editions are available at Amazon, Barnes & Noble, and all book vendors, with the ebook priced at $5.99 before discount. The ebook can also be purchased direct from my ebook publisher, ebookit, in which case you don't support the big tech companies and I get a bigger cut much sooner.
Autographed printed copies are also available at discount directly from me (hardback $24.95; paperback $14.95; Shipping cost for either: $5.00). Just email me at zimmerman @ nasw dot org.