Installing Windows using VirtualBox
by James Stephens
Today I will be installing Windows on VirtualBox. VirtualBox allows me to easily install and run Windows on my Linux computer without having to partition, format or otherwise disturb my hard drive. Once installed booting into the Windows guest is easy, just open VirtualBox and select Windows and hit start. Given the fact a virtual machine shares hardware resources with it's host, generally a 64 bit host operating system can only host a 32bit guest operating system. Windows in most cases is still a 32 bit operating system.
First of all I will download VirtualBox via the my distribution's Software Manager. Once it's installed you will usually find its shortcut under Applications/System/Oracle VM VirtualBox in your application launcher. Click on it and VirtualBox will open to its Welcome massage. To create a virtual machine, in this case Windows, choose "new" in the VirtualBox tool bar.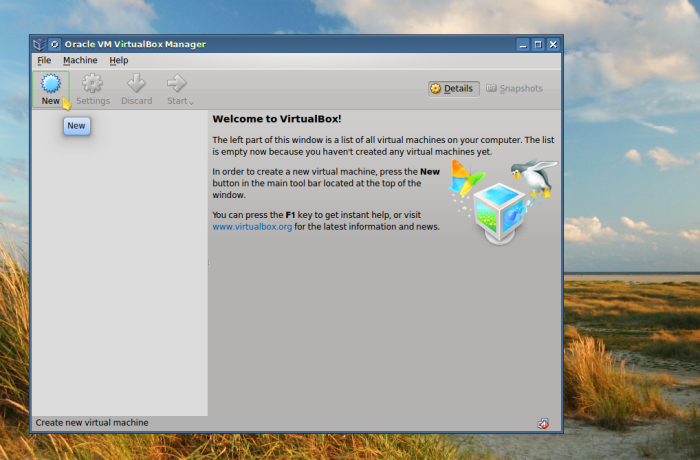 The create virtual machine dialogue will appear where you will give the guest operating system a descriptive name and select its type and version, such as Windows XP.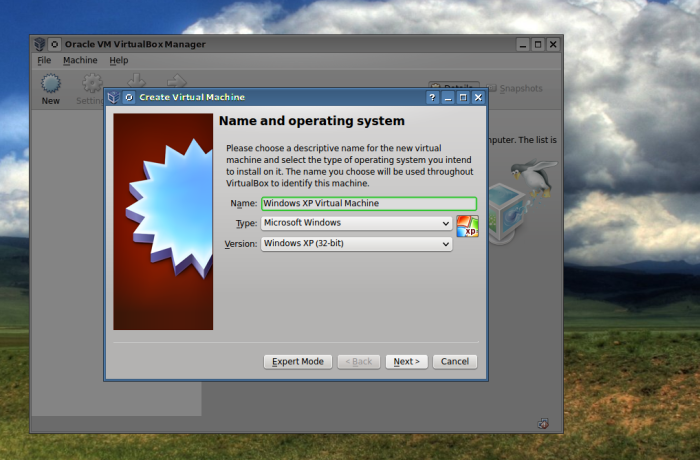 Click "Next" and next you will see a dialogue showing the minimal amount of RAM needed for the guest operating system. However you may wish to allocate more. I generally double the minimal amount. Do that by moving the slider to the right. So long as you stay within the green shaded area you will be okay.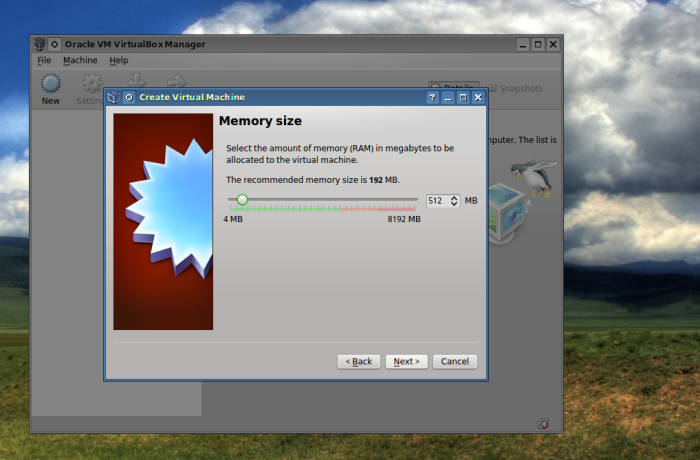 Click "Next" and you will see a dialogue showing the proposed size of the prospective virtual hard drive. You may choose whether or not to create a virtual hard drive or if you wish to use an existing virtual hard drive.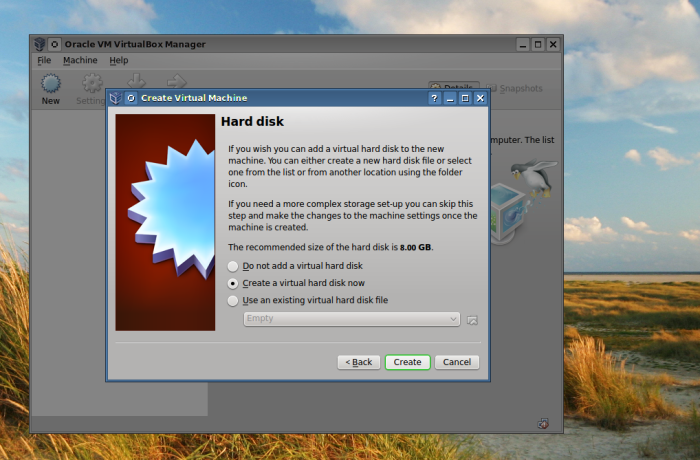 Click "Create" and you will see a dialogue describing the types of virtual hard drives which can be created and describing the context of their use. In most cases using (VDI) Virtual disk image will suffice. Click "next" and you will then see a dialogue asking whether or not to expand the virtual hard drive as needed or place a limit on its size. In most cases it's okay to use dynamically allocated sizing. So click "next" and you will see the the final dialogue before the creation of the virtual machine and its virtual hard drive. Here you may determine the ultimate size of the virtual machine and its placement on the host operating system. Note I generally increase the size of virtual hard drive to 15GB to allow for updates and a swap partition.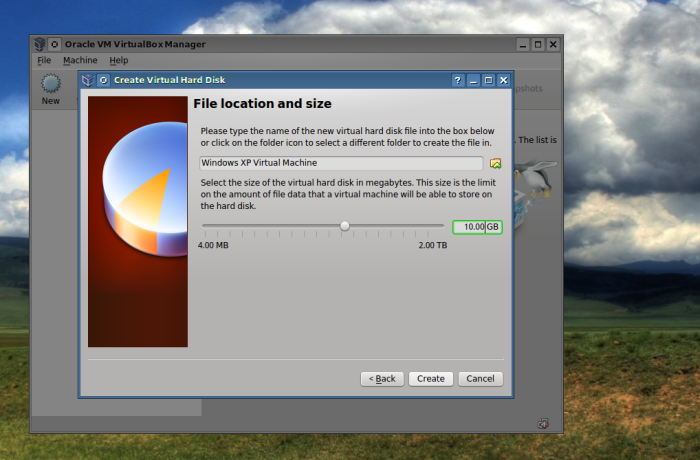 Finally click "Create" to create your new virtual machine. You will see an overview of your virtual machine.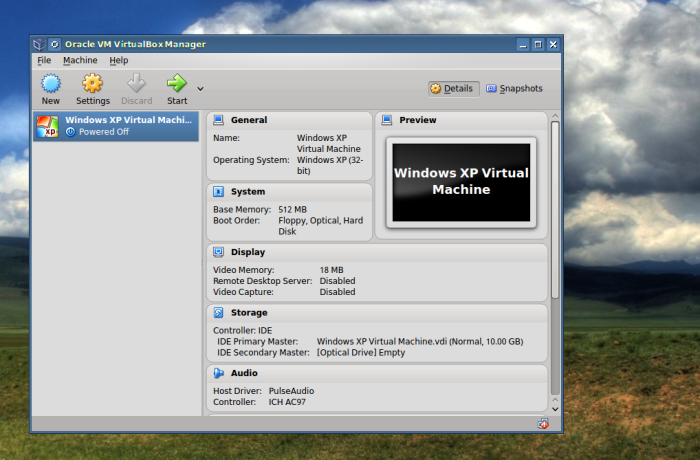 Now it's time to install the operating system on your virtual machine. Place the system disk into the optical drive and hit "settings" in the VirtualBox tool bar. The settings dialogue for your virtual machine will be displayed. On the left hand side of the dialogue select "storage." Then in the storage tree under "Controller: IDE" click the "adds optical drive" icon.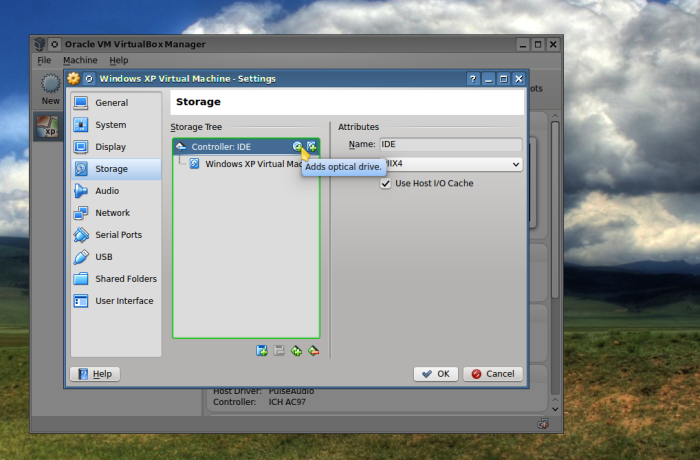 When the question dialogue appears select "leave empty". In the storage tree, select "empty." Then under "attributes" click the disk icon to the right and select your host's optical drive and hit OK.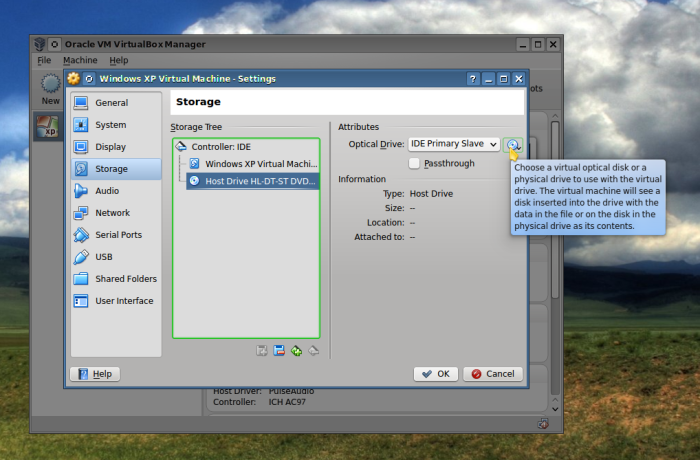 Specify the source of the installation media. In this case, the host's optical drive.
The virtual machine settings dialogue will disappear.
Then go back to the main VirtualBox control window and click start, a virtual desktop will appear and Windows installation will begin in the normal way.
Once Windows is installed add guest additions by clicking "devices" on the menu bar of the virtual desktop and select "install guest additions." Next boot Windows, which will run normally.
There you are, Windows on a Linux system.
I have enjoyed showcasing Linux to you. I hope you enjoy using Linux as much as Bob and I do. Professional obligations, however, are going to consume my attention for a while. In the meantime keep asking questions and I will be back.
Editor: Whether or not James can continue this series at a later time, I want to express my deep thanks to him for doing these posts. He has made it possible for anyone with only a basic knowledge of computers to obtain and install Linux on one of their computers. Even I, who have been using Linux now for almost a decade, learned things about this process that I never knew before. So, thank you, James, your work is very much appreciated!
The previous posts in this series, Getting and Installing Linux::
Readers!
Please consider donating to Behind the Black, by giving either a one-time contribution or a regular subscription, as outlined in the tip jar below. Your support will allow me to continue covering science and culture as I have for the past twenty years, independent and free from any outside influence.
Your support is even more essential to me because I keep this site free from advertisements and do not participate in corrupt social media companies like Google, Twitter, and Facebook. I depend wholly on the direct support of my readers.
You can provide that support to Behind The Black with a contribution via Patreon or PayPal. To use Patreon, go to my website there and pick one of five monthly subscription amounts, or by making a one-time donation. For PayPal click one of the following buttons:

If Patreon or Paypal don't work for you, you can support Behind The Black directly by sending your donation by check, payable to Robert Zimmerman, to


Behind The Black
c/o Robert Zimmerman
P.O.Box 1262
Cortaro, AZ 85652