After seeing the response to a number of my posts on the advantages of Linux (or anything) over Windows, one of my readers, James Stephens, offered to write a series of posts for Behind the Black, describing step-by-step the process by which one gets and installs Linux on a desktop or laptop computer. James is like almost every other user of Linux, self-taught and unafraid to play with the software. As he emailed me, "Over my long career I've had my hands in everything from vacuum tube televisions to sophisticated aerospace systems some of which are orbit today. I have designed and built recording studios, radio and television studios and serviced the equipment as well as the transmitters. But I must say I really enjoyed repairing televisions the most. I loved every aspect of the business and really enjoyed doing business with my customers." At the present time James makes his living maintaining what he calls "a fleet of computers, Windows, Mac, and Linux."
So, today we begin this series. If all goes as planned, James will be sending these to me on a weekly basis, whereby I will post them each Saturday. So, get one of your old unused computers out of the garage now and get ready to make it useful again, while simultaneously freeing yourself from Microsoft!
An Introduction
By James Stephens
Your phone your TV, most of the devices you use everyday use Linux. So too most of the world's web sites including this one. So why not your PC? The purpose of this series, which we hope to post on a weekly basis every Saturday, is to at least in a general way acquaint you with desktop Linux and some of its advantages. More importantly, we hope to assist you with representative instructions for the installation and use of this most excellent computer operating system.
But first a few words of explanation.

Linux is world wide collaborative effort transcending countries and corporations to produce a computer operating system comprised of open source code from which all benefit. Open source code may be modified and redistributed by anyone. This open collaborative environment promotes rapid development and excellent quality control, often spotting vulnerabilities and other issues quickly which ordinarily might go un-addressed.
Linux operating systems are made available as distributions (distribution of code). You can liken this to a brand, if you will. There are many such distributions. Some are commercial, such as Red Hat, while others are not like Fedora, Red Hat's non commercial kin. All share roughly the same code base. A distribution is made up of a repository of packages of code from which everything is built, including the applications software, of which there are over 200,000 official titles at last count, and probably upwards of a million titles in total.
On top of this is the desktop environment which is what you see as the computer user. Linux offers a choice of desktop environments, everything from Ubuntu Unity designed for low resource touch devices to KDE, a gorgeous powerful desktop for high performance computers. Most desktops resemble Windows or Mac, so most people should feel right at home.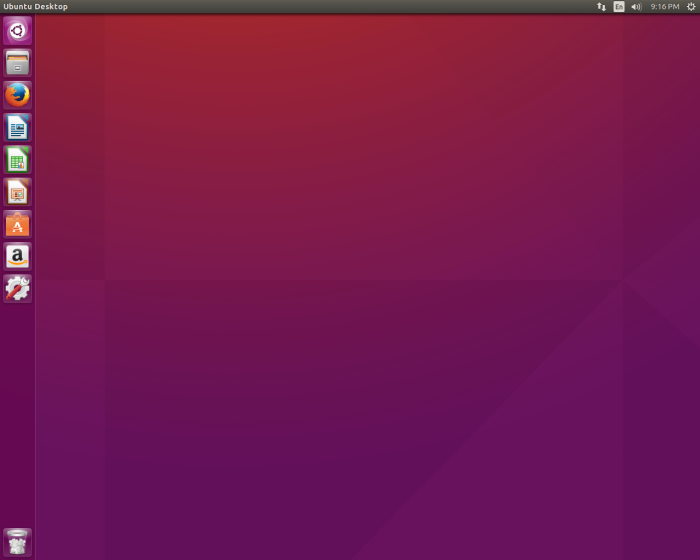 Screen capture of a simple Ubuntu Unity desktop
Most Linux distributions are free or modestly priced and may be purchased on disk or usb or downloaded and burned to disk or usb. Most are "run-live", meaning you can try it out much like a game without having to install it! Though admittedly limited by the slow speed of the media, run-live makes a Linux distribution worth keeping around simply for troubleshooting and rescuing computers that have crashed, or are experiencing software issues. If you like it the graphic-based installation process makes installing Linux easy! Just answer a few questions and the rest is automatic. Once installed, the beauty, power, and speed of Linux becomes evident.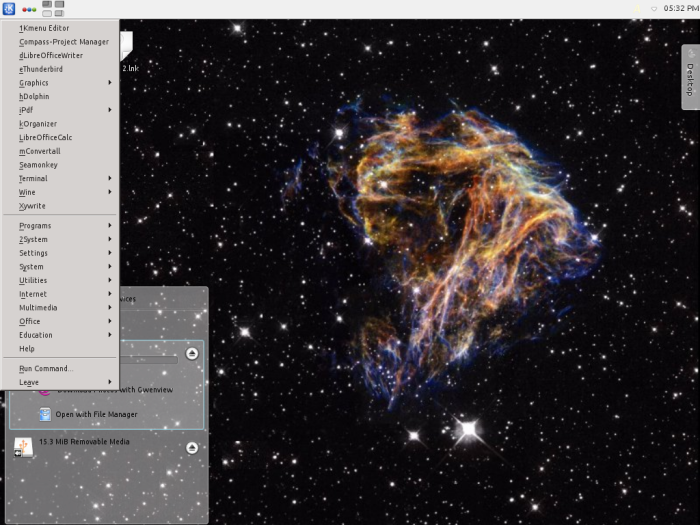 Screen capture of Bob Zimmerman's KDE desktop, showing a portion of his start menu.
For the curious check out http://www.distrowatch.com.
Next Post: Downloading and burning a distribution to disk.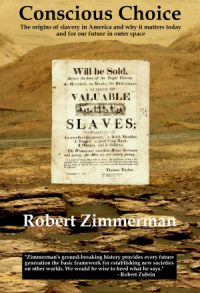 Now available in hardback and paperback as well as ebook!
From the press release: In this ground-breaking new history of early America, historian Robert Zimmerman not only exposes the lie behind The New York Times 1619 Project that falsely claims slavery is central to the history of the United States, he also provides profound lessons about the nature of human societies, lessons important for Americans today as well as for all future settlers on Mars and elsewhere in space.
Conscious Choice: The origins of slavery in America and why it matters today and for our future in outer space
, is a riveting page-turning story that documents how slavery slowly became pervasive in the southern British colonies of North America, colonies founded by a people and culture that not only did not allow slavery but in every way were hostile to the practice.
Conscious Choice
does more however. In telling the tragic history of the Virginia colony and the rise of slavery there, Zimmerman lays out the proper path for creating healthy societies in places like the Moon and Mars.
"Zimmerman's ground-breaking history provides every future generation the basic framework for establishing new societies on other worlds. We would be wise to heed what he says." —Robert Zubrin, founder of founder of the Mars Society.
All editions are available at Amazon, Barnes & Noble, and all book vendors, with the ebook priced at $5.99 before discount. The ebook can also be purchased direct from my ebook publisher, ebookit, in which case you don't support the big tech companies and I get a bigger cut much sooner.
Autographed printed copies are also available at discount directly from me (hardback $24.95; paperback $14.95; Shipping cost for either: $5.00). Just email me at zimmerman @ nasw dot org.