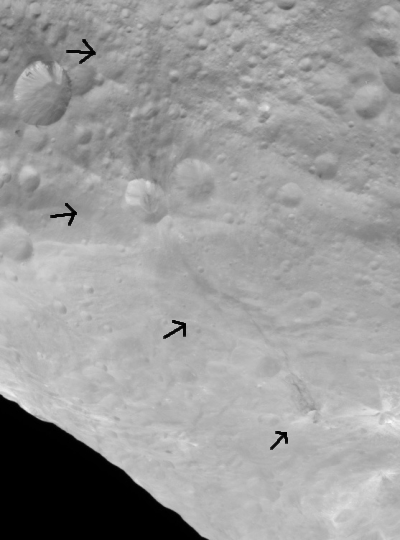 The Dawn mission team released another image today of the giant asteroid Vesta, this time taken from about 2,300 miles away. At this distance the resolution is still somewhat coarse, with the smallest visible detail about 0.43 miles in size.
To the right is a cropped section of the full image, focusing in on what appears to be a very strange geological feature, indicated by the arrows. From what I can tell, the dark meandering streak looks like a rille or flow coming out of the mound or peak near the bottom of the image. Yet, this dark meander continues directly across a crater as if it were a wind-blown dust streak.
I really have no idea what geological process created this. I also suspect that the scientists don't quite know yet either, though I am sure they have some good theories, mostly based on the very light gravity that should exist on a world only 330 miles in diameter. As I've already noted, however, it is going to take them a couple of months to digest the data they are getting and come up with some reasonable conclusions. It will be fun to finally find out what they have learned.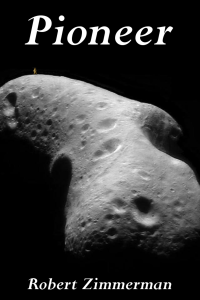 From the press release: From the moment he is handed a possibility of making the first alien contact, Saunders Maxwell decides he will do it, even if doing so takes him through hell and back.
Unfortunately, that is exactly where that journey takes him.
The vision that Zimmerman paints of vibrant human colonies on the Moon, Mars, the asteroids, and beyond, indomitably fighting the harsh lifeless environment of space to build new societies, captures perfectly the emerging space race we see today.
He also captures in Pioneer the heart of the human spirit, willing to push forward no matter the odds, no matter the cost. It is that spirit that will make the exploration of the heavens possible, forever, into the never-ending future.
Available everywhere for $3.99 (before discount) at
amazon
,
Barnes & Noble
, all ebook vendors, or direct from the ebook publisher,
ebookit
. And if you buy it from
ebookit
you don't support the big tech companies and I get a bigger cut much sooner.