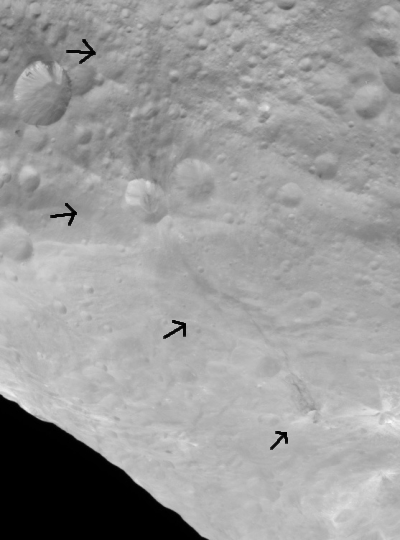 The Dawn mission team released another image today of the giant asteroid Vesta, this time taken from about 2,300 miles away. At this distance the resolution is still somewhat coarse, with the smallest visible detail about 0.43 miles in size.
To the right is a cropped section of the full image, focusing in on what appears to be a very strange geological feature, indicated by the arrows. From what I can tell, the dark meandering streak looks like a rille or flow coming out of the mound or peak near the bottom of the image. Yet, this dark meander continues directly across a crater as if it were a wind-blown dust streak.
I really have no idea what geological process created this. I also suspect that the scientists don't quite know yet either, though I am sure they have some good theories, mostly based on the very light gravity that should exist on a world only 330 miles in diameter. As I've already noted, however, it is going to take them a couple of months to digest the data they are getting and come up with some reasonable conclusions. It will be fun to finally find out what they have learned.
Readers!
The fourth week in my annual July fund-raising campaign for Behind the Black has now begun. Please consider donating to Behind the Black, by giving either a one-time contribution or a regular subscription, as outlined below. Your support will allow me to continue covering science and culture as I have for the past twenty years, independent and free from any outside influence.
Moreover, this year if you donate $35 or more I will send you one of the following ebooks, for free.
You pick the book. And the donation will also get you an email directly from me, the author, arranging electronic delivery.
I do not accept advertisements, nor do not participate in corrupt social media companies like Google, Twitter, and Facebook. I depend wholly on the direct support of my readers.
You can provide that support Behind The Black with a contribution via Patreon or PayPal. To use Patreon, go to my website there and pick one of five monthly subscription amounts, or by making a one-time donation. For PayPal click one of the following buttons:

If Patreon or Paypal don't work for you, you can support Behind The Black directly by sending your donation by check, payable to Robert Zimmerman, to


Behind The Black
c/o Robert Zimmerman
P.O.Box 1262
Cortaro, AZ 85652