Please consider donating to Behind the Black, by giving either a one-time contribution or a regular subscription, as outlined in the tip jar to the right or below. Your support will allow me to continue covering science and culture as I have for the past twenty years, independent and free from any outside influence.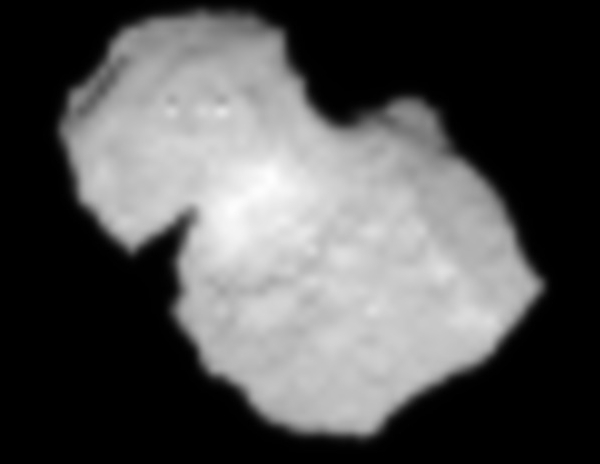 This image of Comet 67P from Rosetta was taken yesterday. Though it has not been processed like the image I posted yesterday, more details continue to come out as the spacecraft each day gets closer to the comet. This image was taken from a distance of 825 miles, 375 miles closer than the previous day.
Very soon these close-up images will become too large to show the entire nucleus in one image. Rosetta will instead begin to snap images of specific features.
Meanwhile, the Rosetta science team released its first temperature readings of the comet.

At these distances, the comet covered only a few pixels in the field of view and so it was not possible to determine the temperatures of individual features. But, using the sensor to collect infrared light emitted by the whole comet, scientists determined that its average surface temperature is about –70ºC. The comet was roughly 555 million kilometres from the Sun at the time – more than three times further away than Earth, meaning that sunlight is only about a tenth as bright.

Although –70ºC may seem rather cold, importantly, it is some 20–30ºC warmer than predicted for a comet at that distance covered exclusively in ice.
This temperature, much warmer than it should be if the surface was made of clean ice, suggests the comet's surface is very dusty.
More to come, every day.