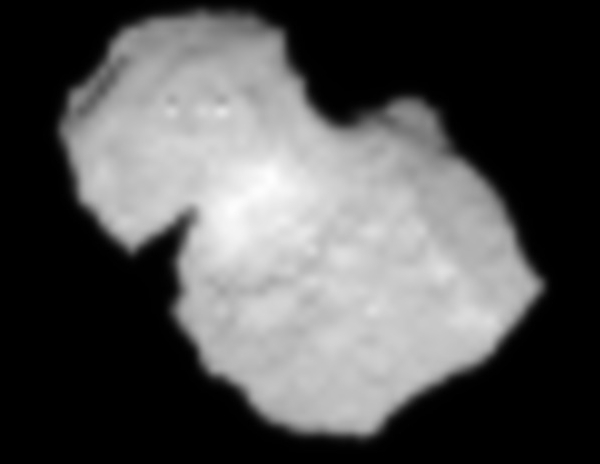 This image of Comet 67P from Rosetta was taken yesterday. Though it has not been processed like the image I posted yesterday, more details continue to come out as the spacecraft each day gets closer to the comet. This image was taken from a distance of 825 miles, 375 miles closer than the previous day.
Very soon these close-up images will become too large to show the entire nucleus in one image. Rosetta will instead begin to snap images of specific features.
Meanwhile, the Rosetta science team released its first temperature readings of the comet.

At these distances, the comet covered only a few pixels in the field of view and so it was not possible to determine the temperatures of individual features. But, using the sensor to collect infrared light emitted by the whole comet, scientists determined that its average surface temperature is about –70ºC. The comet was roughly 555 million kilometres from the Sun at the time – more than three times further away than Earth, meaning that sunlight is only about a tenth as bright.

Although –70ºC may seem rather cold, importantly, it is some 20–30ºC warmer than predicted for a comet at that distance covered exclusively in ice.
This temperature, much warmer than it should be if the surface was made of clean ice, suggests the comet's surface is very dusty.
More to come, every day.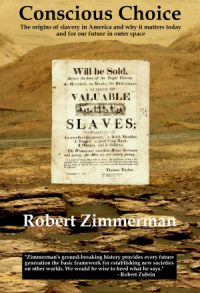 From the press release: In this ground-breaking new history of early America, historian Robert Zimmerman not only exposes the lie behind The New York Times 1619 Project that falsely claims slavery is central to the history of the United States, he also provides profound lessons about the nature of human societies, lessons important for Americans today as well as for all future settlers on Mars and elsewhere in space.
Conscious Choice: The origins of slavery in America and why it matters today and for our future in outer space
, is a riveting page-turning story that documents how slavery slowly became pervasive in the southern British colonies of North America, colonies founded by a people and culture that not only did not allow slavery but in every way were hostile to the practice.
Conscious Choice
does more however. In telling the tragic history of the Virginia colony and the rise of slavery there, Zimmerman lays out the proper path for creating healthy societies in places like the Moon and Mars.
"Zimmerman's ground-breaking history provides every future generation the basic framework for establishing new societies on other worlds. We would be wise to heed what he says." —Robert Zubrin, founder of founder of the Mars Society.
Available everywhere for $3.99 (before discount) at Amazon, Barnes & Noble, and all ebook vendors, or direct from the ebook publisher, ebookit. And if you buy it from ebookit you don't support the big tech companies and I get a bigger cut much sooner.