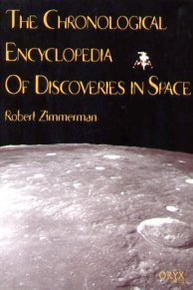 After being in print for twenty years, the Chronological Encyclopedia of Discoveries in Space, covering everything that was learned on every single space mission in the 20th century, has finally gone out of print.
I presently have my last four hardback copies available for sale. The book sold new for about $90. To get your own autographed copy of this now rare collector's item, please send a $120 check (which includes shipping) payable to Robert Zimmerman to
Behind The Black, c/o Robert Zimmerman
P.O.Box 1262
Cortaro, AZ 85652

"Useful to space buffs and generalists, comprehensive but readable, Bob Zimmerman's Encyclopedia belongs front and center on everyone's bookshelf." -- Mike Collins, Apollo 11 astronaut
"The Chronological Encylopedia of Discoveries in Space is no passionless compendium of information. Robert Zimmerman's fact-filled reports, which cover virtually every spacecraft or probe to have ventured into the heavens, relate the scientific and technical adventure of space exploration enthusiastically and with authority." -- American Scientist
In the days ahead there is going to be a lot of talk about Newt Gingrich's proposals for space exploration. I think it important that people actually see and listen to the entire speech before discussing it. Here is the longest clip I can find on youtube, covering the first seven and a half minutes. I think it is complete, but unfortunately, I can't be sure. It doesn't appear to include his remarks about awarding space prizes, and when it ends Gingrich does not appear to be finished. When I find a longer clip I will post it.
Several points immediately come to mind:

Gingrich very clearly wants to accelerate, not replace, the policies of the Obama administration that use private companies for the U.S. space effort. He is not proposing a big government program of pork.
Gingrich is clearly knowledgeable about the subject. He is not just saying talking points. For example, when he proposes that we have a better rocket system than what we have been using for the past fifty years, something capable of getting us to Mars in much less time, he is most certainly talking about nuclear propulsion. That he doesn't actually say this is obviously for political reasons.
Gingrich knows how to move a crowd. Once again, he gets standing ovations, not by promising money to Floridians, but by proposing something that touches the hearts of the audience. It is this ability that is drawing Republican voters to him.
Finally, this speech demonstrates Gingrich's incredible campaign skills. He is taking control of the debate, and he is doing it on his terms. Some people will at first ridicule him about this, but those that do will have obviously never heard his proposals in depth. Once they do — and they will because as a leading candidate he is going to get the air time — they will forced to consider them seriously because these are not foolish ideas. In fact, he is drawing directly on American history (the model of the aviation industry in the twentieth century and the settling of the west in the nineteenth century) with all his proposals. And that history was a success.