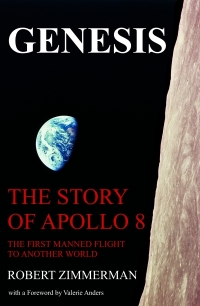 On Christmas Eve 1968 three Americans became the first humans to visit another world. What they did to celebrate was unexpected and profound, and will be remembered throughout all human history. Genesis: the Story of Apollo 8, Robert Zimmerman's classic history of humanity's first journey to another world, tells that story, and it is now available as both an ebook and an audiobook, both with a foreword by Valerie Anders and a new introduction by Robert Zimmerman.
The ebook is available everywhere for $5.99 (before discount) at
amazon
, or direct from my ebook publisher,
ebookit
.
The audiobook is also available at all these vendors, and is also
free with a 30-day trial membership to Audible.
"Not simply about one mission, [Genesis] is also the history of America's quest for the moon... Zimmerman has done a masterful job of tying disparate events together into a solid account of one of America's greatest human triumphs." --San Antonio Express-News
In the days ahead there is going to be a lot of talk about Newt Gingrich's proposals for space exploration. I think it important that people actually see and listen to the entire speech before discussing it. Here is the longest clip I can find on youtube, covering the first seven and a half minutes. I think it is complete, but unfortunately, I can't be sure. It doesn't appear to include his remarks about awarding space prizes, and when it ends Gingrich does not appear to be finished. When I find a longer clip I will post it.
Several points immediately come to mind:

Gingrich very clearly wants to accelerate, not replace, the policies of the Obama administration that use private companies for the U.S. space effort. He is not proposing a big government program of pork.
Gingrich is clearly knowledgeable about the subject. He is not just saying talking points. For example, when he proposes that we have a better rocket system than what we have been using for the past fifty years, something capable of getting us to Mars in much less time, he is most certainly talking about nuclear propulsion. That he doesn't actually say this is obviously for political reasons.
Gingrich knows how to move a crowd. Once again, he gets standing ovations, not by promising money to Floridians, but by proposing something that touches the hearts of the audience. It is this ability that is drawing Republican voters to him.
Finally, this speech demonstrates Gingrich's incredible campaign skills. He is taking control of the debate, and he is doing it on his terms. Some people will at first ridicule him about this, but those that do will have obviously never heard his proposals in depth. Once they do — and they will because as a leading candidate he is going to get the air time — they will forced to consider them seriously because these are not foolish ideas. In fact, he is drawing directly on American history (the model of the aviation industry in the twentieth century and the settling of the west in the nineteenth century) with all his proposals. And that history was a success.
Readers!
My July fund-raiser for Behind the Black is now over. The support from my readers was unprecedented, making this July campaign the best ever, twice over. What a marvelous way to celebrate the website's tenth anniversary!

Thank you! The number of donations in July, and continuing now at the beginning of August, is too many for me to thank you all personally. Please forgive me by accepting my thank you here, in public, on the website.

If you did not donate or subscribe in July and still wish to, note that the tip jar remains available year round.
Regular readers can support Behind The Black with a contribution via paypal:
If Paypal doesn't work for you, you can support Behind The Black directly by sending your donation by check, payable to Robert Zimmerman, to

Behind The Black
c/o Robert Zimmerman
P.O.Box 1262
Cortaro, AZ 85652