Here are two stories that illustrate why we shouldn't be in a panic over climate change. Though it is important to study the climate and to learn as much as we can about it, it is at this time inappropriate to impose draconian regulations on the world's populations so that whole economies are destroyed out of fear of climate change. We just don't know enough about the consequences of climate change. Global warming might even be beneficial!
First, from Nature this story: Global warming wilts malaria. It appears that the assumption that warmer climates would increase malaria epidemics is completely wrong. Instead, warmer temperatures act to hinder the survival of the malaria parasite in mosquitoes.

Simon Hay, an expert in malarial epidemiology at the University of Oxford, UK, who in 2010 reported a scant correlation between malaria and global warming, says that the study could have wide significance, if the results can be extended to human malaria. Rising temperatures "may well contribute to the host of other changes that have occurred during the last 100 years that have caused malaria to contract in extent and intensity globally," he says. [emphasis mine]
Then, there's this quote from an article published last week which took a close look at what the IPCC reports have actually said about the consequences of global warming:
Because more people almost everywhere on the planet die each year from cold temperatures than from warm temperatures, the overall impact of global warming will be fewer deaths from temperature extremes. Indeed, according to one estimate, by mid-century, about 400,000 more people will die from heat than would have perished at current temperatures, but 1.8 million fewer people will die from cold. Unfortunately, non-deaths are a non-story.
In other words, cooling is much more dangerous to the world's population than warming. The article also pointed out that if you dig down into the IPCC reports, you find that the future is not as gloomy as the doomsayers try to make it out to be, should the climate warm. And, having spent the time to actually read the IPCC reports, I can confirm that this conclusion is true.
In summary, we know the Earth has warmed since the 1700s, though there remain serious disagreements and questions about how much and at what rate, especially during the past 150 years. What we don't know yet is why. Though human activity could have contributed to this warming, so could the sun. Moreover, the climate is complex, and there are many factors that could contribute to these temperature trends that are not understood.
Not knowing the whole climate story means we really don't yet know what will happen next. However, if the climate is warming, it behooves us to look carefully at the real consequences of that warming. Sadly, few have done so. Instead, the focus has been on "We're all gonna die!" scenarios, most of which are not backed up by any real data.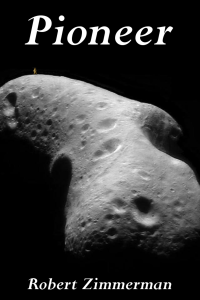 From the press release: From the moment he is handed a possibility of making the first alien contact, Saunders Maxwell decides he will do it, even if doing so takes him through hell and back.
Unfortunately, that is exactly where that journey takes him. The vision that Zimmerman paints of vibrant human colonies on the Moon, Mars, the asteroids, and beyond, indomitably fighting the harsh lifeless environment of space to build new societies, captures perfectly the emerging space race we see today. He also captures in Pioneer the heart of the human spirit, willing to push forward no matter the odds, no matter the cost. It is that spirit that will make the exploration of the heavens possible, forever, into the never-ending future. Available everywhere for $3.99 (before discount) at
amazon
,
Barnes & Noble
, all ebook vendors, or direct from the ebook publisher,
ebookit
. And if you buy it from
ebookit
you don't support the big tech companies and I get a bigger cut much sooner.