A Harvard scientist used a random text generator to create a fake science paper entitled "Cuckoo for Cocoa Puffs?" and was able to get it accepted at 17 journals. [Note: the link includes an auto-download of the pdf of the scientist's fake paper.]
Shrime decided to see how easy it would be to publish an article. So he made one up. Like, he literally made one up. He did it using www.randomtextgenerator.com. The article is entitled "Cuckoo for Cocoa Puffs?" and its authors are the venerable Pinkerton A. LeBrain and Orson Welles. The subtitle reads: "The surgical and neoplastic role of cacao extract in breakfast cereals." Shrime submitted it to 37 journals over two weeks and, so far, 17 of them have accepted it. (They have not "published" it, but say they will as soon as Shrime pays the $500. This is often referred to as a "processing fee." Shrime has no plans to pay them.) Several have already typeset it and given him reviews, as you can see at the end of this article. One publication says his methods are "novel and innovative"!. But when Shrime looked up the physical locations of these publications, he discovered that many had very suspicious addresses; one was actually inside a strip club.
Essentially, these fake journals are scams to get $500 from scientists, generally from third world countries who can't get their papers published in the bigger first world journals. (What does that tell us about those bigger first world journals?)
The best line of the article however was this: "Many of these publications sound legitimate. To someone who is not well-versed in a particular subfield of medicine—a journalist, for instance—it would be easy to mistake them for valid sources." [emphasis mine] It seems to me that if you are a journalist writing about a particular field, you should be reasonably educated on that field and be able to spot a fake journal. I certainly can. That it is assumed that mainstream journalists who report on medicine cannot speaks volumes about the quality of the field.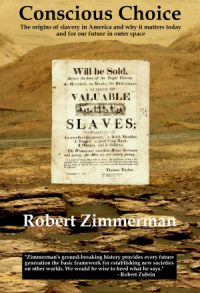 Now available in hardback and paperback as well as ebook!
From the press release: In this ground-breaking new history of early America, historian Robert Zimmerman not only exposes the lie behind The New York Times 1619 Project that falsely claims slavery is central to the history of the United States, he also provides profound lessons about the nature of human societies, lessons important for Americans today as well as for all future settlers on Mars and elsewhere in space.
Conscious Choice: The origins of slavery in America and why it matters today and for our future in outer space
, is a riveting page-turning story that documents how slavery slowly became pervasive in the southern British colonies of North America, colonies founded by a people and culture that not only did not allow slavery but in every way were hostile to the practice.
Conscious Choice
does more however. In telling the tragic history of the Virginia colony and the rise of slavery there, Zimmerman lays out the proper path for creating healthy societies in places like the Moon and Mars.
"Zimmerman's ground-breaking history provides every future generation the basic framework for establishing new societies on other worlds. We would be wise to heed what he says." —Robert Zubrin, founder of founder of the Mars Society.
All editions are available at Amazon, Barnes & Noble, and all book vendors, with the ebook priced at $5.99 before discount. The ebook can also be purchased direct from my ebook publisher, ebookit, in which case you don't support the big tech companies and I get a bigger cut much sooner.
Autographed printed copies are also available at discount directly from me (hardback $24.95; paperback $14.95; Shipping cost for either: $5.00). Just email me at zimmerman @ nasw dot org.