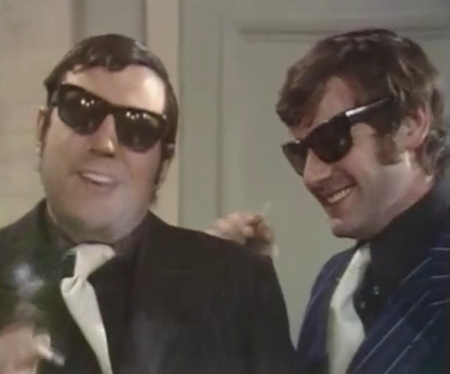 The press and the feds negotiate with Elon Musk
Over the past week a series of events relating to the Ukraine War, Elon Musk, and Starlink illustrated starkly the growing corrupt, aggressive, and unrestrained power of our federal government and the administration state and press that supports it.
Our story begins in early October when Elon Musk put forth his own proposed solution to the Ukraine War, suggesting that to end the war the Ukraine should cede the Crimea to Russia and forgo its attempts to join NATO, making itself a neutral power instead.
Not surprisingly, Ukrainian officials responded to this somewhat naive though sincere proposal with great hostility. So did the press, the Biden administration, and many in social media.
Then, on October 14, 2022 Elon Musk said that his company Starlink cannot continue indefinitely providing service to the Ukraine, without some reimbursement. At the beginning of the war Musk had made Starlink available for no charge, and it has been an important factor to the Ukrainians in their recent military successes.

The billionaire who runs Tesla said Starlink says he spends nearly $20 million a month for maintaining satellite services in Ukraine. He recently said that SpaceX had spent about $80 million to enable and support Starlink there.

"SpaceX is not asking to recoup past expenses, but also cannot fund the existing system indefinitely *and* send several thousand more terminals that have data usage up to 100X greater than typical households. This is unreasonable," Musk wrote on Twitter on Friday.
Musk had asked the U.S. government to pick up future costs. Considering the billions the Biden administration is pouring into the Ukraine, such a request appeared more than reasonable.
Instead, it was revealed over the weekend that the federal government was investigating Musk concerning his effort to buy Twitter. Intriguingly, though this story was first made public in a filing in the courts on October 6th, no press stories were written about it until immediately after Musk made his Starlink funding request public. Moreover:
The filing does not specify which arm of the federal government is conducting the investigation, what the probe is focused on or whether it's a civil or a criminal probe, but the Securities and Exchange Commission acknowledged in May that it was investigating whether he properly disclosed a 9% stake he bought in the company, which became public in early April.
The vagueness of the filing, combined with the known SEC investigation revealed in May, I think explains why no news outlet covered it when it was first filed in early October. There wasn't any real story to cover. Yet, less than 24 hours after Musk made his request for help, the press suddenly decides this filing is a news story.
Let me translate: Musk to the government: "I need help to save my business." The press (speaking for the government): "Nice business you got here. Sure would be a shame is something happened to it."
The very next day Musk threw in the towel, saying in a tweet, "The hell with it … even though Starlink is still losing money & other companies are getting billions of taxpayer $, we'll just keep funding Ukraine govt for free."
Meanwhile, as far as I can find, no one in the press or social media once suggested that the Ukraine start paying the bill. That country could certainly put aside $20 million a month out of the more than $50 billion the U.S. government has sent it. The Biden administration could certainly pressure the Ukraine to do this.
Nope. Rather than provide some assistance to an American company that has so generously helped one of our allies, the Biden administration, the press, and the administrative state took out its knives and threatened Musk with them, making it very clear that it has every intention of destroying him, should he dare do anything it doesn't like.
Though he might think so, Musk's decision to back down concerning Starlink and the Ukraine provides him only a little bit of protection. Biden, the Democrats, and the administration state want a large cut of his business, and will not stop their threats until he turns it over to them. The attacks, the investigations, and the bureaucratic stonewalling against him will not cease, but only increase the more Musk shows his independence and financial success.
And as long as the public continues to allow that government the power it has, its mobster tactics will only grow more vicious and blatant.
Just ask those pro-life activists whose homes were raided by armed FBI agents.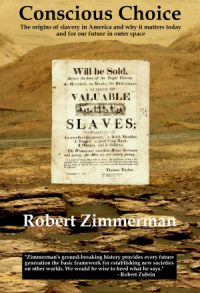 Now available in hardback and paperback as well as ebook!
From the press release: In this ground-breaking new history of early America, historian Robert Zimmerman not only exposes the lie behind The New York Times 1619 Project that falsely claims slavery is central to the history of the United States, he also provides profound lessons about the nature of human societies, lessons important for Americans today as well as for all future settlers on Mars and elsewhere in space.
Conscious Choice: The origins of slavery in America and why it matters today and for our future in outer space
, is a riveting page-turning story that documents how slavery slowly became pervasive in the southern British colonies of North America, colonies founded by a people and culture that not only did not allow slavery but in every way were hostile to the practice.
Conscious Choice
does more however. In telling the tragic history of the Virginia colony and the rise of slavery there, Zimmerman lays out the proper path for creating healthy societies in places like the Moon and Mars.
"Zimmerman's ground-breaking history provides every future generation the basic framework for establishing new societies on other worlds. We would be wise to heed what he says." —Robert Zubrin, founder of founder of the Mars Society.
All editions are available at Amazon, Barnes & Noble, and all book vendors, with the ebook priced at $5.99 before discount. The ebook can also be purchased direct from my ebook publisher, ebookit, in which case you don't support the big tech companies and I get a bigger cut much sooner.
Autographed printed copies are also available at discount directly from me (hardback $24.95; paperback $14.95; Shipping cost for either: $5.00). Just email me at zimmerman @ nasw dot org.