Please consider donating to Behind the Black, by giving either a one-time contribution or a regular subscription, as outlined in the tip jar to the right or below. Your support will allow me to continue covering science and culture as I have for the past twenty years, independent and free from any outside influence.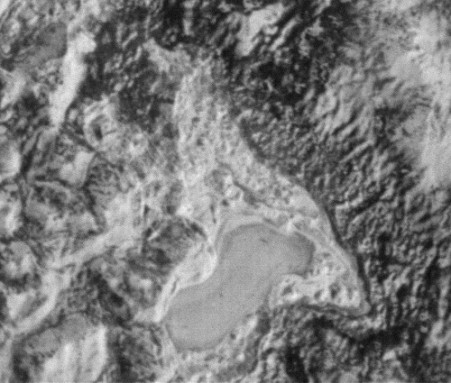 I found the image on the right while trolling about on the various raw image sites for NASA's planetary missions. No press release yet, and maybe there never will be one. I do know the scientists involved in this particular mission are right now drooling over the details available in the full resolution image, which I have cropped and reduced to fit on the right. Take a look and you will drool as well.
Want to know where this is? I bet you have already guessed, but if you need help, click on the "read more" link below, where I have also added some comments.

It is of course Pluto, from a New Horizons download. The image shows what looks like an enclosed lake of some material, probably nitrogen, with the bedrock entrapping it solid ice. In addition, as you move away from the shore and head uphill it looks like you travel across several geological layers made of different materials. Figuring out how they formed in this way could probably keep a geologist busy for his or her entire life.