Today is Thanksgiving, a truly American holiday, as unique to history as the United States. No nation before this one ever tried to establish by law a nation dedicated to "the pursuit of happiness" and the premise that sovereignty resides solely in the people, not in an elitist upper class of rulers. This holiday was established to celebrate and give thanks for these ideals, and the blessings of liberty they bestow to Americans.
Those ideals are now threatened by the progressives who dominate the Democratic Party and the weasels in the Republican Party too cowardly to resist. It therefore becomes imperative that, as we American citizens celebrate this holiday today with family gatherings often in defiance of the edicts of these petty dictators, we resolve to defy them in all ways, and to reclaim with courage our heritage of freedom and the individual sovereignty it gives to us.
No one has the right to give us orders. Give thanks for that, and tell those who try they risk terrible things for themselves by doing so.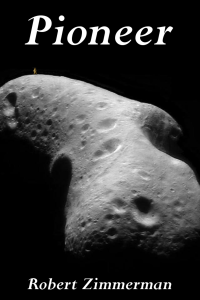 From the press release: From the moment he is handed a possibility of making the first alien contact, Saunders Maxwell decides he will do it, even if doing so takes him through hell and back.
Unfortunately, that is exactly where that journey takes him.
The vision that Zimmerman paints of vibrant human colonies on the Moon, Mars, the asteroids, and beyond, indomitably fighting the harsh lifeless environment of space to build new societies, captures perfectly the emerging space race we see today.
He also captures in Pioneer the heart of the human spirit, willing to push forward no matter the odds, no matter the cost. It is that spirit that will make the exploration of the heavens possible, forever, into the never-ending future.
Available everywhere for $3.99 (before discount) at
amazon
,
Barnes & Noble
, all ebook vendors, or direct from the ebook publisher,
ebookit
.