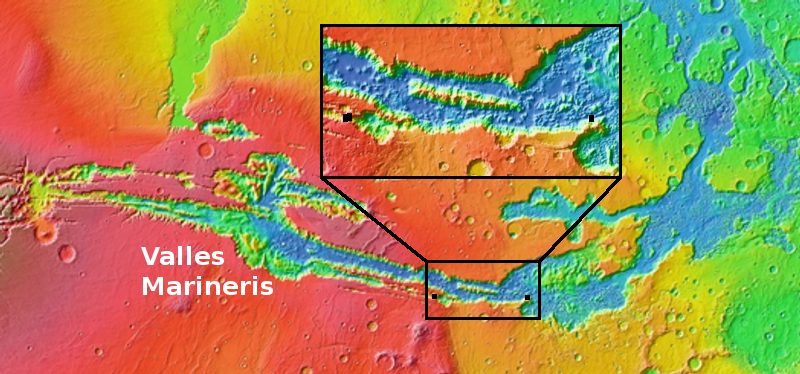 Click for full image.
In my routine searches through the image archive for the high resolution camera on Mars Reconnaissance Orbiter, I recently came upon several images labeled "Candidate Mars Science Helicopter Traverse" that I at first thought referred to Ingenuity's extended mission in Jezero Crater.
A closer look however revealed these photos have nothing to do with Ingenuity or Jezero Crater. Taken in November '21, January '22, and March '22, the images instead cover parts of the south rim of Valles Marineris, the solar system's largest canyon, and appear to be research for a future dedicated Mars helicopter mission. The overview map above shows the location of these photos by the black dots. Three locations have each been imaged twice to produce a stereoscopic view that can precisely measure the topography.
The photo to the right, cropped and reduced to post here, shows the easternmost image, taken November 3, 2021. Not only does it show ample flat areas, the picture captures an impressive avalanche flow coming down from that southern interior canyon slope.
All the images were requested by planetary scientist Edwin Kite of the University of Chicago. Though I tried several times to contact Dr. Kite to get more information, he unfortunately did not respond. It could be this work is still too preliminary and thus he does not wish to comment.
Nonetheless, the extent of the three sets of images give us a fair idea of the kind of missions Kite and others might be considering. From east to west the distance between the images is about four hundred miles, and covers a traverse of the southern interior slopes of Valles Marineris along that entire length. The photos look mostly at the base of the canyon's slope, each showing clearly that a helicopter flying there would have plenty of landing spots.
Obviously this first dedicated Mars helicopter mission might not cover this entire distance. Right now these images could simply be the first tentative research on choosing potential landing areas. Regardless, it appears that at least one scientist has already concluded that Ingenuity has proven such helicopter missions make sense, and is beginning to target one of Mars's most spectacular locations, Valles Marineris, for that mission.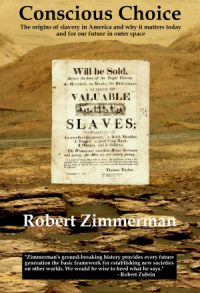 Now available in hardback and paperback as well as ebook!
From the press release: In this ground-breaking new history of early America, historian Robert Zimmerman not only exposes the lie behind The New York Times 1619 Project that falsely claims slavery is central to the history of the United States, he also provides profound lessons about the nature of human societies, lessons important for Americans today as well as for all future settlers on Mars and elsewhere in space.
Conscious Choice: The origins of slavery in America and why it matters today and for our future in outer space
, is a riveting page-turning story that documents how slavery slowly became pervasive in the southern British colonies of North America, colonies founded by a people and culture that not only did not allow slavery but in every way were hostile to the practice.
Conscious Choice
does more however. In telling the tragic history of the Virginia colony and the rise of slavery there, Zimmerman lays out the proper path for creating healthy societies in places like the Moon and Mars.
"Zimmerman's ground-breaking history provides every future generation the basic framework for establishing new societies on other worlds. We would be wise to heed what he says." —Robert Zubrin, founder of founder of the Mars Society.
All editions are available at Amazon, Barnes & Noble, and all book vendors, with the ebook priced at $5.99 before discount. The ebook can also be purchased direct from my ebook publisher, ebookit, in which case you don't support the big tech companies and I get a bigger cut much sooner.
Autographed printed copies are also available at discount directly from me (hardback $24.95; paperback $14.95; Shipping cost for either: $5.00). Just email me at zimmerman @ nasw dot org.