This morning I will be boarding a plane to begin the long tedious airplane flight from Tucson to Jerusalem, Israel, arriving there Thursday afternoon. I might post along the way, but there are no guarantees.
For the next week I will once again be staying with my brother and sister-in-law in their apartment in the west bank settlement of Alon Shvut. It was here at the bus stop just outside the settlement, where Palestinians and Israelis routinely gather to either catch the bus or hitchhike a ride to Jerusalem, that three Israeli teenagers were kidnapped by Hamas operatives, sparking the recent conflict in the Gaza Strip. Then, just a few weeks ago an Arab terrorist when on a killing spree at this bus stop, killing one young woman before the guard at the settlement gate ran down the hill to shoot him.
I might post my impressions of the situation while I am there, or it might have to wait until I return. It depends on my schedule and my desire to work while visiting family. Yesterday's attack in a Jewish synagogue, once again by Hamas operatives, killing five people whose only crime was that they were praying peacefully, might also touch my family directly, as I think that one of the rabbis killed was a friend of my brother, his wife, and their children. I will find out more when I get there.
Meanwhile, there were Arab celebrations in various locations in Gaza, the West Bank, and even in Jerusalem, congratulating these killers for their barbarous acts.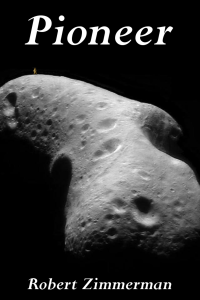 From the press release: From the moment he is handed a possibility of making the first alien contact, Saunders Maxwell decides he will do it, even if doing so takes him through hell and back.
Unfortunately, that is exactly where that journey takes him.
The vision that Zimmerman paints of vibrant human colonies on the Moon, Mars, the asteroids, and beyond, indomitably fighting the harsh lifeless environment of space to build new societies, captures perfectly the emerging space race we see today.
He also captures in Pioneer the heart of the human spirit, willing to push forward no matter the odds, no matter the cost. It is that spirit that will make the exploration of the heavens possible, forever, into the never-ending future.
Available everywhere for $3.99 (before discount) at
amazon
,
Barnes & Noble
, all ebook vendors, or direct from the ebook publisher,
ebookit
.