In my visit to Israel this past week, I spent almost all my time in the West Bank. In all, I have now either stayed in or visited a total of four West Bank settlements. In addition, while there I also did some sightseeing in Jerusalem and elsewhere. From this short experience I have gleaned some very fascinating facts, many of which are very surprising, though they shouldn't be as they are facts that in many cases are fundamental to understanding the long-running and seemingly unsolvable Middle East conflict.
In the next few days I will post a series of short essays describing my experience and thoughts, with this essay being the first.
First and foremost, the assumption everyone makes about the West Bank and Israel is that it is a very dangerous place, especially for Jews. This assumption is entirely false. It is so false it is downright laughable.

The most telling illustration for this fact is that practically everyone who lives on the West Bank — both Israelis and Arabs — routinely hitchhikes. As you drive around, you will see scores of people standing by the side of the road, waving their arms looking for a ride. There is no fear of attack or violence. All people want to do is to find a way to get to where they are going as quickly as possible.
Granted, if you are Israeli you almost never accept a ride from an Arab (though it does happen). Similarly, Arabs rarely get picked up by Israelis (though also does happen). Nonetheless, the ease and nonchalance with which everyone hitchhikes illustrates quite forcefully how generally safe the country is. This fact was further reinforced by the nonchalance in which unworried parents let their kids wander about, even at night. In every West Bank settlement that I visited there were people out in the streets throughout the evening, including very young children. To put it bluntly, the streets were safe, much safer than in almost all American cities.
In fact, in Israel in general there is practically no violence or violent crime. The only violence that occurs in Israel is when a terrorist act takes place, which though relatively rare immediately gets trumpeted in all the newspapers and internet news sources worldwide. Imagine if every crime in Chicago, which take place far more frequently than terrorist acts in Israel, was given that kind of attention. We would all consider that city to be far more dangerous than Israel, and we would be right. It is far more dangerous.
This level of safety shouldn't blind us to the problems that exist. Without doubt the Israeli and Arab communities remain estranged from each other. There is little or no contact, and in the few cases where the two communities do communicate, it is often done under the threat of violence by the more extreme elements of the Arab community.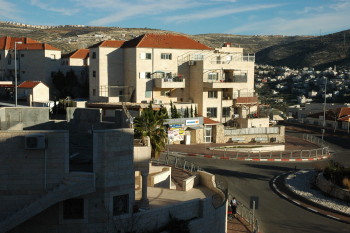 Yet the two communities also do little to hurt each other and generally leave each other alone. For example, the picture on the right was taken from Beitar Illit, an orthodox West Bank settlement southwest of Jerusalem. Built on a hill, as are most Israeli settlements, on its south side and very close by, is a newly built Arab village, the homes of which can be seen in the valley on the right. Similarly, at another nearby West Bank settlement that I visited was a large supermarket servicing both Israelis and Arabs, with few problems.
In other words, these people are like everyone else in the world, ordinary human beings who simply want to have a family, raise their kids, and live their lives in peace. It is a shame that there are those in the Arab community who will not let them do it.
Readers!
I must unfortunately ask you for your financial support because I do not depend on ads and rely entirely on the generosity of readers to keep Behind the Black running. You can either make a one time donation for whatever amount you wish, or you sign up for a monthly subscription ranging from $2 to $15 through Paypal or $3 to $50 through Patreon.
Your support will allow me to continue covering science and culture as I have for the past twenty years, independent and free from any outside influence.
Your support is even more essential to me because I not only keep this site free from advertisements, I do not use the corrupt social media companies like Google, Twitter, and Facebook to promote my work. I depend wholly on the direct support of my readers.
You can provide that support to Behind The Black with a contribution via Patreon or PayPal. To use Patreon, go to my website there and pick one of five monthly subscription amounts, or by making a one-time donation. For PayPal click one of the following buttons:

If Patreon or Paypal don't work for you, you can support Behind The Black directly by sending your donation by check, payable to Robert Zimmerman, to


Behind The Black
c/o Robert Zimmerman
P.O.Box 1262
Cortaro, AZ 85652


Or you can donate by using Zelle through your bank. You will need to give my name and email address (found at the bottom of the "About" page). The best part of this electronic option is that no fees will be deducted! What you donate will be what I receive.