Please consider donating to Behind the Black, by giving either a one-time contribution or a regular subscription, as outlined in the tip jar below. Your support will allow me to continue covering science and culture as I have for the past twenty years, independent and free from any outside influence.
Regular readers can support Behind The Black with a contribution via paypal:
If Paypal doesn't work for you, you can support Behind The Black directly by sending your donation by check, payable to Robert Zimmerman, to

Behind The Black
c/o Robert Zimmerman
P.O.Box 1262
Cortaro, AZ 85652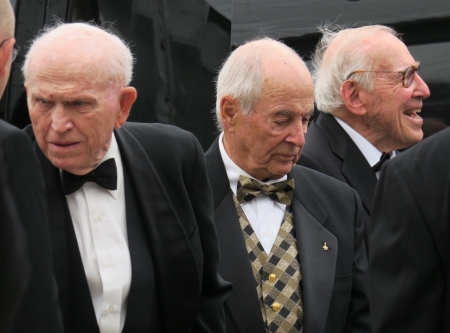 They are still here. Fifty years after becoming the first humans to leave Earth orbit and travel to another world, a mission that NASA believed only had a 50-50 chance of success, the three Apollo 8 astronauts are still with us, hale and hearty despite the passing of many years.
On October 6 the Museum of Science and Technology honored all three men with a magnificent event. The picture on the right was taken during that event, shortly after the three men, Frank Borman, Bill Anders, and Jim Lovell (from left to right) had posed for a typical group shot. It far better reveals their personalities, with Borman looking outward, Anders thoughtful, and Lovell laughing.
Borman and Lovell are ninety years old, while Anders is about to turn eight-five on October 17. Yet, all three remain as sharp as they were in 1968, when they circled the Moon. Only the wear and tear of age and time is slowing them down. It was an honor to see them again and shake their hands. It was also sad, as it was clear that time stops for no one, no matter how deserving. Flying to the Moon on a mission that many thought incredibly risky couldn't stop them. Time unfortunately will.
We are blessed to still have them. Once again during the dinner presentation they talked of their mission, kidding each other repeatedly about what had happened, and talking about why they went and what they thought the future might hold. Borman was pessimistic about the future of space, but then he remains fixated on the concept of a government program for space. Anders meanwhile was in touch with the rise of private commercial space, and advocated that it is where the future lies.
Lovell was Lovell, as always a space cadet, enthused for the future exploration of space, no matter how we do it.
This event is likely only the beginning. Over the next year there are going to many similar events, celebrating the fiftieth anniversary the 1960s Apollo triumph, right through to the landing in July. To me, however, it will always be Apollo 8 that had the most historical impact. Everything that happened afterward merely reinforced what that flight taught us.
Below the fold are two more pictures from the event.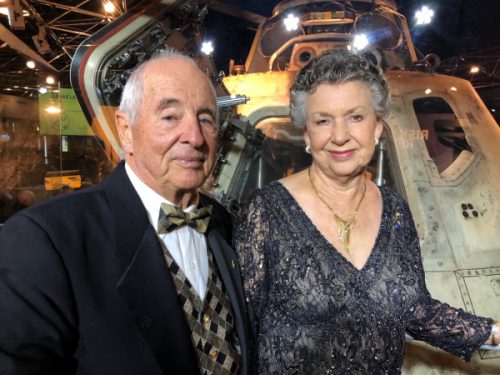 Bill and Valerie Anders stand in front of the actual Apollo 8 capsule, which sits on display at the museum. As Bill Anders told me when I was writing Genesis: the Story of Apollo 8,
She gave of herself for her husband, family, nation — with clear knowledge of the potential risks to her. She risked more and got less than I did. She's the hero.
At launch they had five small children under the age of eleven, on what was then an income only slightly higher than middle-class. If Anders had died on the mission, life would have been very difficult for Valerie Anders.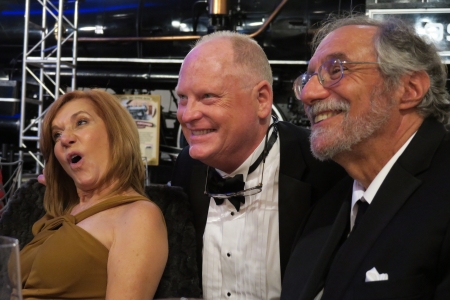 From left to right, Beveley Ogle, Bill Hartel, and myself. Bill was the man who produced the audiobook of Genesis. Without his support the audiobook would not exist, for which I will be eternally grateful. Beveley is his significant other.
This is might be one of the only pictures of me in a formal tuxedo. I despise formality and getting dressed up. I'd rather be in a t-shirt hiking a mountain. For this event however it was required to wear that tux, if only to express my respect for the astronauts and their families. I was glad to do it.