After literally years of inactivity, well below all initial predictions, the Sun truly came to life this past month. Below is the March monthly update of the Sun's sunspot cycle, published by NOAA's Space Weather Prediction Center. The red curve is the prediction, while the dotted black line shows the actual activity.
As you can see, the Sun's sunspot activity shot up precipitously. Though I don't have the data from past years, the March jump appears to me to probably be one of the fastest monthly rises ever recorded.
Does this mean the newest prediction from the solar scientists at the Marshall Space Flight Center calling for a weak solar maximum in 2013 is wrong? Probably not, though of course in this young field who knows? I would say, however, that the overall trend of the data still suggests the next maximum will be very weak.
Stay tuned! The next few months should finally give us a sense of where the next maximum is heading.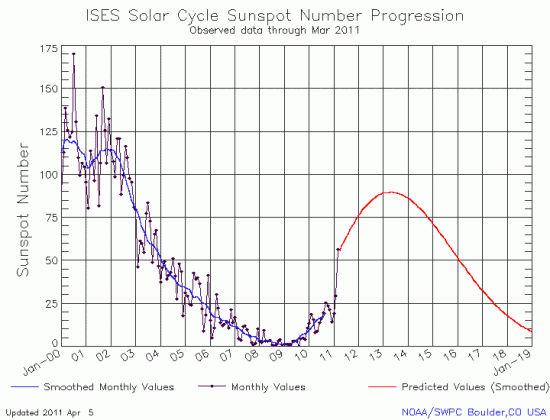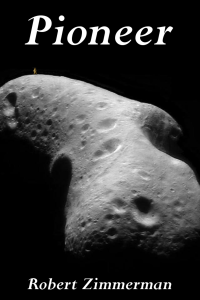 From the press release: From the moment he is handed a possibility of making the first alien contact, Saunders Maxwell decides he will do it, even if doing so takes him through hell and back.
Unfortunately, that is exactly where that journey takes him. The vision that Zimmerman paints of vibrant human colonies on the Moon, Mars, the asteroids, and beyond, indomitably fighting the harsh lifeless environment of space to build new societies, captures perfectly the emerging space race we see today. He also captures in Pioneer the heart of the human spirit, willing to push forward no matter the odds, no matter the cost. It is that spirit that will make the exploration of the heavens possible, forever, into the never-ending future. Available everywhere for $3.99 (before discount) at
amazon
,
Barnes & Noble
, all ebook vendors, or direct from the ebook publisher,
ebookit
. And if you buy it from
ebookit
you don't support the big tech companies and I get a bigger cut much sooner.