It is now almost twenty months since COVID-19 crossed the ocean from China and arrived in the United States. When it arrived there was great fear as its true deadliness at that time was unknown. Though the sparse data from China, South Korea, and the Diamond Princess cruise ship suggested it was merely a variation of the annual flu and not something to fear, the computer models put forth by a variety of scientific institutions at that time instead predicted millions were about die from it.
No one really knew for certain. Some legitimately argued that the lockdowns, mask mandates, and oppressive restrictions on normal activities were necessary to limit its harm.
Almost two years have now passed, and we can now assess realistically which of those scenarios was accurate. To best understand these things I strongly believe is always best to look at the big picture, the larger and bigger the better. In this case, let's look at the entire U.S. and measure COVID-19's impact by noting the total number of people in the United States who have become infected by COVID since its arrival and comparing that with the total number who have died. These actual numbers will tells us truly how deadly COVID has been, and whether our continued fear of it is justified.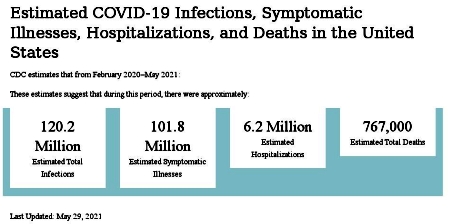 CDC's COVID-19 estimates as of May 2021
According to CDC estimates, as of May 2021, 120.2 million Americans had been infected by COVID, of which 101.8 million experienced actual symptoms. The CDC in these same estimates in May calculated that 767,000 people had died from COVID.
These CDC estimates were further supported by a Nature peer review study published in August 2021, which estimated that by the end of 2020 100 million Americans had been infected with COVID.

When we run the CDC numbers, we find therefore that 99.4% of those infected with COVID survived. Moreover, of the tiny percent who did die, almost all were either elderly (average age 78), or already very sick with one to three serious morbidities.
Moreover, these CDC estimates were made in May, five months ago. Since then many more have probably become infected, possibly as many as twenty to fifty million more. While the number of actual deaths at this moment, 734,000, is actually less than the estimate that the CDC made in May, the difference is not significant.
Using an estimate of 150 million infected and 734,000 dead, we find that 99.5% of the population survives COVID with no problem. And once again, remember, that half percent who died were generally all either sick or elderly, usually both, and with many sadly in their last year or so of life anyway.
Now, these infection numbers are estimates. Some will certainly be justified in dismissing them because they really don't reflect the actual numbers.



The New York Times confirmed COVID numbers


The CDC's confirmed COVID numbers
I agree. So let's use the actual numbers of confirmed cases and deaths, as of today. Based on data issued by the New York Times, Johns Hopkins University, and the CDC, there have been between 45.3 to 45.5 million confirmed cases of individuals who have been infected with COVID. All three sources list the number of deaths ranging from 734K to 737.3K.
For the sake of argument, let's use the lowest number of confirmed cases, 45.3 million, and the highest number of deaths, 737.3 thousand. With those numbers we find that 98.4% of the population who contracted COVID survived the virus. Once again, of the 1.6% that died, the large majority were in that elderly and sick population. Very few people who were young or healthy have succumbed to the disease.
These actual numbers do suggest that COVID-19 was more dangerous than the common flu, but not significantly so. In fact, they show that it was comparable to many other new respiratory diseases, such as the Hong Kong flu and Spanish flu, which when each first arrived in the U.S were more deadly but within one or two flu seasons lost that potency. In all cases however that early potency has always, and still does, strike those who are already vulnerable. The healthy population is not threatened in any significant way by the disease.
So, what should we finally conclude, based on this data. What they tell me is that — beyond a shadow of a doubt — if you are young or not sick with a chronic illness, which describes practically the entire population, COVID simply cannot kill you. It will make you sick for a few weeks, after which you recover. In some cases the recovery takes longer, with some rare individuals having longer term health consequences, but for almost everyone, the virus comes, goes, and leaves no harm behind.
Furthermore, there is strong evidence that if you immediately take measures to treat the virus when you get symptoms, such as taking hyrdochloquine plus zinc, or ivermectin, you lower the disease's potency even more.
In other words, COVID-19 is essentially identical to every other flu-like respiratory illness. There is no need to fear it like the plague, because it is not the plague. It is nothing like it.
While extreme measures might have been justified at the very beginning of this epidemic — based on the paucity of available data — the facts no longer justify such actions. It is time to take a breath, remove the mask, open the stores and bars, and resume normal life. Other countries, like Sweden, Norway, and Denmark, have. There is no reason the U.S. shouldn't as well.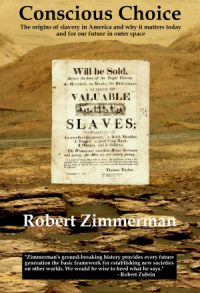 Now available in hardback and paperback as well as ebook!
From the press release: In this ground-breaking new history of early America, historian Robert Zimmerman not only exposes the lie behind The New York Times 1619 Project that falsely claims slavery is central to the history of the United States, he also provides profound lessons about the nature of human societies, lessons important for Americans today as well as for all future settlers on Mars and elsewhere in space.
Conscious Choice: The origins of slavery in America and why it matters today and for our future in outer space
, is a riveting page-turning story that documents how slavery slowly became pervasive in the southern British colonies of North America, colonies founded by a people and culture that not only did not allow slavery but in every way were hostile to the practice.
Conscious Choice
does more however. In telling the tragic history of the Virginia colony and the rise of slavery there, Zimmerman lays out the proper path for creating healthy societies in places like the Moon and Mars.
"Zimmerman's ground-breaking history provides every future generation the basic framework for establishing new societies on other worlds. We would be wise to heed what he says." —Robert Zubrin, founder of founder of the Mars Society.
All editions are available at Amazon, Barnes & Noble, and all book vendors, with the ebook priced at $5.99 before discount. The ebook can also be purchased direct from my ebook publisher, ebookit, in which case you don't support the big tech companies and I get a bigger cut much sooner.
Autographed printed copies are also available at discount directly from me (hardback $24.95; paperback $14.95; Shipping cost for either: $5.00). Just email me at zimmerman @ nasw dot org.