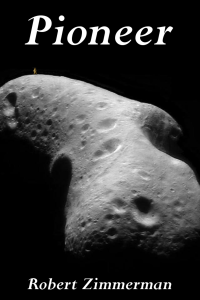 From the press release: From the moment he is handed a possibility of making the first alien contact, Saunders Maxwell decides he will do it, even if doing so takes him through hell and back.
Unfortunately, that is exactly where that journey takes him.
The vision that Zimmerman paints of vibrant human colonies on the Moon, Mars, the asteroids, and beyond, indomitably fighting the harsh lifeless environment of space to build new societies, captures perfectly the emerging space race we see today.
He also captures in Pioneer the heart of the human spirit, willing to push forward no matter the odds, no matter the cost. It is that spirit that will make the exploration of the heavens possible, forever, into the never-ending future.
Available everywhere for $3.99 (before discount) at
amazon
,
Barnes & Noble
, all ebook vendors, or direct from the ebook publisher,
ebookit
.
Yesterday the world's first space tourist, Dennis Tito, testified before Congress about the plans his organization, Inspiration Mars, has put together to make possible a manned fly-by of Mars by 2018.
The flyby mission would require two launches in quick succession. In the first liftoff, an SLS would loft four payloads to Earth orbit: an SLS upper-stage rocket; a 600-cubic-foot habitat module derived from Orbital Sciences' Cygnus cargo vessel; a service module that would support the habitat module with power, propulsion and communications systems; and an Earth re-entry pod, which would be based on NASA's Orion capsule. The second launch — this one likely using a commercial rocket — would deliver the two astronauts to orbit aboard a yet-to-be-selected private spaceship. The crewmembers would then transfer to the habitat module, and the SLS upper stage would propel them on toward Mars.
In making this announcement Tito and his organization challenged Congress and NASA to make it happen. They also admitted that they had initially thought this manned fly-by could be done entirely with private resources, but have looking at it closely realized it needed NASA money and hardware.
What a pipe dream. As much as I support Tito's effort to accelerate the United States' space effort, neither Tito's original ideas as well as this new proposal are realistic. At no time do these dreamers show the slightest understanding of the challenges involved in flying humans in weightlessness for more than a year and as far away as Mars.

Take a look at their proposed architecture as outlined in their 26 page report [pdf]. Does it remind you of anything? To me, this kind of presentation is very familiar. NASA has released hundreds of such presentations for decades. It is engineering by PowerPoint. Just because you assemble a nice presentation showing your flight plan and how you would like to assemble it does not mean you have designed a mission to Mars. For example, nothing in this report deals at all with the medical problems of putting people in weightlessness for 500 days. All the data collected in the past forty years — in Skylab, all the Salyut stations, Mir, and ISS — show that after 500 days, the crew would be seriously debilitated. Worse, flying in a relatively tiny habitat (Cygnus combined with Orion), not a large vessel (like Mir), would further handicap them medically. This problem is not trivial. And it has not yet been solved.
Tito's proposal makes believe the problem does not exist.
Tito's plan is also utterly unrealistic in its assessment of the challenges involved with building an interplanetary vessel that can keep those passengers alive for 500 days. As yet, we have never built anything that can do this. All the space stations built so far have required spare parts from Earth and have required repairs that could not have been handled from Mars. While the engineering research to build such a vessel is on-going on ISS as well as China's space station, these issues will not be solved by 2018. And they will certainly not be solved by the architecture described by Tito's proposal.
Finally, Tito's proposal does not seem to understand the actual cost of such a project, should NASA build it. It will be far higher than the one billion dollars that Tito suggests. At the moment Congress can't afford such dreams considering the federal budget problems, and is looking for ways to trim NASA's budget, not expand it.
And should by some miracle Congress fund it, we will not see it finished. It will instead become another fake NASA project, a place where billions of taxpayer dollars are dumped under the guise of an imaginary goal in order to justify more pork to Congressional districts. Haven't we had enough of this bull?
Maybe the worst aspect of this proposal however is how completely detached from reality it is. Tito's proposal imagines a mission to Mars can be mounted just like the Apollo program to the Moon. It cannot. Going to Mars is going to require a level of knowledge and engineering skill that we presently don't have. And to gain that knowledge, we need to first build some test vehicles and do serious long term medical research in Earth orbit, research that NASA's program at ISS is doing a very poor and unfocused job at attacking.
Inspiration Mars instead makes believe this lack of knowledge does not exist. And sadly, their approach is quite similar to almost all American proposals for getting to Mars. It is as if the American space community is stuck in the 1960s, repeatedly copying John Kennedy's proposals, without any thought to the realities required to make this happen.
Until we all focus on those realities instead of living in PowerPoint dream worlds, however, nothing is going to happen. We will watch as the Russians and Chinese approach the problem methodically and eventually get there.
Readers!
Every July, to celebrate the anniversary of the start of Behind the Black in 2010, I hold a month-long fund-raising campaign to make it possible for me to continue my work here for another year.

This year's fund-raising drive however is more significant in that it is also the 10th anniversary of this website's founding. It is hard to believe, but I have been doing this for a full decade, during which I have written more than 22,000 posts, of which more than 1,000 were essays and almost 2,600 were evening pauses.

This year's fund drive is also more important because of the growing intolerance of free speech and dissent in American culture. Increasingly people who don't like what they read are blatantly acting to blackball sites like mine. I have tried to insulate myself from this tyrannical effort by not depending on Google advertising or cross-posts Facebook or Twitter. Though this prevents them from having a hold on me, it also acts to limit my exposure.

Therefore, I hope you will please consider donating to Behind the Black, by giving either a one-time contribution or a regular subscription, as outlined in the tip jar below. Your support will allow me to continue covering science and culture as I have for the past twenty years, independent and free from any outside influence.
Regular readers can support Behind The Black with a contribution via paypal:
If Paypal doesn't work for you, you can support Behind The Black directly by sending your donation by check, payable to Robert Zimmerman, to

Behind The Black
c/o Robert Zimmerman
P.O.Box 1262
Cortaro, AZ 85652