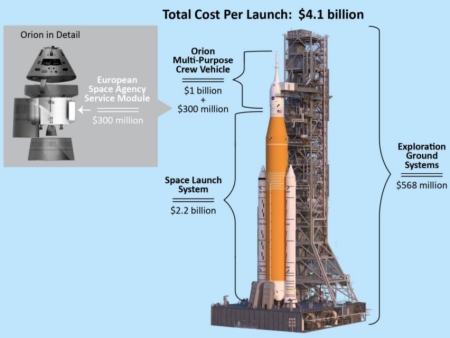 On August 29, 2022, NASA will attempt the first launch of a government-built, government-owned, and government-designed rocket in more than a decade. The rocket's development took more than eighteen years, moved in fits and starts due to political interference and mandates, cost more than $50 billion, and has been both behind schedule and overbudget almost from day one. Along the way NASA management screwed up the construction of one multi-million dollar test stand, built another it will never use, mismanaged that test program, dropped a rocket oxygen tank, and found structural cracks in an early Orion capsule.
This dubious achievement, even if the launch and month-plus-long mission of the Orion capsule to lunar orbit and back is a complete success, is hardly something to tout. NASA claims it and this rocket will make it possible for America to explore the solar system, but any honest appraisal of SLS's cost and cumbersome design immediately reveals that claim to be absurd. SLS can launch at best once per year, and in truth will likely lift off at a much slower rate. It will also eat up resources in the American aerospace industry from technology better designed, more efficient, and more capable of doing the job.
Worse, the generally sloppy management of this program, with numerous major errors in design and construction, raises serious questions about the safety of any future manned flight.
And yet, as this launch day approaches, the American established press is going ga-ga over SLS. Below are just a small sampling:

Some of these articles make the effort to describe SLS's overbudget and much delayed history, but most do not. Most instead look at this rocket and NASA's effort through rose-colored glasses, fantasizing how this single launch heralds a new age of American space exploration. The launch is "a new chapter," it is "historic", it will play a "key role," and it "paves the way" for "the return to the Moon!"
This launch however will do none of these things. It is simply the first launch attempt of a new rocket with limited capabilities that costs too much. Assuming the mission is 100% successful (something no one should expect for any rocket's first launch), after the hype dies down NASA will be only slightly closer to its first manned mission to the Moon. Under its Artemis program — which insists SLS play a central role — it will still have to fly another mission around the Moon, this time with passengers, before it will attempt the manned landing, with the time between these flights measured in years.
In fact, an honest comparison with Apollo reveals the absurdity and outright foolishness of this NASA proposed flight schedule. NASA plans one unmanned test launch of this rocket before sending humans on it to the Moon. It will then proceed to the landing, after only only one manned mission.
While Apollo did send its first astronauts to the Moon on its second launch, with Apollo 8, that decision was made under the pressure of the race to beat the Russians, a pressure that does not exist today. Moreover, it was not part of NASA's actual plan, which insisted on a careful sequence of manned Apollo missions, first in Earth orbit (to test the rocket and capsule), then higher in Earth orbit (to test the lunar lander), and then around the Moon (to test the rocket, capsule, and lander), and then finally flying the landing mission. These missions would take place two months apart, and would each test the next piece of equipment needed to make the lunar landing possible.
When you compare the two plans, Artemis appears very rushed indeed, even though it will take far far longer, its missions flying one to three years apart.
It is the obligation of journalists to state these facts, to not accept at face value the propaganda a government agency like NASA doles out routinely. For the media outlets above, however, that obligation has long been forgotten. Each has been captured by the government, and now works solely for it, pushing its agenda blindly.
For any adult American to pay much attention to any reporting from these outlets on any subject would thus be foolish. They have become propaganda outlets, not news sources, and a free citizen must not depend on such propaganda for his or her enlightenment.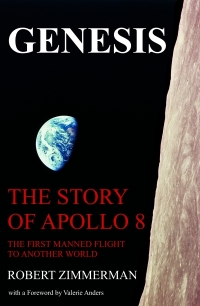 On Christmas Eve 1968 three Americans became the first humans to visit another world. What they did to celebrate was unexpected and profound, and will be remembered throughout all human history. Genesis: the Story of Apollo 8, Robert Zimmerman's classic history of humanity's first journey to another world, tells that story, and it is now available as both an ebook and an audiobook, both with a foreword by Valerie Anders and a new introduction by Robert Zimmerman.
The ebook is available everywhere for $5.99 (before discount) at
amazon
, or direct from my ebook publisher,
ebookit
. If you buy it from
ebookit
you don't support the big tech companies and the author gets a bigger cut much sooner.
The audiobook is also available at all these vendors, and is also
free with a 30-day trial membership to Audible.
"Not simply about one mission, [Genesis] is also the history of America's quest for the moon... Zimmerman has done a masterful job of tying disparate events together into a solid account of one of America's greatest human triumphs."--San Antonio Express-News