This essay is going to outline some interesting associations that appear to exist between a number of very unconnected news stories in the past few months, links that might help explain how recent events in Saudi Arabia might have something to do with the U.S. Congress and car dealerships in the U.S. and Africa.
First of all I want to emphasize that I really have no idea if the associations I am going to note even exist. I am no expert on foreign policy, other than being a very well-read follower of the news. However, my skills as a historian have often allowed me to spot connections between disparate events that further research very frequently confirms as true. In this regard I think it very worthwhile to reveal what I have noticed, and let the chips fall where they may.
This trail must first begin with President Trump's first foreign policy trip in May as President, going first to Saudi Arabia followed by visits to Israel and Europe.

His visit to to Saudi Arabia received the most public attention. There, he was given a royal greeting, attending numerous photo ops filled with pomp and pageantry, all aimed at cementing an improved relationship with the Saudis following eight years of tension during the Obama administration.
The visit also apparently resulted in a change in U.S. policies concerning satellites that will likely benefit Saudi Arabia and its Arabian allies.
The United States is set to lift restrictions on the export of sensitive strategic technologies — to include high-resolution reconnaissance satellites — to Gulf Cooperation Council (GCC) member states, according to a report in the French online publication Intelligence Online.

The recent visit with President Donald J. Trump and his national security staff in Washington, DC, by the Saudi Arabian Deputy Crown Prince Mohammed Bin Salman, along with other senior Saudi national security officials, has apparently repaired Saudi-US relations after several years of tensions during the previous administration of President Barack Obama.

It is believed that the Washington, DC, discussions between the U.S. and the Saudis saw agreements on U.S. support for the Saudi-led coalition in Yemen and also on common approaches towards containing Iran. Of particular significance, however, is the agreement by the U.S. to lift export restrictions on strategic technologies such as unmanned aerial vehicles and reconnaissance satellites to Saudi Arabia, and potentially to other GCC countries.
This was the public part of Trump's diplomatic visit. Like all such visits, however, I am certain there were also discussions that occurred behind the scenes, that the pageantry and public agreements served to help hide.
I do not know what those private conversations entailed. However, only five months later the same Saudi leadership that had met with Trump suddenly initiated an anti-corruption purge, arresting dozens of powerful and important Saudi officials, many of whom were members of the royal family with gigantic resources at their call.
Such a purge could not be done quickly. It certainly required months to plan so that the powerful individuals arrested would be unable to use their resources to protect themselves. Moreover, such a purge required knowledge by the Saudi leadership on whom to target, with solid evidence to use against them so as to make the purge creditable to those powerful Saudis who were uninvolved but must be convinced the purge is justified.
It was only in the past week, while reading another news story on a related subject (to which I will discuss shortly), that it occurred to me that the timing of these events suggested they were connected. Trump becomes President in January. By May he is well briefed on what U.S. intelligence agencies know about members in the Saudi royal family, including those members who are known to have links either with terrorist groups, corruption, or both. This information is carefully and quietly provided to the Saudi leadership during his May visit. That Saudi leadership, using what they now know, then take about five months to plan the purge that occurs in early November when they arrest many members of their royal family.
I don't know if this connection is real. It just seems to make sense to me. The news story that brought it to my mind last week was the detailed report in Politico describing the investigation into Hezbollah's global drug running operation and how the Obama administration worked to squelch that investigation.
The press has so far been focused entirely on the role the Obama administration played in shutting down this investigation, actions taken by them in their effort to get the Iran nuclear agreement signed.
A careful reading of the report however revealed a lot more than this. It showed that Hezbollah's drug operations were widespread, that the government investigations in the CIA, the NSA, and the DEA were long running, extensive, and had almost certainly uncovered a lot more dirty information about the Middle East leadership, including many people in the Saudi royal family, than the Politico reporters were able to uncover.
That dirty information is what I believe President Trump almost certainly brought with him to Saudi Arabia in May, and was then used by Saudi leadership to carry out its purge in November.
There was one component of Hezbollah's global drug operation that was described in the Politico report that immediately jumped out to me as having a connection not with corruption in the Middle East but in Congress itself. It seems that Hezbollah's operations used about 300 U.S. car dealerships to launder money out of the country. The drug money would be used to buy used cars, which would be shipped to Africa where they were sold, the cash then heading to Lebanon for use by Hezbollah.
The words "car dealership" immediately made me think of Imran Awan, the computer specialist who had been running the Congressional computers for numerous Democratic Party congressmen, including then Democratic Party boss Debbie Wasserman Schultz, and has since been arrested for bank fraud and is strongly suspected of doing much worse, including the possibility he was using his position to provide intelligence to our enemies in Pakistan and in the Middle East.
I have posted numerous stories about the Awan scandal since July. A more recent story, describing Awan's large illegal operation, included details of a fake car dealership Awan set up in Virginia that was apparently used in connection with Hezbollah's money laundering scheme.
As the intrepid Luke Rosiak notes in the Daily Caller, Imran's brother Abid ran a used-car lot in Falls Church, Virginia, called Cars International A. Trouble was, the "CIA" dealership had no inventory and the sales people were fakes. …[T]he Awan dealership "took money from a Hezbollah-linked fugitive" whose financial books were "indecipherable." And as the DEA was aware, "the Iranian-linked terrorist group frequently deployed used car dealerships in the US to launder money and fund terrorism."
In other words, there is now strong evidence that the corrupt IT specialists hired by Congressional Democrats and now under arrest for bank fraud might not only have been working to collect intelligence for Pakistani sources, they might have also been working with Hezbollah.
This data also increases my suspicions that Imran Awan has been blackmailing many of these Democrats, which would explain why Debbie Wasserman Schultz has been so aggressive in her defense of him.
Meanwhile, the scheduled January 8th court date involving the Awan arrest and indictment, already postponed twice, has mysteriously vanished from the court's calendar.
This might not mean anything, or else it might mean that there is an effort in the corrupt swamp that is Washington to bury this story.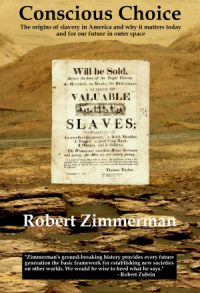 Now available in hardback and paperback as well as ebook!
From the press release: In this ground-breaking new history of early America, historian Robert Zimmerman not only exposes the lie behind The New York Times 1619 Project that falsely claims slavery is central to the history of the United States, he also provides profound lessons about the nature of human societies, lessons important for Americans today as well as for all future settlers on Mars and elsewhere in space.
Conscious Choice: The origins of slavery in America and why it matters today and for our future in outer space
, is a riveting page-turning story that documents how slavery slowly became pervasive in the southern British colonies of North America, colonies founded by a people and culture that not only did not allow slavery but in every way were hostile to the practice.
Conscious Choice
does more however. In telling the tragic history of the Virginia colony and the rise of slavery there, Zimmerman lays out the proper path for creating healthy societies in places like the Moon and Mars.
"Zimmerman's ground-breaking history provides every future generation the basic framework for establishing new societies on other worlds. We would be wise to heed what he says." —Robert Zubrin, founder of founder of the Mars Society.
All editions available at Amazon, Barnes & Noble, and all book vendors. The ebook can be purchased direct from my ebook publisher, ebookit, in which case you don't support the big tech companies and I get a bigger cut much sooner. Note that the price for the ebook, $3.99, goes up to $5.99 on September 1, 2022.
Autographed printed copies are also available at discount directly from me (hardback $24.95; paperback $14.95). Just email me at zimmerman @ nasw dot org.