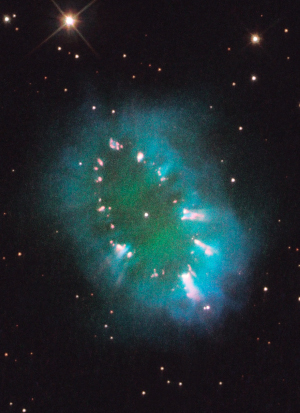 Who needs aliens and imagined cities on the moon when you have a reality that produces such strange and beautiful things as the image on the right?
On July 2, the Hubble Space Telescope took this image of a planetary nebula, aptly dubbed the Necklace Nebula. As the caption explains,
A pair of stars orbiting close together produced the nebula, also called PN G054.2-03.4. About 10,000 years ago one of the aging stars ballooned to the point where it engulfed its companion star. The smaller star continued orbiting inside its larger companion, increasing the giant's rotation rate.

The bloated companion star spun so fast that a large part of its gaseous envelope expanded into space. Due to centrifugal force, most of the gas escaped along the star's equator, producing a ring. The embedded bright knots are dense gas clumps in the ring.
The binary still exists, and can be seen as the star in the center of the necklace. The two stars are now only a few million miles apart and complete an orbit around each other in about a day.
Readers!
Please consider donating to Behind the Black, by giving either a one-time contribution or a regular subscription, as outlined in the tip jar below. Your support will allow me to continue covering science and culture as I have for the past twenty years, independent and free from any outside influence.
Your support is even more essential to me because I keep this site free from advertisements and do not participate in corrupt social media companies like Google, Twitter, and Facebook. I depend wholly on the direct support of my readers.
You can provide that support to Behind The Black with a contribution via Patreon or PayPal. To use Patreon, go to my website there and pick one of five monthly subscription amounts, or by making a one-time donation. For PayPal click one of the following buttons:

If Patreon or Paypal don't work for you, you can support Behind The Black directly by sending your donation by check, payable to Robert Zimmerman, to


Behind The Black
c/o Robert Zimmerman
P.O.Box 1262
Cortaro, AZ 85652