Update: We lost power at around 12:30 am, and as of mid-morning Sunday the power was still not back. Thus, my posting will be light today. At the moment we are out at a local restaurant that has power (and food!), so I am using my laptop to post.
As I sit here waiting for Hurricane Irene to speed past Washington, DC, leaving behind a lot of water, some fallen trees, and the likelihood of a power outage, I thought I'd mention that I will be doing a special 30 minute appearance tonight on the nationally syndicated John Batchelor radio show at 9 pm (Eastern). Should be fun, with New York City shut down and me possibly doing the interview in the dark, with no power.
Update and bumped. The hurricane where I live here in the DC area has so far been quite mild, with only a few short bursts of heavy rain and hardly any wind. However, John Batchelor had so much fun with our discussion at 9 pm that I am coming back for another half hour at 11:30 pm (Eastern).
One more note: I consider the decision of Mayor Bloomberg in New York to shut down the subway and buses for the weekend to be downright madness. The subway should run until the last minute, in case people need to leave. Closing it so the government employees can get out is like a captain deserting his ship ahead of the passengers.
Unfortunately, this kind of political overreaction is what you get when you cede too much power to politicians. They have to act, if only to appear as they are doing something.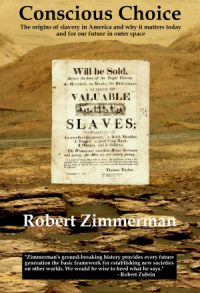 Now available in hardback and paperback as well as ebook!
From the press release: In this ground-breaking new history of early America, historian Robert Zimmerman not only exposes the lie behind The New York Times 1619 Project that falsely claims slavery is central to the history of the United States, he also provides profound lessons about the nature of human societies, lessons important for Americans today as well as for all future settlers on Mars and elsewhere in space.
Conscious Choice: The origins of slavery in America and why it matters today and for our future in outer space
, is a riveting page-turning story that documents how slavery slowly became pervasive in the southern British colonies of North America, colonies founded by a people and culture that not only did not allow slavery but in every way were hostile to the practice.
Conscious Choice
does more however. In telling the tragic history of the Virginia colony and the rise of slavery there, Zimmerman lays out the proper path for creating healthy societies in places like the Moon and Mars.
"Zimmerman's ground-breaking history provides every future generation the basic framework for establishing new societies on other worlds. We would be wise to heed what he says." —Robert Zubrin, founder of founder of the Mars Society.
All editions available at Amazon, Barnes & Noble, and all book vendors. The ebook can be purchased direct from my ebook publisher, ebookit, in which case you don't support the big tech companies and I get a bigger cut much sooner. Note that the price for the ebook, $3.99, goes up to $5.99 on September 1, 2022.
Autographed printed copies are also available at discount directly from me (hardback $24.95; paperback $14.95). Just email me at zimmerman @ nasw dot org.