The fascist, intolerant, and oppressive nature of today's leftist culture has now gotten so bad that The Atlantic, a liberal publication long considered a reasonable intellectual voice from the left, can no longer tolerate for more than two weeks the hiring of a conservative, even though that conservative, Kevin Williamson, was also a vehement opponent of Donald Trump.
The quote that forms the title of this essay however comes not from the above Williamson story, but from a cogent essay by Ben Domenech, publisher of The Federalist about that intolerant leftist culture. As he says,
This story [Williamson's firing] is a predictable continuation of the left's ownership not just of media but indeed of all institutions. It is depressing. It is predictable. And it is where we are as a country now. It is not confined to the realm of ideas. Eich, Damore, Williamson and others are subject to blacklists and HR reports and firing in every arena of industry and culture. If you have wrongthink, you will not be allowed for long to make your living within any space the left has determined they own – first the academy, then the media, then corporate America, and now the public square. You will bake the cake, you will use the proper pronoun, and you will never say that what Planned Parenthood does is murder for hire, and should be punished as such under the law.
As Domenech notes, Williamson's firing is only one example of a legion of similar stories. There is the fascist intolerance of modern academia for example. Or we can talk about the hateful scapegoating of innocent NRA members, blaming them for a murderer's violence merely because they wish to defend their Constitutional rights as specifically outlined in the Bill of Rights.
Or maybe we should mention the hate and violence committed against children and students, merely because they either wear a "Make America Great Again" t-shirt or carry signs supporting Trump.
I wish these were only isolated examples. They are not. For most of the second half of last year I was able to post weekly updates listing anywhere from six to several dozen new stories describing this hateful leftist culture. Here are just a few more that I gathered in mid-March but found too depressing to report at the time:

Then there are the stories like this one, where leftists fantasize the murder of their political opponents. You might think Senator Kamala Harris (D-California) is merely making a slightly edgy joke about killing Donald Trump, Mike Pence, and Jeff Sessions, but when she was California's district attorney she used the power of her office to try to obtain the confidential tax records of conservative organizations in order to get the names of donors, information she could then have used, as district attorney, to investigate and harass them.
Nor is Harris the only major political figure to public express such tyrannical fantasies. Such fantasies by major Democratic figures are happening with increasing frequency, and usually with audience approval.
The problem however is not really the behavior of these oppressive leftists. The real problem is with the inability of Americans, both on the left and the right, to come to grips with this hateful subculture and its intolerant ways. People simply do not wish to believe that this subculture really and sincerely plans to do harm to its political opponents. They continue to view them as nothing more than another political movement expressing its opinions. Few are willing to admit that should these people take power, they truly plan to wield that power aggressively, and they will very likely follow the path of the leftists in Venezuela, who once they gained power quickly moved to suspend the rule of law so that they could rule unopposed.
Worse, these leftist fascists are not very far from obtaining such power, since in the past two years it appears that this violent subculture has wholly captured the Democratic Party. While a decade ago that political party might have held back, fearful of a backlash should it take such radical positions, since Donald Trump's election they have dropped their mask and have become as intolerant of opposition as the worst campus leftist bully. Kamala Harris is not an exception, she is now the rule.
Even more terrifying, that radical Democratic Party continues to get votes. It is not alone in its increasingly radical beliefs. There is now a significant percentage of the American populace that celebrates the very fantasies expressed by Kamala Harris. You only have to watch the video of Harris making this "joke" and listen to the audience cheering and clapping to realize that many people today are quite willing to entertain such ideas.
This mob is smelling blood, and it wants it badly. And as Ben Domenech concludes,
When such a mob forms, it is important to understand you cannot escape them. You can only face them. It is a moment that demands courage in the face of the braying of Social Justice Warriors on the internet and within your own offices. But that is in short supply.

…The pressure surrounding the American public square is building. It is steadily destroying the standing of institution after institution and bringing a certain frantic tension to every aspect of life. It will, eventually, explode. What that explosion looks like, I cannot tell you. But I can tell you that if you think Trump was the explosion, you are wrong. You haven't even seen it yet.
I know I am willing to face this onslaught and stand up to it. I fear however that Domenech is right when he says that this courage is in short supply. And I say this from experience. When I try to make this point about the power-hungry and oppressive nature of today's Democratic Party among any group of Americans, even those I know are conservative, I have found that very few are willing to accept its truth. People look away, or poo-poo the idea. It just can't be true.
But it is true, and that dangerous culture is coming into its own, with power and strength. The consequences if we don't face up to it will be quite terrible.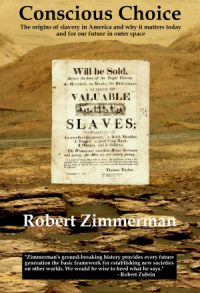 Now available in hardback and paperback as well as ebook!
From the press release: In this ground-breaking new history of early America, historian Robert Zimmerman not only exposes the lie behind The New York Times 1619 Project that falsely claims slavery is central to the history of the United States, he also provides profound lessons about the nature of human societies, lessons important for Americans today as well as for all future settlers on Mars and elsewhere in space.
Conscious Choice: The origins of slavery in America and why it matters today and for our future in outer space
, is a riveting page-turning story that documents how slavery slowly became pervasive in the southern British colonies of North America, colonies founded by a people and culture that not only did not allow slavery but in every way were hostile to the practice.
Conscious Choice
does more however. In telling the tragic history of the Virginia colony and the rise of slavery there, Zimmerman lays out the proper path for creating healthy societies in places like the Moon and Mars.
"Zimmerman's ground-breaking history provides every future generation the basic framework for establishing new societies on other worlds. We would be wise to heed what he says." —Robert Zubrin, founder of founder of the Mars Society.
All editions are available at Amazon, Barnes & Noble, and all book vendors, with the ebook priced at $5.99 before discount. The ebook can also be purchased direct from my ebook publisher, ebookit, in which case you don't support the big tech companies and I get a bigger cut much sooner.
Autographed printed copies are also available at discount directly from me (hardback $24.95; paperback $14.95; Shipping cost for either: $5.00). Just email me at zimmerman @ nasw dot org.