We arrived at Space View Park in Titusville at around 9 pm, bringing with us camp chairs, a softside cooler with food, cameras, tripods, and light jackets. I also brought a light fleece sleeping bag for additional warmth. Even though it was still twelve hours before launch, the entire shoreline was occupied by a line of people either sitting or lying on blankets or pads. Back from the water and under the trees there were more than a dozen small tents set up.
We found a spot where the line was only one deep and set up our chairs. In front of us were a group of Floridians who had never seen a launch up close, though they told us how they had often watched shuttle launches from their front door. As one of them said, "There won't be many more chances to see this, so we decided we better come down."
Also set up in the park under a tarp was a electronic setup with television feeds and speakers linked to NASA TV, run by the Space Walk of Fame Foundation, a volunteer organization that maintains Space View Park and the monuments to space that are on display there.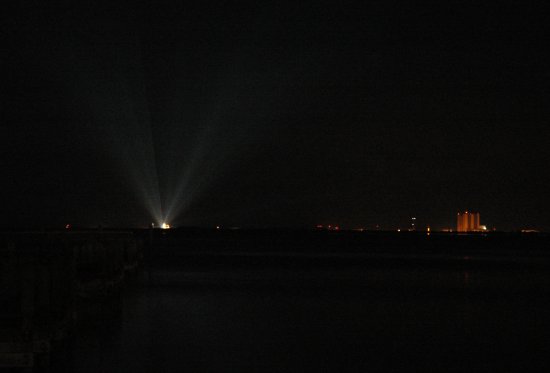 Looking east out across the Indian River was Merritt Island, with the launchpad lit up like a Christmas tree eleven miles distant. To the right was the VAB.

As the evening wore on, the numbers of people in the park steadily increased, though the place never got as packed as I had expected it to. Things also got quieter, as people hunkered down in their tents, on air mattresses, or their chairs, trying to sleep. In general, it was a very civilized crowd, with those who were awake gregariously chatting with each other quietly so as to not wake those who were asleep.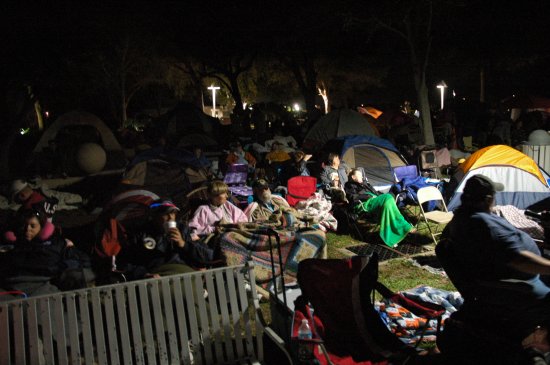 I managed to doze off on and off for a total of about two hours, which not only got me some sleep but also made the long night hours pass more quickly.
At around 5:30 am we began to scan the eastern horizon, looking for the expected crowd of planets — Jupiter, Venus, Mercury, and Mars — that have been gathered in the morning sky for the past few weeks. We soon spotted Jupiter rising above a cloud bank, followed soon by Venus with Mercury and Mars below and much fainter.
At 6:00 am the sky began to lighten, and a 6:32 we were greeted with a spectacular sunrise.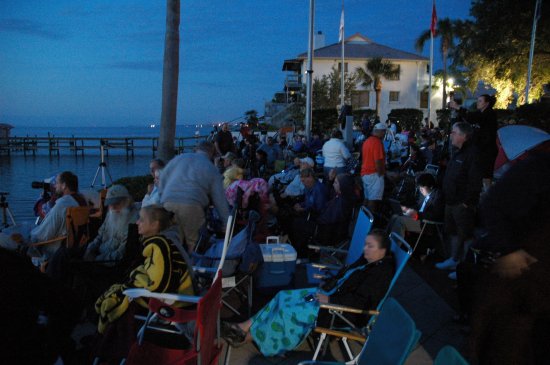 Behind me were two guys who, by luck, had been come to Orlando for a business conference and decided to take advantage of the situation and slip out to see the launch. To my right was a couple that had flown in from San Diego. To my left Bob and Brenda had set up tripods and were snapping away with their cameras, getting stunning pictures of the sunrise, the planets, and the shuttle itself. About twenty feet beyond was a family with what looked like two young kids and a baby. The boy was wearing an astronaut's flight suit.
All in all it was a happy, enthusiastic crowd, eager to experience something new and different, or re-experience something fun and exciting. I would say of those I talked to, about half had never seen a launch before, while the other half had become addicted to the experience.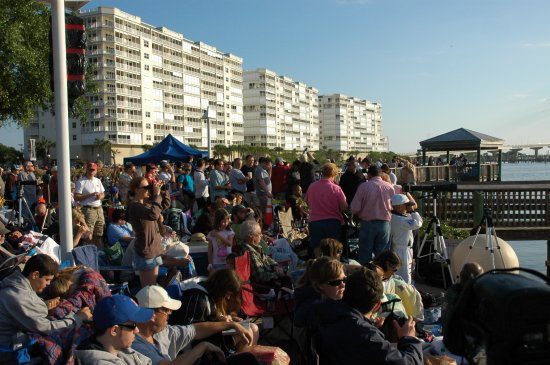 In fact, the whole experience reminded of my early childhood in the late 1950s, when airline travel was still an unusual thing for most people. Several times, my father took me to what was then called Idewild Airport in New York City (now called Kennedy International Airport) to watch the planes land and take off. (This was at a time when the United States was a truly free country. There was no security, and anyone could wander down to the gates where you could see the runways and the airplanes.)
To my young mind, watching the planes was fun and exciting. What I realize now was that it was as exciting and interesting to my father, as this kind of fast transportation had not existed for most of his life. When he was born during World War I, the car was still a relatively unusual thing, and traveling from Europe to the United States was almost always a once in a lifetime event. If you crossed the ocean, you said goodbye to the friends and relatives who stayed behind, expecting never to see them again.
To my father, the airport and its new jets represented the future, when such distances would no longer keep people from each other.
As different as the time and place was, it was the same last night at Space View Park. To everyone there, watching the launch of Endeavour was our chance to see the future, despite the fact that the shuttle program is ending. We were there to watch a rocket lift off from Earth not only because such a thing is spectacular and unusual, but because we hope that one day there will come a time when such launches are as routine as the landing and take off of airplanes today.
And I fully know that such a time is coming, and it is coming sooner than anyone really believes.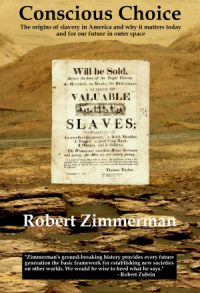 Now available in hardback and paperback as well as ebook!
From the press release: In this ground-breaking new history of early America, historian Robert Zimmerman not only exposes the lie behind The New York Times 1619 Project that falsely claims slavery is central to the history of the United States, he also provides profound lessons about the nature of human societies, lessons important for Americans today as well as for all future settlers on Mars and elsewhere in space.
Conscious Choice: The origins of slavery in America and why it matters today and for our future in outer space
, is a riveting page-turning story that documents how slavery slowly became pervasive in the southern British colonies of North America, colonies founded by a people and culture that not only did not allow slavery but in every way were hostile to the practice.
Conscious Choice
does more however. In telling the tragic history of the Virginia colony and the rise of slavery there, Zimmerman lays out the proper path for creating healthy societies in places like the Moon and Mars.
"Zimmerman's ground-breaking history provides every future generation the basic framework for establishing new societies on other worlds. We would be wise to heed what he says." —Robert Zubrin, founder of founder of the Mars Society.
All editions are available at Amazon, Barnes & Noble, and all book vendors, with the ebook priced at $5.99 before discount. The ebook can also be purchased direct from my ebook publisher, ebookit, in which case you don't support the big tech companies and I get a bigger cut much sooner.
Autographed printed copies are also available at discount directly from me (hardback $24.95; paperback $14.95; Shipping cost for either: $5.00). Just email me at zimmerman @ nasw dot org.