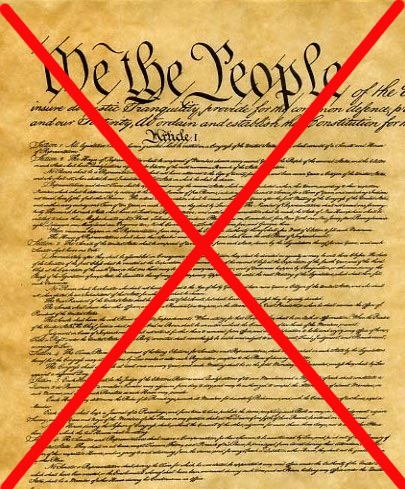 For the past thirty years the Republican Party has been amazingly consistent in almost every political battle put before it by the increasingly leftist and radical Democratic Party. Almost every single time, the leaders of this so-called conservative political party have put on a big show of resisting the leftist and radical proposals put forth by Democrats, only in the end to back down, making a deal that allows those policies to take effect in some manner or another.
I am not sure who originally coined the term, but in recent years this incompetence has often been called "failure theater." The Republican Party justifies its failures by citing the big theatrical fight they put on. They then promise they will fight harder next time, only to fail again. And again. And again.
This failure theater has been going on repeatedly for decades, since Ronald Reagan was president. Then Donald Trump came along. Unlike the establishment Republicans who ran for president since Reagan (Bush Sr., Dole, Bush Jr., McCain, Romney), Trump generally does not back down easily. He does not participate in failure theater. When he fights he fights to win, which has made the corrupt leadership in the Republican Party very uncomfortable for the past four years.

Now it appears that extensive vote tampering and election fraud could very well have stolen the 2020 election from Trump. The states where the evidence of such criminality is most evident are Georgia, Pennsylvania, Arizona, Wisconsin, and Michigan. Though the final totals in these states show Joe Biden the winner, there is ample evidence that votes for Trump were cancelled, votes for Trump were switched to Biden, many Biden votes were manufactured falsely, and that the tabulator machines that counted the ballots were not reliable and might even have been programmed to give Biden extra votes.
All of those states have legislatures controlled by the Republican Party. Two of those states also have Republican governors, so that the Republican Party controls all of the legislative branches.
Yet, despite the extensive and disturbing evidence of election tampering against their Republican presidential candidate, none of those Republican-controlled legislatures or governors have really done anything concrete to investigate these allegations. When the election boards for all these states certified the results, with all the governors going along, including the two Republicans, Doug Ducey in Arizona and Brian Kemp of Georgia, the legislators stood by meekly, allowing those certifications to stand.
The legislatures did elect an alternative slate of Trump electors. Some legislatures did hold investigatory hearings. Some have even issued subpoenas, though they did nothing when the election boards defied their subpoenas. None however has done what the Constitution clearly gives them the power to do, which is to come into legislative session and vote to decertify the disputed election totals because of these allegations, and refuse to send any electors to Congress.
If they did that, the vote for president would fall, as per the Constitution, to the House of Representatives, voting not by representative but by state caucuses. Since the Republicans control a majority of those state caucuses, Trump would win.
They have not done that. Instead, they have put on a fake show of action that, in the end, is designed to accomplish nothing. Another example of failure theater. In fact, practically everything these legislatures have done has been a perfect metaphor for failure theater.
Now the fight shifts to Congress, where on January 6th that body will gather to certify the disputed electors sent to it by the states. Numerous Republicans in the House, totaling more than 140, have said they will vote against certification. Similarly, a dozen Republican senators in have said the same. All are demanding a thorough investigation into the election totals. All insist that the public must be reassured that the vote was legitimate before a Biden victory can be certified.
And it is all hogwash, and more failure theater. When Congress meets on January 6th, these objections will be filed, the House and Senate will then each perform a two-hour debate, and then vote, not as per the Constitution but in accordance with an 1887 election law. Since the Democrats hold the majority in the House, they will win there. And since the Republican leadership in the Senate opposes any investigation into the election allegations, there will be just enough opposition from enough Republicans to give the Democratic Party minority the victory in the Senate as well.
No investigation will happen. Joe Biden's questionable victory will be endorsed.
And the Republicans will once again claim that they fought as hard as they could, but couldn't do it. Vote for us so that next time we can win for you!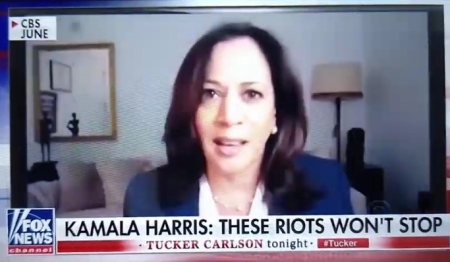 Kamala Harris endorsing rioting against her opponents.
The problem will be that no future election will be trustworthy. If the Democrats had stolen the election with voter tampering, they will now know they can do it with impunity. Even if every American voted Republican, the Democrats will use this power to manipulate the totals to guarantee victory forever. They might allow some Republicans to win to create the illusion of a real election, but only for awhile. Power corrupts, and absolute power corrupts absolutely. Given such power the Democrats will eventually move to eliminate elections entirely. Why bother with the charade when they know they'll win anyway?
Sounds ridiculous? Maybe so, but that is exactly what has happened in every democratic country where an opposition party allowed such voter tampering to go on. It is as predictable as sunrise.
If the Republican Party allows this fraud to stand now this will be their last performance of failure theater, their ultimate performance, an award-winning example of a party of true losers.
Much of the blame for this charade falls not to the rank and file of the Republican Party but to its leadership. The legislative leaders in Pennsylvania, Michigan, and Arizona have made it clear they have no interest in questioning the election results. The Republican governors in Georgia and Arizona have sided with election bureaucrats rather than their own party. And in the Senate Mitch McConnell (R-Kentucky) has done everything he can to stymie any investigation or opposition to certification. Without the support of their leadership the Republicans who sincerely wish to investigate the election have had their hands tied. In Pennsylvania, Georgia, Michigan, and Arizona they have pushed hard, but so far that push has been in vain.
Will this depressing scenario happen? We will find out on January 6th, in Congress. On that date the future of the Republican Party, and the nation itself, will be decided. Either we shall have an honest investigation into the election, or we will cement forever the ability of politicians to fake the results to their personal preferences.
The choice is up the Republican Party. We know the Democrats don't stand for election honesty. They have made it clear that they are not bothered by these election tampering allegations. They like them, for they give them extra votes.
The survival of American democracy is now up to the Republicans. We will find out on January 6, 2021, whether they are up to it.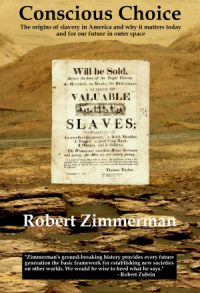 Now available in hardback and paperback as well as ebook!
From the press release: In this ground-breaking new history of early America, historian Robert Zimmerman not only exposes the lie behind The New York Times 1619 Project that falsely claims slavery is central to the history of the United States, he also provides profound lessons about the nature of human societies, lessons important for Americans today as well as for all future settlers on Mars and elsewhere in space.
Conscious Choice: The origins of slavery in America and why it matters today and for our future in outer space
, is a riveting page-turning story that documents how slavery slowly became pervasive in the southern British colonies of North America, colonies founded by a people and culture that not only did not allow slavery but in every way were hostile to the practice.
Conscious Choice
does more however. In telling the tragic history of the Virginia colony and the rise of slavery there, Zimmerman lays out the proper path for creating healthy societies in places like the Moon and Mars.
"Zimmerman's ground-breaking history provides every future generation the basic framework for establishing new societies on other worlds. We would be wise to heed what he says." —Robert Zubrin, founder of founder of the Mars Society.
All editions are available at Amazon, Barnes & Noble, and all book vendors, with the ebook priced at $5.99 before discount. The ebook can also be purchased direct from my ebook publisher, ebookit, in which case you don't support the big tech companies and I get a bigger cut much sooner.
Autographed printed copies are also available at discount directly from me (hardback $24.95; paperback $14.95; Shipping cost for either: $5.00). Just email me at zimmerman @ nasw dot org.