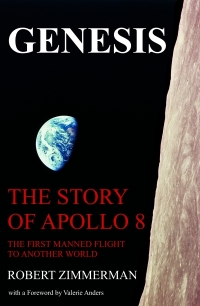 On Christmas Eve 1968 three Americans became the first humans to visit another world. What they did to celebrate was unexpected and profound, and will be remembered throughout all human history. Genesis: the Story of Apollo 8, Robert Zimmerman's classic history of humanity's first journey to another world, tells that story, and it is now available as both an ebook and an audiobook, both with a foreword by Valerie Anders and a new introduction by Robert Zimmerman.
The ebook is available everywhere for $5.99 (before discount) at
amazon
, or direct from my ebook publisher,
ebookit
.
The audiobook is also available at all these vendors, and is also
free with a 30-day trial membership to Audible.
"Not simply about one mission, [Genesis] is also the history of America's quest for the moon... Zimmerman has done a masterful job of tying disparate events together into a solid account of one of America's greatest human triumphs." --San Antonio Express-News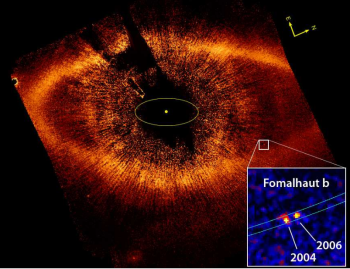 In a preprint paper published today on the Los Alamos astro-ph website, astronomers have concluded that the exoplanet orbiting the star Formalhaut might not exist. This planet, the first exoplanet ever thought to be directly imaged in visible light, was first described in a paper published in 2008, and was actually tracked in its orbit over several years, as shown in the image on the right.
The new research used the Spitzer Space Telescope to see if the planet's heat could be detected in infrared wavelengths. Unfortunately, the scientists found nothing.

No signature is found at the position where Fomalhaut b would be expected.
The scientists did detect another infrared source in a different location in the well-documented dust disk that surrounds Formalhaut, but even this had too weak a signal to be considered an actual planet. The scientists instead concluded that both their detection and the 2008 detection were instead short-lived clouds of dust that became visible when the orbiting dust became temporarily more concentrated, much like water clouds in our atmosphere will ebb and flow as they move through the sky.
Concerning the visible-light point source, its under-lying physics is unclear, but the only hypothesis that can be shown to reasonably fit all existing data is an optically thin dust cloud, which is transient or has a transient component.
What does this result mean for exoplanet research? It shows that even with all the recent exoplanet discoveries there remain many unknowns and uncertainties in this field. Scientists must remain vigilant and skeptical. What they think they might have found yesterday could prove ephemeral today.
Readers!
My July fund-raiser for Behind the Black is now over. The support from my readers was unprecedented, making this July campaign the best ever, twice over. What a marvelous way to celebrate the website's tenth anniversary!

Thank you! The number of donations in July, and continuing now at the beginning of August, is too many for me to thank you all personally. Please forgive me by accepting my thank you here, in public, on the website.

If you did not donate or subscribe in July and still wish to, note that the tip jar remains available year round.
Regular readers can support Behind The Black with a contribution via paypal:
If Paypal doesn't work for you, you can support Behind The Black directly by sending your donation by check, payable to Robert Zimmerman, to

Behind The Black
c/o Robert Zimmerman
P.O.Box 1262
Cortaro, AZ 85652