In the past few days a number of news stories have confirmed, unequivocally, that the effort in the FBI, CIA, and Justice Department to spy on the Trump campaign before the election and then pin the false accusation of Russian collusion on Trump after his election were all an effort to dictate the results of the election, and then overturn it when Trump won.
It was an out-and-out coup attempt by these government officials, apparently aided and abetted by Obama when he was still president.
First we learn that the FBI agents working on the fake prosecution of former National Security were so worried their misconduct would be uncovered by the Trump administration that they bought liability insurance to protect themselves.

"There was no case against General Flynn," Powell wrote in the new motion. "There was no crime. The FBI and the prosecutors knew that. This American hero and his entire family have suffered for four years from public abuse, slander, libel, and all means of defamation at the hands of the very government he pledged his life to defend."

The new FBI evidence was turned over late Wednesday and included a stunning revelation that FBI agents originally planned to close Flynn's probe, known as Crossfire Razor, on Nov. 8, 2016, nearly a year before he was charged with lying to the FBI.

"He said shut down Razor" and "so glad they're closing Razor," an FBI official texted that day. "However [redacted] was silent though, so who knows what he will want."

By January [2017], the FBI analysts were alarmed that their agency was engaged in misconduct that could be discovered by President Trump's new attorney general. "The new AG might have some questions….then yada yada yada…we all get screwed," one official wrote. [emphasis mine]
They all knew there was no evidence against Flynn, and to get his conviction required blackmail against him as well as the faking of evidence, both of which were done. Those acts by the way are outright crimes.
Next we learn that, according to a high-ranking FBI investigator, the investigation run by Robert Mueller into collusion by Trump and Russians knew there was no evidence at all, but had an agenda to "get Trump."
Reinforcing this agent's claim is the revelation, also this week, that Mueller investigators illegally wiped more than two dozen phones clean of data to prevent the inspector general from reviewing them. These lawyers thus consciously obstructed justice by destroying evidence. That is another crime, by the way.
Finally, the most important story of all. It appears that the only source of information justifying all the FISA warrants and the Mueller investigation into the so-called Trump collusion with the Russians came from a source whom the FBI had previously investigated as a Russian spy.
The FBI opened a counterintelligence investigation on the primary source for dossier author Christopher Steele, and considered obtaining a warrant to wiretap him in 2010, according to a document released Thursday.

The FBI was also aware of the information about the source, identified elsewhere as Igor Danchenko, by December 2016, according to the document.

"This is the most stunning and damning revelation the committee has uncovered," Senate Judiciary Committee Chairman Lindsey Graham said in a statement after releasing an FBI memo about the dossier source. [emphasis mine]
In other words, the FBI knew Steele's one source was a Russian spy planting false information against Trump, and went ahead and used this Russian disinformation against him. Thus, in gaining their FISA warrants they knowingly used false information. That is another crime, in case you don't know.
To sum up, the FBI and Obama officials as well as Democratic Party members of Congress knowingly colluded with the Russians in an attempt to overthrow the legitimate president of the United States, even as they destroyed evidence, lied to Congress, to investigators, and to the FISA court.
As always, if you want to know what the Democrats are really planning or doing, all you have to do is listen to their accusations against their enemies. If they yell that Trump is colluding, you know they are. If they scream Trump won't honor the results of an election, you know they won't.
And if they shout Trump will bring fascism to America, you know without doubt that if they gain power that is exactly what they will do, shutting down future elections and ending democracy and freedom.
You have been warned. How are you going to vote in November?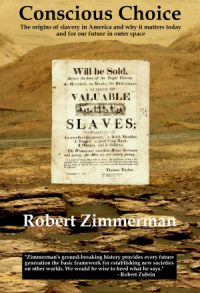 Now available in hardback and paperback as well as ebook!
From the press release: In this ground-breaking new history of early America, historian Robert Zimmerman not only exposes the lie behind The New York Times 1619 Project that falsely claims slavery is central to the history of the United States, he also provides profound lessons about the nature of human societies, lessons important for Americans today as well as for all future settlers on Mars and elsewhere in space.
Conscious Choice: The origins of slavery in America and why it matters today and for our future in outer space
, is a riveting page-turning story that documents how slavery slowly became pervasive in the southern British colonies of North America, colonies founded by a people and culture that not only did not allow slavery but in every way were hostile to the practice.
Conscious Choice
does more however. In telling the tragic history of the Virginia colony and the rise of slavery there, Zimmerman lays out the proper path for creating healthy societies in places like the Moon and Mars.
"Zimmerman's ground-breaking history provides every future generation the basic framework for establishing new societies on other worlds. We would be wise to heed what he says." —Robert Zubrin, founder of founder of the Mars Society.
All editions are available at Amazon, Barnes & Noble, and all book vendors, with the ebook priced at $5.99 before discount. The ebook can also be purchased direct from my ebook publisher, ebookit, in which case you don't support the big tech companies and I get a bigger cut much sooner.
Autographed printed copies are also available at discount directly from me (hardback $24.95; paperback $14.95; Shipping cost for either: $5.00). Just email me at zimmerman @ nasw dot org.