A new Rasmussen poll finds that 69% of the public now believe that climate scientists falsified data to support their own theories about global warming. Moreover, these numbers are up ten points since December 2009, which happens to be just after the climategate emails were released.
These terrible numbers are further evidence that the willingness of the scientific community to whitewash their investigations of the climategate scientists, what I consider to be the equivalent of a community-wide cover-up, has done serious harm to science and its reputation.

The power of science to improve our lives since Galileo has depended greatly on trust. People knew that scientists put the truth above all else, and would aggressively condemn and ostracize any scientists who did otherwise.
That trust is now gone. These poll numbers indicate that the public no longer believes anything the scientific community says about global warming. Instead, the numbers tell us that the public thinks climate scientists routinely lie and cheat in order to prop up their favorite theories.
The consequences for science here are profound. First of all, much of today's science research is funded by the government, funding that must be accompanied by strong public support. It seems to me that the public's lack of trust in the climate science community is going to soon translate into smaller funding, especially considering the federal government's serious budget problems.
In the longer run, however, this willingness of scientists to cheat will have much greater consequences to science and society itself. It suggests a deepening corruption in the entire scientific process. It suggests that political pressure has trumped knowledge as the basis for scientific research. And it suggests that our society itself has become less enamored to the ideas of truth and honesty.
In such a poisonous atmosphere it will become increasingly difficult for honest people to succeed. Instead, it will be those who are good at manipulating power, irrelevant of the truth, who will rule.
Such as culture cannot long prosper.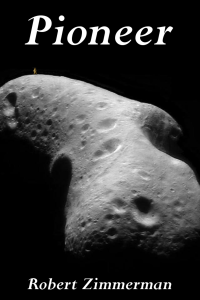 From the press release: From the moment he is handed a possibility of making the first alien contact, Saunders Maxwell decides he will do it, even if doing so takes him through hell and back.
Unfortunately, that is exactly where that journey takes him.
The vision that Zimmerman paints of vibrant human colonies on the Moon, Mars, the asteroids, and beyond, indomitably fighting the harsh lifeless environment of space to build new societies, captures perfectly the emerging space race we see today.
He also captures in Pioneer the heart of the human spirit, willing to push forward no matter the odds, no matter the cost. It is that spirit that will make the exploration of the heavens possible, forever, into the never-ending future.
Available everywhere for $3.99 (before discount) at
amazon
,
Barnes & Noble
, all ebook vendors, or direct from the ebook publisher,
ebookit
.