A new Rasmussen poll finds that 69% of the public now believe that climate scientists falsified data to support their own theories about global warming. Moreover, these numbers are up ten points since December 2009, which happens to be just after the climategate emails were released.
These terrible numbers are further evidence that the willingness of the scientific community to whitewash their investigations of the climategate scientists, what I consider to be the equivalent of a community-wide cover-up, has done serious harm to science and its reputation.

The power of science to improve our lives since Galileo has depended greatly on trust. People knew that scientists put the truth above all else, and would aggressively condemn and ostracize any scientists who did otherwise.
That trust is now gone. These poll numbers indicate that the public no longer believes anything the scientific community says about global warming. Instead, the numbers tell us that the public thinks climate scientists routinely lie and cheat in order to prop up their favorite theories.
The consequences for science here are profound. First of all, much of today's science research is funded by the government, funding that must be accompanied by strong public support. It seems to me that the public's lack of trust in the climate science community is going to soon translate into smaller funding, especially considering the federal government's serious budget problems.
In the longer run, however, this willingness of scientists to cheat will have much greater consequences to science and society itself. It suggests a deepening corruption in the entire scientific process. It suggests that political pressure has trumped knowledge as the basis for scientific research. And it suggests that our society itself has become less enamored to the ideas of truth and honesty.
In such a poisonous atmosphere it will become increasingly difficult for honest people to succeed. Instead, it will be those who are good at manipulating power, irrelevant of the truth, who will rule.
Such as culture cannot long prosper.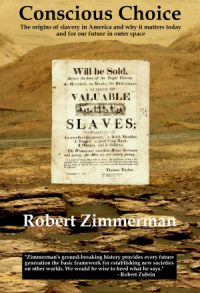 Now available in hardback and paperback as well as ebook!
From the press release: In this ground-breaking new history of early America, historian Robert Zimmerman not only exposes the lie behind The New York Times 1619 Project that falsely claims slavery is central to the history of the United States, he also provides profound lessons about the nature of human societies, lessons important for Americans today as well as for all future settlers on Mars and elsewhere in space.
Conscious Choice: The origins of slavery in America and why it matters today and for our future in outer space
, is a riveting page-turning story that documents how slavery slowly became pervasive in the southern British colonies of North America, colonies founded by a people and culture that not only did not allow slavery but in every way were hostile to the practice.
Conscious Choice
does more however. In telling the tragic history of the Virginia colony and the rise of slavery there, Zimmerman lays out the proper path for creating healthy societies in places like the Moon and Mars.
"Zimmerman's ground-breaking history provides every future generation the basic framework for establishing new societies on other worlds. We would be wise to heed what he says." —Robert Zubrin, founder of founder of the Mars Society.
All editions are available at Amazon, Barnes & Noble, and all book vendors, with the ebook priced at $5.99 before discount. The ebook can also be purchased direct from my ebook publisher, ebookit, in which case you don't support the big tech companies and I get a bigger cut much sooner.
Autographed printed copies are also available at discount directly from me (hardback $24.95; paperback $14.95; Shipping cost for either: $5.00). Just email me at zimmerman @ nasw dot org.