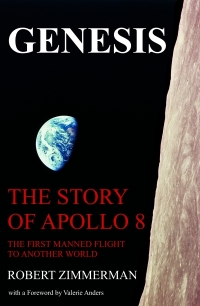 On Christmas Eve 1968 three Americans became the first humans to visit another world. What they did to celebrate was unexpected and profound, and will be remembered throughout all human history. Genesis: the Story of Apollo 8, Robert Zimmerman's classic history of humanity's first journey to another world, tells that story, and it is now available as both an ebook and an audiobook, both with a foreword by Valerie Anders and a new introduction by Robert Zimmerman.
The ebook is available everywhere for $5.99 (before discount) at
amazon
, or direct from my ebook publisher,
ebookit
.
The audiobook is also available at all these vendors, and is also
free with a 30-day trial membership to Audible.
"Not simply about one mission, [Genesis] is also the history of America's quest for the moon... Zimmerman has done a masterful job of tying disparate events together into a solid account of one of America's greatest human triumphs." --San Antonio Express-News
A new Rasmussen poll finds that 69% of the public now believe that climate scientists falsified data to support their own theories about global warming. Moreover, these numbers are up ten points since December 2009, which happens to be just after the climategate emails were released.
These terrible numbers are further evidence that the willingness of the scientific community to whitewash their investigations of the climategate scientists, what I consider to be the equivalent of a community-wide cover-up, has done serious harm to science and its reputation.

The power of science to improve our lives since Galileo has depended greatly on trust. People knew that scientists put the truth above all else, and would aggressively condemn and ostracize any scientists who did otherwise.
That trust is now gone. These poll numbers indicate that the public no longer believes anything the scientific community says about global warming. Instead, the numbers tell us that the public thinks climate scientists routinely lie and cheat in order to prop up their favorite theories.
The consequences for science here are profound. First of all, much of today's science research is funded by the government, funding that must be accompanied by strong public support. It seems to me that the public's lack of trust in the climate science community is going to soon translate into smaller funding, especially considering the federal government's serious budget problems.
In the longer run, however, this willingness of scientists to cheat will have much greater consequences to science and society itself. It suggests a deepening corruption in the entire scientific process. It suggests that political pressure has trumped knowledge as the basis for scientific research. And it suggests that our society itself has become less enamored to the ideas of truth and honesty.
In such a poisonous atmosphere it will become increasingly difficult for honest people to succeed. Instead, it will be those who are good at manipulating power, irrelevant of the truth, who will rule.
Such as culture cannot long prosper.
Readers!
My July fund-raiser for Behind the Black is now over. The support from my readers was unprecedented, making this July campaign the best ever, twice over. What a marvelous way to celebrate the website's tenth anniversary!

Thank you! The number of donations in July, and continuing now at the beginning of August, is too many for me to thank you all personally. Please forgive me by accepting my thank you here, in public, on the website.

If you did not donate or subscribe in July and still wish to, note that the tip jar remains available year round.
Regular readers can support Behind The Black with a contribution via paypal:
If Paypal doesn't work for you, you can support Behind The Black directly by sending your donation by check, payable to Robert Zimmerman, to

Behind The Black
c/o Robert Zimmerman
P.O.Box 1262
Cortaro, AZ 85652